Poker Central partners with CBS to extend the coverage of the World Series of Poker to more eyeballs than ever before.
Look into the rearview mirror at the coverage of the World Series of Poker (WSOP), and the picture is bleak. For years, broadcasters shunned the pinnacle of poker privilege with fans restricted to the highlight reel, but all that changed in 2017 when Poker Central acquired global rights.
Today, when the WSOP sprints into Vegas like a greyhound on heat the fans expect nothing more than top-notch live stream coverage, and expert commentary and analysis, and for those living in North America and Australia there is a special treat this year.
Poker Central has partnered with CBS to extend the coverage of the WSOP to even more eyeballs. The 4 million subscribers who pay for CBS All Access will receive 25 days of coverage, eight days will be exclusive to PokerGO, with eight days shown across both platforms. Also, CBS Sports Network will air highlight shows, as will CBSSports.com, the CBS Sports app, and CBS Sports HQ.
Dan Weinberg, Executive Vice President of Programming, CBS Sports, called the WSOP "the pinnacle of the game," and said he was "pleased" to bring poker's iconic poker festival to fans across the CBS platforms. Sam Simmons, President of Poker Central, noted that the reach and position of CBS across the globe made them the "perfect partner" for Poker Central.
Commentators Lon McEachern, Ali Nejad and David Tuchman will deliver the action helped by a rotating cast of pros.
Here is the schedule in full:
5/30 13:00 $10,000 Super Turbo Bounty Final Table (Event #2) – CBS All Access/PokerGO
5/31 13:00 BIG 50 – $500 No-Limit Hold'em Final Table (Event #3) PokerGO
6/2 13:00 $1,500 Omaha Hi/Lo 8 or Better Final Table (Event #4) CBS All Access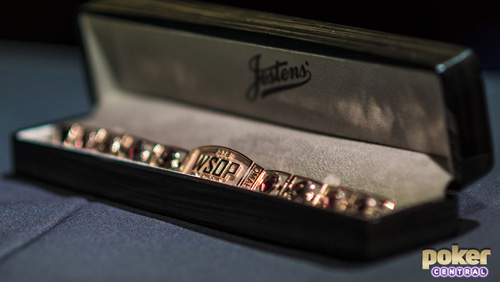 6/3 TBD High Roller – $50,000 No-Limit Hold'em for the 50th Annual Final Table (Event #5) PokerGO
6/4 19:00 $600 No-Limit Hold'em Deepstack Final Table (Event #9) CBS All Access
6/5 13:00 $10,000 Short Deck No-Limit Hold'em Final Table (Event #8) PokerGO
6/6 13:00 $5,000 No-Limit Hold'em Final Table (Event #11) CBS All Access/PokerGO
6/7 13:00 BIG 50 – $500 No-Limit Hold'em Final Table (Event #3) CBS All Access
6/8 13:00 $10,000 Heads-Up No-Limit Hold'em Final Table (Event #15) PokerGO
6/9 13:00 $10,000 Omaha Hi-Lo 8 or Better Final Table (Event #18) CBS All Access
6/10 13:00 $1,500 Seven-Card Stud Final Table (Event #20) CBS All Access
6/11 13:00 $10,000 No-Limit 2-7 Lowball Draw Final Table (Event #21) CBS All Access/PokerGO
6/12 13:00 Millionaire Maker – $1,500 No-Limit Hold'em Final Table (Event #19) PokerGO
6/13 13:00 $1,500 Seven-Card Stud Hi/Lo 8 or Better Final Table (Event #27) CBS All Access
6/14 13:00 $10,000 HORSE Final Table (Event #29) CBS All Access/PokerGO
6/15 13:00 $2,620 No-Limit Hold'em Marathon Final Table (Event #26) CBS All Access
6/16 13:00 Seniors No-Limit Hold'em Final Table (Event #32) CBS All Access
6/17 13:00 $3,000 No-Limit Hold'em Shootout Final Table (Event #36) CBS All Access/PokerGO
6/18 15:00 $800 No-Limit Hold'em Deepstack Final Table (Event #37) CBS All Access
6/19 13:00 $1,500 Pot-Limit Omaha Final Table (Event #40) CBS All Access
6/20 13:00 $10,000 Seven Card Stud Final Table (Event #41)CBS All Access/PokerGO
6/21 19:00 $1,500 No-Limit Hold'em Bounty Final Table (Event #44) CBS All Access
6/22 13:00 $25,000 Pot-Limit Omaha High Roller Final Table (Event #45) CBS All Access
6/23 13:00 $1,000/$10,000 Ladies No-Limit Hold'em (Event #47) CBS All Access/PokerGO
6/24 21:00 $800 No-Limit Hold'em Deepstack 8-Handed Final Table (Event #53) CBS All Access
6/25 13:00 $10,000 Pot-Limit Omaha 8-Handed Final Table (Event #52) PokerGO
6/26 13:00 Monster Stack – $1,500 No-Limit Hold'em Final Table (Event #50) CBS All Access
6/27 15:00 $50,000 Poker Players Championship Final Table (Event #58) PokerGO
6/28 13:00 $50,000 Poker Players Championship Final Table (Event #58) PokerGO
6/29 19:00 $400 COLOSSUS Final Table (Event #61) CBS All Access
6/30 13:00 $1,500 Omaha Mix Final Table (Event #63) CBS All Access
7/1 13:00 $10,000 Pot-Limit Omaha Hi-Lo 8 or Better Final Table (Event #65) CBS All Access
7/2 21:00 $1,000 Mini Main Event Final Table (Event #69) CBS All Access
7/3 19:00 $888 Crazy Eights No-Limit Hold'em Final Table (Event #64) CBS All Access
7/4 13:00 $5,000 No-Limit Hold'em 6-Handed Final Table (Event #70) CBS All Access
7/11 17:00 $1000+$111 Little One for One Drop Final Table (Event #75) CBS All Access
7/12 13:00 $3,000 No-Limit Hold'em Final Table (Event #79) CBS All Access
7/13 13:00 $100,000 No-Limit Hold'em High Roller Final Table (Event #83) CBS All Access/PokerGO
7/14 13:00 $1,500 50th Annual Bracelet Winners Only No-Limit Hold'em Final Table (Event #81) CBS All Access
7/15 19:00 The Closer – $1,500 No-Limit Hold'em Final Table (Event #84) CBS All Access
7/16 13:00 $10,000 No-Limit Hold'em 6-Handed Final Table (Event #86) CBS All Access
Comments