Odds courtesy of OddsShark.com
Thoroughbred horse racing was arguably the most popular sport in the United States for several decades. But, like boxing, it has largely fallen off the national radar other than the Kentucky Derby and if a horse is going for the Triple Crown in the Belmont Stakes as was the case in 2018 with Justify, who did complete it.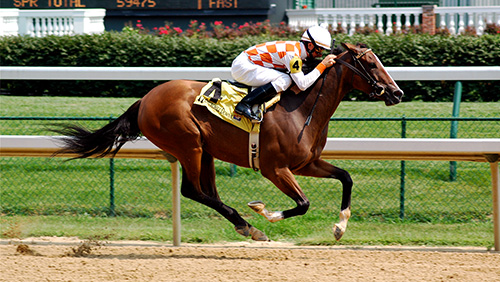 This year's Kentucky Derby was historic for all the wrong reasons as original winner Maximum Security, clearly the best horse in the race in leading nearly wire-to-wire, was disqualified because he drifted into the path of another couple of horses. It was the first time ever that a Derby winner was DQ'd for an in-race foul. Country House, who had finished second, was named the winner. A huge black eye for the sport but in a way a great thing because it was a major talking point nationally for a few days even outside of sports. Horse racing was in the news again, even if for the wrong reasons.
Alas, horse racing just can't get out of its own way. Maximum Security will not run in this week's 144th Preakness Stakes at Pimlico Race Course in Baltimore essentially because his owner is still peeved over the Derby result. With no possible Triple Crown to race for, Gary West opted to not bring Maximum Security back just two weeks later. There will be no Triple Crown this year because Country House developed a minor illness a few days after the Derby and also won't be in the Preakness. It's the first time since 1996 that a Derby winner won't run in the Preakness.
In fact, only four horses who ran in the Derby are in Baltimore: Improbable, who ended up fourth, War of Will (seventh), Win Win Win (ninth) and Bodexpress (13th), who only got into the Derby because pre-race favorite Omaha Beach was scratched due to illness. Omaha Beach won't be in the Preakness, either.
As of this writing, it's a 13-horse field out of a maximum 14 (max is 20 in the Derby). The Preakness is the shortest of the three Triple Crown races at 1 3/16 miles, or 9.5 furlongs. While the Derby is called the "Run for the Roses," this is sometimes referred to as the "Run for the Black-Eyed Susans" as the winner is draped in a blanket of those flowers.
Improbable is the +225 favorite. He's trained by Bob Baffert, who has won a record-tying seven Preakness Stakes. Baffert trained last year's winner, Justify. War of Will is +350, while Alwaysmining has the shortest odds of the "new shooters" at +600. The gelding enters on a six-race winning streak but none of those were major stakes races. In April, the horse dominated at the Federico Tesio Stakes by 11½ lengths.