Macau's gaming industry has not been able to get its motor firing on all cylinders this year. It started the year slow, only seeing a very nominal gain in February, and the trend continues. According to the latest figures offered by the Gaming Inspection and Coordination Bureau (DICJ, for its Portuguese acronym), gross gaming revenue (GGR) in April dropped its biggest amount so far this year.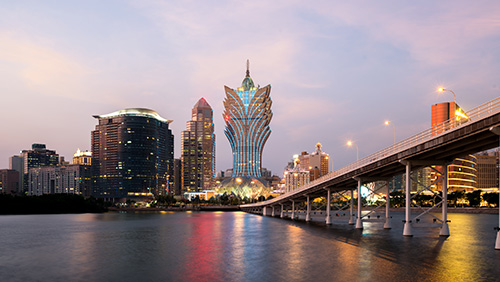 GGR came in 8.3% lower than a year ago last month. This represents a year-to-date contraction of 2.4% compared to what was seen during the same four-month period last year. Overall, the GGR for January through April is about $12.35 billion.
The decline is in line with what some industry analysts had predicted. For example, Nomura's Instinet arm forecast a retraction in GGR of between 3-8% year-on-year. It added that there should be positive growth once Macau "laps the tough +28 percent comp in April." JPMorgan Securities (Asia Pacific) Ltd. indicated that GGR would dip by 5-7% and Sanford C. Bernstein forecast a retraction of 2-4%.
In a little bit of positive news for the city, hotel bookings at several five-star resorts ahead of the upcoming Labor Day period are already significant. MGM China said this past Monday that it expects "very strong" demand for the MGM Cotai during the holiday period, which begins today and runs through Saturday.
The holiday should give mainland Chinese the ability to get out and enjoy the sights. Macau has always relied heavily on mainlanders for the bulk of its business and visitors could potentially travel to the city from today through Sunday. This would prove to give Macau a huge—and much-needed—boost.
According to the Macao Government Tourism Office, Macau is expected to see a year-on-year increase of as much as 20% in arrivals during the Labor Day period.
How significant a boost the visitation will bring remains to be seen. Fitch Ratings reported this week that GGR will most likely remain low for the entire year, only achieving "flat to low single-digit" growth. The outlook is driving by the "economic slowdown on mainland China, which should disproportionately negatively impact the VIP segment (53 percent of total gaming revenues in fourth-quarter 2018)."