The Hong Kong-Zhuhai-Macao (KHZM) bridge continues to make a big difference to the tourism numbers of Macau. Macau's Statistics and Census Service has reported that March's visitor arrivals tallied up to 3.39 million, 24% higher year on year.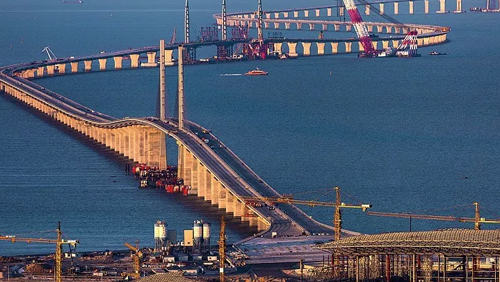 The breakdown of visitor statistics is also good news overall. Visitors who stayed in Macau overnight were up 9.1% year on year, and those just staying for a day or less were up 40.8%, indicating the ability to drive over the bridge for a few hours to check out the sights really helped numbers overall.
On average, tourists stayed for 1.2 days, which showed no change from the previous year.
Increasing the likelihood that the bridge really helped things, visitors from Mainland China were up 31.3%, and those visiting "by land" were up 62.4%. Specifically, the report notes that 504,000 used the bridge during the month of March.
This might be the peak of what the current transport options can provide with the current economic outlook. The report notes that March saw a 4.4% decrease in visits when compared with February. That month was likely boosted by Chinese New Year visits.
The report also notes quarterly numbers for the administrative region. Visitor arrivals are up 21.2% year on year for the first quarter, with increases from citizens of every country listed:
"Mainland China (7,448,291) and Hong Kong (1,793,114) recorded respective growth of 23.5% and 21.3% year-on-year, and those from the Republic of Korea (262,051) and Taiwan (261,853) went up by 9.2% and 3.3% respectively. Visitors from the United States (50,206), Australia (23,965), Canada (20,830) and the United Kingdom (13,860) showed year-on-year increases."
With the number of visitors increasing in nearly every measurable way, Macau appears to be bringing in more tourists from the mass market than the VIP one, considering recent gross gaming revenue (GGR) numbers are down. That's part of the strategy of operators, certainly, but they'll be hoping the VIPs come back sooner than later.
Based on recent prognosis from analysts, Macau is likely to suffer continuing declines in revenue until the US-China trade war gets settled. Chinese manufacturing VIPs will have less credit to play with until their exports can resume.