Before the 2019 NCAA Tournament, Texas Tech was probably best known among sports bettors as the alma mater of current NFL MVP Patrick Mahomes of the Kansas City Chiefs and the former employer of new Arizona Cardinals coach Kliff Kingsbury.
Odds courtesy of OddsShark.com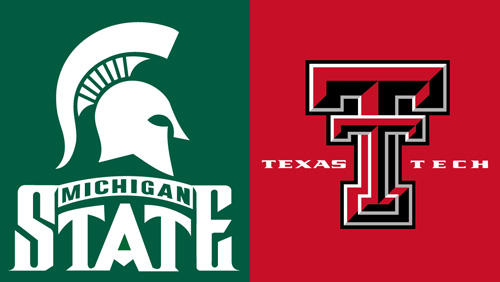 Football is definitely king in Texas, but the Red Raiders are making basketball cool in the Lone Star State – Coach Chris Beard is a god in Lubbock – as they have reached the first Final Four in school history. Third-seeded Texas Tech, the surprise West Region champion, takes on No. 2 seed and East Region champion Michigan State in Saturday's second Final Four game from U.S. Bank Stadium in Minneapolis.
The Spartans, in their 10th all-time Final Four and the only school still standing to have won a national championship (1979 and 2000), are 2.5-point favorites.
Since the NCAA Tournament expanded to 64 teams (now 68) in 1985, Texas Tech is the 16th third seed to reach the Final Four. A total of 11 of those advanced to the title game and four cut down the nets. The last was Connecticut in 2011. While the state of Texas has a rich football history, it has had just one men's basketball national champion: That historic, barrier-breaking Texas Western squad (school is now called UTEP) in 1966.
If Texas Tech is to beat Michigan State, the game might be in the 50s as the Red Raiders have easily the worst adjusted offensive efficiency rating of the four schools left but rank No. 1 nationally in adjusted defensive efficiency. In fact, since noted statistical guru Ken Pomeroy started tracking the adjusted defensive efficiency numbers in 2002, the Red Raiders' mark of 84.1 is the best.
Over the past decade, national champions have generally ranked in the Top 10 in both the offensive and defensive numbers by Pomeroy. Virginia, which takes on Auburn in Saturday's first game, is Top 10 in both. So is Michigan State. Coach Tom Izzo's Spartans are likely the deeper bunch than Texas Tech but their success is essentially predicated on point guard Cassius Winston, perhaps the best in America. He was clearly the reason MSU upset No. 1 Duke in the Elite Eight and became only the third Spartan in NCAA Tournament history with a 20-point, 10-assist game.
The Spartans are the 29th second seed to reach the Final Four since the field expanded. A total of 12 advanced and five won it all, the last was Villanova in 2016. It's the first-ever meeting between Michigan State and Texas Tech.