The outlook for gross gaming revenue (GGR) in Macau this month is a little bleak. According to the four major brokerages covering the region, GGR is going to shrink anywhere between 2%-8%. However, there is some good news, as the general opinion is that revenue will see growth later this year.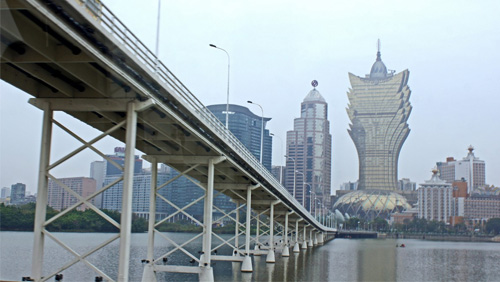 2018 started strong for GGR in Macau and stayed that way through the first half of the year. As the trade war between the U.S. and China heated up, that growth waned in the latter half and spilled over into early 2019. If things go well, a better Chinese economy this year could push Macau GGR back up.
This past Monday, the Gaming Inspection and Coordination Bureau (DICJ, for its Portuguese acronym) indicated GGR in March was down 0.4% year-on-year. The aggregate decline for 2019 to date is now 0.5%, or $9.46 billion.
This decline led Grant Govertsen of Union Gaming to assert, "As comps [comparisons] begin to ease this spring we are looking for growth to return as of May and generally maintain in the mid-single digits." He added that GGR for this month will be 2.8% lower than it was in April 2018.
Govertsen pointed out that the absolute level of GGR in March, $3.195 billion, was higher than the $3.137 billion seen in February. He explained, "In our view, considering the macro backdrop, a sequential increase should be viewed positively and a sign of resilience in the market."
Nomura, the Japanese brokerage, issued its stance, as well, pointing out the tough comps as a reason for a difficult month. The brokerage expects GGR to drop anywhere from 3-8% year-on-year.
JP Morgan Securities (Asia Pacific) Ltd. sees GGR dropping 5-7%. This is the same as its previous estimate, but the entity now believes that the decline could be followed by a "low-single-digit recovery" next month.
Analysts with Sanford C. Bernstein have forecast a drop of 2-4%. They believe that China's improved economy could help boost Macau's GGR, but add that they aren't sure how sustainable this will be over the coming months.
China's manufacturing industry increased unexpectedly in March, reaching a pace that hasn't been seen in over eight months and despite the ongoing trade war.