After billionaire Sir Richard Branson purchased the Hard Rock Hotel & Casino Las Vegas, he announced that the property would become the Virgin Hotels Las Vegas. The transformation, including updates to the venue's hotel rooms, was expected to be complete sometime this year, but it now appears that those plans are being delayed. According to Gaming Today, the final touches are being made to the new layout and the property will stay intact until sometime early next year.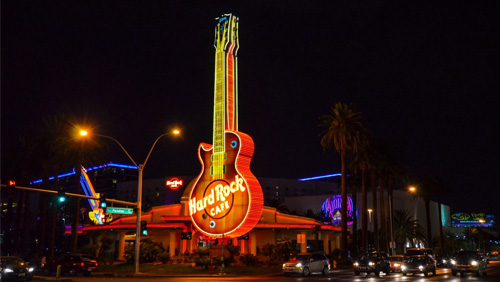 Richard "Boz" Bosworth, the president and CEO of JC Hospitality and Hard Rock Hotel & Casino, explains, "The property's project deadlines were fluid and the scope of the project continued to expand. Based on the additional improvements that we have identified, the deadline to begin work has shifted to early 2020." He adds, "Significant construction activities remain 10 months away and the property will remain open for business without any disruptions to our guests and team members through Super Bowl of 2020."
The Hard Rock Las Vegas has been an icon of Sin City since 1995. The venue is going to take full advantage of the delays and is introducing several changes to attract attention until the official handoff occurs. This Friday, it is introducing a new pool experience with its Breathe Pool Lounge, an exclusive and sophisticated duo of pool areas with incredible views of the Las Vegas Strip, as well as the resort's tropical oasis.
The Joint, Hard Rock's music showroom, is going to see some action, as well. After having been renovated 10 years ago, it is going to welcome a "full slate of world-class entertainment," including "English pop rock band The 1975 (April 16); comedian Jeff Dunham (April 26); rapper Juice WRLD (May 3); Hollywood Vampires, featuring Alice Cooper, Johnny Depp and Joe Perry (May 10); Grammy-nominated Snow Patrol (May 18); RBRM Bobby Brown and Bell Biv Devoe (June 15)."
Also set to cross the stage this year will be Judas Priest and Coheed and Cambria in June. September 5-8, The Joint will host the Sixth Annual Big Blues Bender, an event that celebrates the blues, its music and its roots.