The Global Poker Index has merged the American and European Poker Awards to form the Global Poker Awards on April 5 with PokerStars and Poker Central providing some support.
It's time to get out of the kitchen, stop eating those cookies, and start hitting the treadmill. You're going to need a new grass skirt, Poker Masters can finally wear that purple jacket, and even people who can hold a birthday party in a phone booth will feel important for one night only.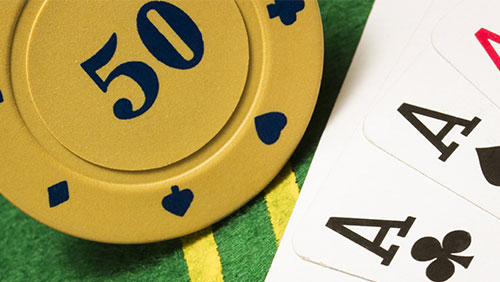 It's time for the Oscars of poker.
The Global Poker Index (GPI) is teaming up with PokerStars and Poker Central to bring you the inaugural Global Poker Awards. The GPI gets to flex its rating muscle, PokerStars gets to spread brand awareness throughout the USA, and Poker Central will pick up a few more subscribers as they plan to broadcast the event live from the PokerGO Studios at the ARIA in Las Vegas.
In the past, the GPI has hosted two annual poker awards ceremonies and conferences in the shape of the American Poker Awards (APA) and the European Poker Awards (EPA). The EPA has fizzled out in the past few years, but the APA has been a staple part of the poker communities annual awards diet.
Eric Danis and the team plan to dole out 20 awards to players, industry leaders and members of the media. A full list of categories and nominations will follow, shortly.
The plan is for a specially chosen nomination panel to create the category shortlists, with a special jury made up of industry representatives selecting the winners.
Sam Simmons, president of Poker Central, said that Poker Central was 'thrilled' to live stream the awards ceremony from the PokerGO Studios while providing loyal subscribers a 'front row seat' at the awards ceremony.
Eric Danis, GPI president, said that the team are excited to bring the EPA and APA together, and promised to bring recognition to the most prominent pieces of the poker puzzle on an 'unprecedented' scale.
It is the only poker awards ceremony in the galaxy, and it takes place on April 5. You have two ways to watch it. Either you make the shortlist, or you subscribe to PokerGO at the reasonable cost of $10 per month.
Let's hope with a new format we see a more divergent range of categories. In the past, there has been a lot of focus on players, members of the media and poker organisations, and I feel there has to be a spot for the industry cogs that are rarely noticed.
One such cog is the poker dealer.
Ok, so AI will eventually send them the way of the Dodo, but until that happens, wouldn't it be lovely to see one of them receiving recognition for what's typically an undervalued part of poker's machinery.