Major League Baseball (MLB) is beginning to get into full swing. Training camps are active and spring training games have begun over the course of the past week. Always a hit with sports gamblers as they look to start the season strong, MLB would prefer that wagers not be allowed on training games and reached out to Nevada to see if the state's sportsbooks would play along. The answer should be obvious.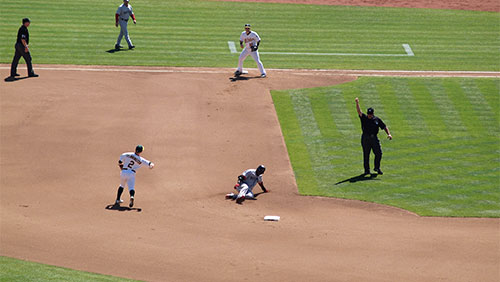 MLB sent a letter to the Nevada Gaming Control Board (NGCB), asking it to take spring training games out of the sports gambling lineup. It argued that players typically don't "perform at maximum effort on every single play," which could "carry heightened integrity risks." It added that the expansion of sports gambling across the country, following the demise of PASPA last year, has also opened the door to other "integrity risks" surrounding the games.
The league further explained, "Spring Training games are exhibition contests in which the primary focus of Clubs and players is to prepare for the coming season rather than to win games or perform at maximum effort on every single play. These games are not conducive to betting and carry heightened integrity risks, and states should not permit bookmakers to offer bets on them. Limited and historically in-person betting on Spring Training in one state did not pose nearly the same integrity risks that widespread betting on Spring Training in multiple states will pose."
The NGCB probably thought about the request for all of two seconds (half of which was filled with laughter) before sending the league its response. It replied, "Based on our history and experience in regulating sports wagering, we are not inclined to prohibit our licensed sports books from taking wagers on MLB Spring Training games. We have a common goal to combat sports bribery and maintain the integrity of your sport, and are available to discuss ways we can work together in this effort."
Nevada wasn't the only state to receive the letter; however, since sports wagers make up such a large portion of the local economy, it isn't surprising that it wouldn't want to lose any of its income. Both Pennsylvania's Gaming Control Board and the Mississippi Gaming Commission received similar requests—Pennsylvania has asked sportsbooks to take a knee while it considers the request and Mississippi will discuss the issue, but hasn't indicated that it would prevent sportsbooks from receiving spring training game bets.
Comments