This article has been updated to include quotes from the Blockchain Poker team. 
Online gambling operators can look at another example of a site turning to cryptocurrencies as a great payment option. Blockchain Poker offers No Limit Texas Hold'em cash game poker tables, and this week announced they had started accepting Bitcoin SV (BSV) for deposits and withdrawals.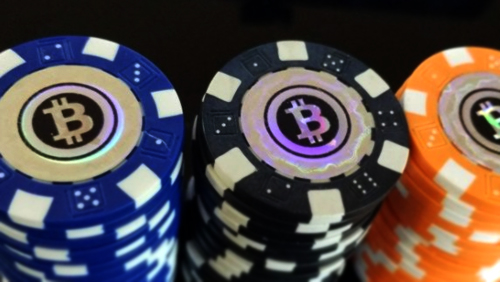 The site has been around since 2015, and began by accepting Bitcoin Core (BTC), with the intent to show the world that Bitcoin could have real applications. They then switched to Bitcoin Cash (BCHABC) in July 2018, because BTC was getting backlogged from high traffic, causing high fees and slower transactions.
They announced on February 4 that they now support BSV. After the November hard fork that saw BSV reborn as the original Bitcoin, Blockchain Poker took the stance that they would wait out the fork to see what happened with the two cryptos. They added BSV to their roadmap recently, and told us about the move, "We knew that we were going to allow access to existing BSV funds out of the gate but wanted to spend some time reviewing the direction of the platform as well as gather community feedback."
The advantages of using BSV line up neatly with Blockchain Poker's goals. They said, "We decided last year that we would only add support for currencies that allow us to fulfill our initial goal of building the best poker platform possible and BSV meets that requirement. The BSV network provides potential for expanding on-chain features that just aren't possible on BTC."
Signing up is as easy as visiting the site, setting a user name and password, and sitting down to a table. If you're new to Bitcoin, Blockchain Poker will spot you 100 satoshis (each satoshi is one hundred millionth of a single Bitcoin) to get you started. I tried a BSV table, and had someone to play within a couple of minutes of sitting down. BTC tables usually have a handful of players as well.
The site has a lot of ambitious goals for the next couple of years. According to their roadmap, single and multi-table tournaments should be coming sometime this quarter. Later this year, they plan to integrate provable fairness into their shuffling, allowing players to verify the legitimacy of the game. They're hoping to also add other variants of poker, like Limit Hold'em and Pot Limit Omaha, by sometime in 2020.
The site owners post frequently to Reddit, and their love of cryptocurrencies is clear. They said in one post, "The goal is to onboard as many new people into crypto as possible. If we do a good job, solving one problem will solve the other."
By accepting cryptocurrencies like BSV, Blockchain Poker is taking advantage of cutting out the middleman. By not having to deal with third party payment providers, they are cutting out unnecessary fees, while maintaining extremely fast safe and secure transactions.
The Blockchain Poker team expects BSV will be another great addition for their players. "We're giving BSV an equal opportunity to help us onboard as many new people into the Bitcoin space as possible and we can only do that by supporting currencies that allow us to provide the best experience possible," they said.
Much like Phun.io, Blockchain Poker is proving to the world that you can run a successful site, accepting nothing but cryptocurrency as a payment option. Now that they have BSV, they can expect business to pick up. As one fan said on Twitter, "thanks for supporting BSV the real Bitcoin!"