The final word on a highly successful 2019 Aussie Millions with Anton Morgenstern winning the first-ever AUD 25,000 Pot-Limit-Omaha after beating Farid Jattin, heads-up.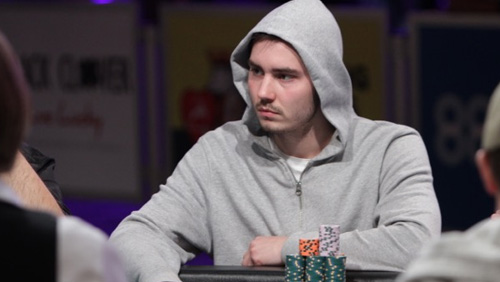 It's Monday morning.
A man stands in an elevator thinking through his bad beats. A woman travels on the subway castigated herself for willing her premonitions of disaster into reality. A man and a woman use their winnings to send their kid on a tea date with Mickey Mouse.
The 2019 Aussie Millions is currently a carcass with a view vultures left picking through the bones.
It was a bloody good one.
The final event worthy of a place on Scrivener was the AUD 25,000 Pot-Limit Omaha (PLO). It's the first time the organisers have held a PLO contest as such an extravagant price point, and 67-players gave them a nod of approval.
By the end of Day 1, only 16 remained with Andras Nemeth in charge, and the Global Poker Index (GPI) World #1, Alex Foxen, showing that he can hold four cards in his hand.
Day 2 Starting Chip Counts
1. Andras Nemeth – 518,500
2. David Lim – 361,000
3. Farid Jattin – 284,000
4. Tobias Ziegler – 280,000
5. Rory Rees – 227,000
6. Jarryd Godena – 220,500
7. Alex Foxen – 206,000
8. Sam Higgs – 179,500
9. Daniel Laidlaw – 160,000
10. Daniel Demicki – 155,000
11. Max Lehmanski – 152,000
12. Anton Morgenstern – 150,000
13. Takashi Ogura – 133,500
14. Matthew Wantman – 131,500
15. Richard Johnson – 113,500
16. Christian Heich – 77,000
The chip leader's assault on the event would end in tenth place after Foxen's AcAsTs9d beat the AhKdJd7h of the Hungarian with pocket aces holding after a five card feast. Rory Rees left in ninth when his Ah9s7h4c lost to the AdKdKh4s of Tobias Ziegler. Then we lost Takashi Ogura on the bubble. The man from Japan lost a series of pots to dwindle to two big blinds, and Farid Jattin gobbled them up when AdQdQs7c beat AsTd4s3d.
The ITM Action
Farid Jattin eliminated Alex Foxen after the American check-raised jammed the turn on 5h4h2cTd holding AcTh8h7d for a pair of tens, and Jattin called with KsKc8d6s, for his pocket kings to send Foxen to the rail in seventh place.
Tobias Ziegler eliminated Max Lehmanski in sixth place when the pair got it in pre-flop. Lehmanski showed AcKh9h8h, and Ziegler had a similar hand with AsKc6d7s. A six landed on the flop to give Ziegler a pair, and it remained good after the turn and river had leapt out of the deck like salmon scaling a waterfall.
Jarryd Godena fell in fifth place after moving all-in on Ad7s3c in a three-bet pot against Farid Jattin. When the cards turned sunny side up Godena was ahead with AcKsJh4s for top pair, and Jattin had some catching up to do with 9d6s5c4c for the gutshot. The Colombian caught up pretty quickly when the 5h hit the turn to complete the straight, and Godena was drawing deader than Vincent van Gogh without a pencil.
The combination of Farid Jattin taking one out, and Tobias Ziegler doing likewise continued with the elimination of Daniel Demicki in fourth place. Ziegler put Demicki all-in on a flop of Jd3s2c holding Ac7c8h8d for a pair of eights, and Demicki called with Js9sThTd for a pair of jacks, but the Ah on the turn gave Ziegler a pair of aces, and just like that the Bulgarian was out.
Farid Jattin would set up a heads-up encounter with Anton Morgenstern after eliminating Tobias Ziegler in third place. With blinds at 12k/24k, Jattin opened to 63,000, and Zeigler made the call. The flop was Th7c2h; Jattin bet 83,000, and Ziegler called. The turn card was the 4d; Jattin bet the pot (292,000), Zeigler moved all-in for 735,000, and Jattin called. When the cards were turned over, Ziegler's Jh8h7s4h was ahead with a pair of sevens. Jattin held QcJc9s8d for the wrap, and it got there on the jack river to eliminate one German so he could trade cards with another.
Heads-up Tale of the Tape
– Farid Jattin: 2,600,000
– Anton Morgenstern: 715,000
Jattin was odds-on to take the title with close to a 4:1 chip lead, but Morgenstern doubled up twice to even the stacks. The Colombian proposed a deal, but the German was feeling like a principal in a high school by this point and turned it down.
Morgenstern's timing was impeccably sick, as in the next hand he flopped a boat on Th5c5s holding AcJsTd5h, and extracted every single one of Jattin's chips to take the title.
The win was Morgenstern's most significant of his career, his only other title win, also in PLO, came in a side event at the 2017 PokerStars Championship in Monte Carlo. The Germans two most significant scores before this win came in the 2013 and 2015 World Series of Poker (WSOP) Main Events where he banked $285,408 and $262,574 respectively.
ITM Results
1. Anton Morgenstern – $382,061
2. Farid Jattin – $243,130
3. Tobias Ziegler – $162,086
4. Daniel Demicki – $127,354
5. Jarryd Godena – $92,621
6. Max Lehamnski – $81,043
7. Alex Foxen – $69,466
Aussie Millions Full Results
Event #1: AUD 1,200 NLHE – Michael Asad ($158,249)
Event #2: AUD 2,500 H.O.R.S.E – Daniel Mayoh ($20,976)
Event #3: AUD 1,200 NLHE Shootout – Justin Liberto ($33,131)
Event #4: AUD 1,200 PLO – Paul Hockin ($50,258)
Event #5: AUD 1,200 NLHE Mix-Max – Ari Engel ($51,538)
Event #6: AUD 1,200 NLHE 6-Max – Bart Lybaert ($89,042)
Event #7: AUD 2,500 8-Game Mixed – Michael Gathy ($41,794)
Event #8: AUD 1,200 NLHE Accumulator – Vincent Huang ($133,158)
Event #9: AUD 25,000 Challenge – Rainer Kempe ($590,814)
Event #10: AUD 2,000 NLHE Bounty – Luis Arrilucea ($98,132)
Event #11: AUD 10,600 Main Event – Bryn Kenney ($914,617)
Event #12: AUD 50,000 Challenge – Toby Lewis ($587,936)
Event #13: AUD 1,200 NLHE Terminator – Ioannis Angelou-Konstas ($42,902)
Event #14: AUD 1,200 NLHE Hyper-Turbo – Michel Bouskila ($58,160)
Event #15: AUD 1,200 NLHE/PLO – Andrew Bassat ($31,529)
Event #16: AUD 1,200 PLO Hi-Lo – Dean Francis ($21,781)
Event #17: AUD 2,500 NLHE – Marcus Unwin ($114,774)
Event #18: AUD NLHE Tournament of Champions – Daniel Tang ($53,629)
Event #19: AUD 2,500 PLO – Steve Moreschi ($61,119)
Event #20: AUD 100,000 Challenge – Cary Katz ($1,074,908)
Event #21: AUD 2,500 NLHE 6-Max Shot Clock – Guillaume Nolet ($123,377)
Event #23: AUD 5,000 NLHE Six-Max – Jamie Lee ($115,075)
Event #25: AUD 1,200 NLHE Shot Clock – Vincent Huang ($47,273)