Another round-up from the Aussie Millions neither live, nor direct, and not from the Crown Casino in Melbourne, but a Starbucks in Tujunga, LA, including wins for Ari Engel, Daniel Mayoh and Paul Hockin.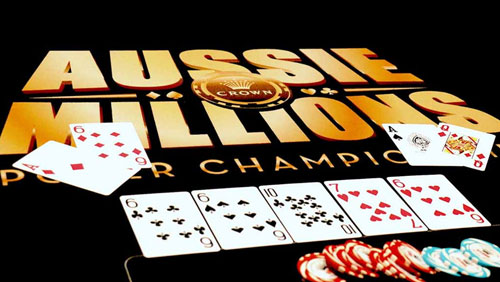 Other than some dickhead driving down the freeway while reading a book, an ex-teacher facing the beak on child pornography charges, and a fifth woman murdered in the past six years, it's been a relatively quiet day in Melbourne.
The poker bubble allows us to be whisked away from the startling truth of the human condition, much like Glinda the Good Witch of the South floating to the Emerald City inside her little pink effort.
That bubble currently sits in Melbourne, unseen by the Muggles, and one person who hitched a ride is Ari Engel.
The Canadian star has been switching off poker player's life support machines for the past 12-years, and yesterday, he did it again, ending the tournament life of Charlie Hawes to win Event #5: AUD 1,200 No-Limit Hold'em Mix-Max at the Aussie Millions.
A No-Limit Hold'em Mix-Max event spoon feeds you a feast of Full Ring, 6-Max and Heads-Up action, and Engel swallowed every single chip on the menu irrespective of what type of plate the Crown Casino served them on.
Burp!
Pardon you.
The win is Engel's 27th career title, and the second gathered during the Southern Hemisphere's longest running poker box set after he won the 2016 Aussie Millions Main Event for a career-high score of AUD 1,600,000.
Engel made his way to his seventh Aussie Millions final table after taking out the super-talented Jack Salter in the first round of heads-up action. Seriously, if Salter were a dildo, he would be a gold-coated Tantus Ultra Realistic, he is that good. So Engel must have felt like he'd just received a shave from The Mandarin Barber in Hong Kong after turning his short stack into the only stack, and if you give a man with that much ability that much confidence then people like Hawes don't stand a chance.
He didn't.
Engel had the whole thing sewn up before the rise of a soufflé, although he later admitted that had the cards been reversed, Hawes would have likely have walked away with the title.
Don't let the man's humility fool you.
Final Table Results
1. Ari Engel – $47,088
2. Charlie Hawes – $38,736
3. Alex Lee – $17,039
4. Hwan Park- $17,032
5. Casey Kastle – $7,081
6. Friedrich Martin – $7,081
7. Jack Salter – $7,801
8. Sarah Bilney – $7,081
In other Aussie Millions news, Daniel Mayoh put the blinkers on 54-entrants in the AUD 2,500 H.O.R.S.E to win the $20,976 first prize. The win was Mayoh's first cash in the Aussie Millions, his third career win, and his personal best score.
Here are the ITM results:
ITM Results
1. Daniel Mayoh – $20,976
2. Srdjan Brkic – $19,809
3. Timothy Marsters – $18,729
4. Michael Moore – $9,627
5. Billy Argyros – $7,002
6. Lee Nelson – $6,127
7. Luke Edwards – $5,251
The last I have to say on the subject of Melbourne (until tomorrow) is to bring your awareness to Paul Hockin taking down Event #4: AUD 1,150 Pot-Limit Omaha to win the $43,250 first prize, after cutting a heads-up deal with Dylan Kii.
Hockin likes this place.
In 2012, he beat 345-entrants to win the $103,551 first prize in the now defunct Australia & New Zealand Poker Tour (ANZPT) in the Crown Casino.
Here are the final table results:
Final Table Results
1. Paul Hockin – $60,070*
2. Dylan Kii – $55,070*
3. Michael Hahn – $28,780
4. Johan Dalessandri – $22,880
5. Michael Seymour – $17,270
6. William Mitchell – $14,020
7. Ryan Hong – $11,070
8. Peter Brasile – $8,855
9. Christine Hia – $7,085
The Melbourne poker continues as I type.
As will the rest of that nasty stuff.