The PokerStars European Poker Tour has ended its 2018 run, and the German Paul Michaelis has taken down the final event in Prague for €840,000 and a $30,000 Platinum Pass.
Bill Burr is set to perform in Prague in January.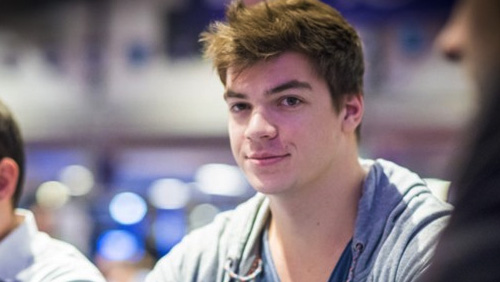 I love the man and was fortunate to watch him in LA the last time I was in town. F for Family is brilliant, and whenever I think of Burr, I hear Frank telling one of his kids that he's about to put them through that fucking wall.
Paul Michaelis put a lot of people through a fucking wall during his ascent to the top of the PokerStars' European Poker Tour (EPT) Prague Main Event, and he was the only one smiling. The man was a hurricane. The results were devastating.
The €5,300 EPT Prague Main Event attracted 1,174-entrants (893 entrants, 281 re-entries), and the final table contained a few murderous poker players capable of beheading the most beautiful looking flowers in the vase.
Parker "Tonkaaaa" Talbot was trying to become the first Twitch star to win a major tournament, in that order, and had a legion of fans pushing him towards the title, only for his entourage to run out of puff in sixth place. Still, it was a magical moment for the 888Poker Ambassador who secured a lifetime best live score of €179,360, beating the €160,080 he earned for finishing seventh in a €25k High Roller at EPT Barcelona in 2016.
Diego Zeitler was making his second major PokerStars Live final table. The Swiss star finished sixth in the PokerStars Championship Monte Carlo last year, and he bowed out in eighth in this one.
Ignat Liviu is not renown for his live tournament exploits, but stick him in a high stakes cash game and the man becomes the axe the tree can't stop. The Romanian's run ended in seventh.
Laurynas Levinskas was no stranger to PokerStars live action having won a $10k High Roller at the PokerStars Championship in Macau for $194,981 back in 2017, and finishing runner-up to Andrey Zaichenko in a 2014 €10k High Roller at EPT Prague earning €412,910. The Lithuanian banked €316,000 for a fourth-place finish.
With Levinskas out of the way Paul Michaelis, Artem Koblynskyi, and Alexandr Merzhvinskii settled on a deal that saw Michaelis lock up €770,000, Merzhvinskii securing €631,500, and Kobylynskyi ensuring €571,910 would hit his bank account no matter what happened from that point on.
Merzhvinskii was the first post-deal casualty when his As7d ran into Michaelis's brick wall of A9dd. It was another splendid run from the Russian star who won the PokerStars Festival Sochi Main Event for $134,163 and came third in the partypoker MILLIONS event at the same venue for $400,000 in 2017.
Michaelis began his heads-up encounter with Koblynskyi showing off a 23.5m v 11.7m chip lead, and it wasn't long before they both turned up with monsters. Kobylynski held TT, Michaelis held JJ, and that was the end of that.
It's a fantastic end to what's been a dormant year for the man who won a World Series of Poker (WSOP) bracelet in 2015 beating 639-entrants in a $1,500 Pot-Limit Hold'em event, including Tom Marchese, heads-up, no less.
The young German now has $1,778,427 in lifetime earnings, and a $30,000 Platinum Pass to the $25,000 PokerStars Player's No-Limit Hold'em Championship that takes place next month. 
Here are the final table results: 
Final Table Results
1. Paul Michaelis – €840,000*
2. Artem Koblynskyi – €571,910*
3. Alexandr Merzhvinskii – €631,500*
4. Laurynas Levinskas – €316,000
5. Carlos Branco – €242,560
6. Parker Talbot – €179,360
7. Liviu Ignat – €136,720
8. Diego Zeiter – €97,420
*Signifies a deal
Three other stars who moved through this field like an ocean liner cutting through the blue were the former EPT Champions, Andrey Pateychuk (9th), and Anton Wigg (35th) and the WPT Champions Club member Scott Margereson (46th).