The World Series of Poker produces a second summer bracelet for Benny Glaser, a second Russian bracelet of the summer courtesy of Andrey Zaichenko, and Jason Mercier still hunting for bracelet #3 of the summer with another deep run.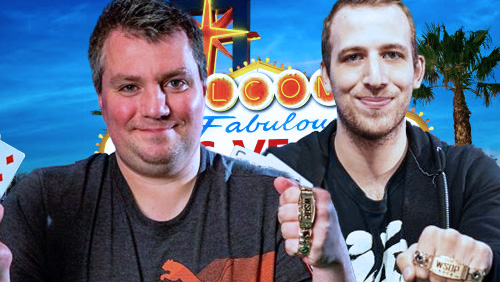 Benny Glaser has won the bracelet and $407,194 first prize in Event #32: $10,000 Omaha Hi-Low Split-8 or Better, meaning the lad from the UK has won back-to-back Omaha Hi-Low Split 8 or Better events.
Glaser has become the third player in the series able to put a bracelet on each wrist following in the footsteps of Jason Mercier and Ian Johns. It also means Glaser is right on the coattails of Mercier in the World Series of Poker (WSOP) Player of the Year (POY) race.
The 163 entrants make it one of the smallest fields of the WSOP, but none of that will bother Glaser. He has now won three bracelets in two years, making him one of the most in-form players on the WSOP circuit.
"Going back-to-back just makes it feel more crazy and amazing," Glaser told WSOP officials shortly after his win.
Final Table Results
1st. Benny Glaser – $407,184
2nd. Douglas Lorgeree – $251,665
3rd. Matt Glantz – $175,754
4th. Grzegorz Trelski – $125,125
5th. Robrt Campbell – $90,846
6th. Per Hildebrand – $67,291
7th. Todd Brunson – $50,872
8th. Jason Mercier – $39,269
9th. Felipe Ramos – $30,965
Eli Elezra bubbled the final table; Shaun Deeb finished 13th, and Richard Ashby finished 18th.
WSOP Player of the Year Standings
1. Jason Mercier – 1,403.99 pts
2. Benny Glaser – 1,156.57 pts
3. Ryan Laplante – 1,073.13 pts
4. David Vamplew – 998.25 pts
5. Bart Lybaert – 984.90 pts
Andrey Zaichenko Wins Event #34: $1,500 2-7 Triple Draw Lowball (Limit)

Andrey Zaichenko has become the second Russian to win a WSOP bracelet this summer. The 38-year old from Moscow joins Viatcheslav Ortynskiy, who won the $3,000 buy-in Six-Handed Pot-Limit Omaha title, in that honour list.
Zaichenko is a seasoned veteran of the WSOP with 32 cashes, and five final tables and he credits his first gold bracelet to a recent upsurge of Limit cash games in his home country. He started the final table fifth in chips but managed to find the right cards in the right spots to overcome the starting day chip leader, Jameson Painter, in heads-up action.
Final Table Results
1. Andrey Zaichenko – $117,947
2. Jameson Painter – $72,878
3. Guy Hareuveni – $46,992
4. Aleksnadr Vinskiy – $31,099
5. Adam Spiegelber – $21,139
6. Andrey Nadelyuev – $14,769
7. Andrew Kelsall – $10,614
8. Daniel Zack – $10,614
9. Sebastian Schulz – $7,853
Andy Bloch finished (15th), Michael Watson (18th), and Vanessa Selbst (20th).
The Best of the Rest
The former World Series of Poker Europe (WSOPE) Main Event champion, Adrian Mateos, is leading the final 17 players of the Summer Solstice event. 1,840 players entered the extended level event, and only 17 remain in contention for the bracelet.
Top Five Chip Counts
1. Adrian Mateos – 1,763,000
2. Alexey Blyakher – 1,307,000
3. Ronald McGinnity – 1,200,000
4. Ralph Wong – 1,117,000
5. Alessandro Borsa – 1,024,000
Keep an eye on Jon Turner (7th), Martin Kozlov (8th), Jason Wheeler (13th), Chris Moorman (15th), and Kathy Liebert (17th).
Bracelet winner, Thiago Nishijima, leads the final 21 players in Event #35: $5,000 Six-Handed No-Limit Hold'em. The Brazilian is one of two players who finished Day 2 with a seven-figure chip count; Jason Koon also has over a million chips as he goes searching for his first-ever bracelet.
Top Five Chip Counts
1. Thiago Nishijima – 1,222,000
2. Jason Koon – 1,142,000
3. Manuel Saavedra Nunez – 994,000
4. Artur Koren – 808,000
5. Benjamin Reinhart – 796,000
Michael Gathy (8th), Adrien Allain (13th), Jake Schindler (15th), Jonathan Little (16th), Pratyush Buddiga (17th), Felix Stephensen (18th), and Martin Finger (19th) are also in contention for the $560,843 first prize. 541 entrants created a $2,542,700 prize pool.
Jason Mercier is hunting for bracelet number six, and three in a fortnight, after finishing 11/13 at the end of Day 2 in Event #36: $2,500 Mixed Omaha/Seven Card Stud Hi-Lo 8 or Better. 394 players created a prizepool of $896,350, and Gleb Kovtunov leads the final 13 players fighting for the bracelet and $213,186 in prize money. Mercier stands to win somewhere in the region of $2m in side bets if he can win bracelet #3. Amongst those trying to stop him will be the Global Poker League (GPL) Team Manager Fabrice Soulier currently in third position.
Top Five Chip Counts
1. Gleb Kovtunov – 673,000
2. Timothy Burt – 647,000
3. Per Hildebrand – 597,000
4. Fabrice Soulier – 593,000
5. Hani Awad – 521,000
776 entrants created a prizepool of $1,047,000 in Event #37: $1,500 Pot-Limit Omaha, and Dieyar Kakel, from the United Arab Emirates, ended the first day of action with the chip lead. Kakel bagged up 151,800 chips. 121 players remain, and they include Joe Serock (150,800), Jake Schwartz (100,800), and Daniel Negreanu (98,000).
Top Five Chip Counts
1. Dieyar Kakel – 151,800
2. Joe Serock – 150,800
3. Richard Austin – 149,200
4. Tommy Le – 141,000
5. Andrew Peplinski – 137,500
The winner will pick up $212,128.
Warwick Mirzikinian leads the final 64 players in Event #38: $3,000 Six-Handed Limit Hold'em. 245 entrants created a prizepool of $668,850, and the winner will take home $169,337. Rep Porter is in the hunt for his second bracelet of the summer, Ian Johns is after bracelet number three, and former WSOP Main Event champions Joe McKeehen and Jonathan Duhamel also have chips in the bag for Day 2.
Top Five Chip Counts
1. Warwick Mirzikinian – 136,400
2. Rep Porter – 131,900
3. Ian Johns – 109,000
4. Brendan Taylor – 109,000
5. Brian Tate – 100,200
Comments