A trio of news stories from 888Poker including further details on Pick'em8, a downloadable shot clock, and a deep run at the PokerStars European Poker Tour in Prague for Parker "Tonkaaaa" Talbot.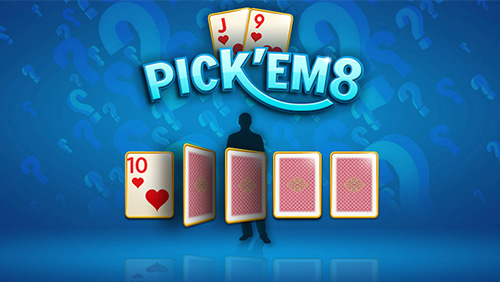 I leave my teabag in the cup until that's all there is. I used to press the life out of it with a spoon before it joined the carrot tops and celery ends in the brown bin, so I am a man who embraces change, so why is the latest offering from 888 bugging me?
News started fluttering around the digital airwaves that 888Poker had plans to launch a new game back in September. There was even a name 'Pik'em Poker,' but nothing from the mouth of the horse.
Nearly four months later, the mouth of the horse remains shut, but that hasn't stopped the word hitting the street.
As is typical with these things, Nick Jones and the team at Pokerfuse had the scoop, acting as 888Poker's marketing vehicle before a press release hits any one of fifty poker media email inboxes.
Pik'em Poker is Pick'em8, and it's the byproduct of a good shagging session between a casino game and poker. The game has poker's face, but the mechanics are from the guts of the casino industry. There are no opponents. It's a game of luck against the house.
The Guts 
The cost per play is $0.25 or $1, and when you begin, you get to choose two hole cards from eight possibilities. You are up against the clock, so if you fail to select in time, the AI will pick two at random.
And that's that.
The end.
Game over.
It's the equivalent of sticking your money in a slot machine and pressing 'Play.'
The AI creates a random flop, turn and river, and the winning hands share the prizepool, with 888Poker the only stable winner thanks to the rake.
So why does this thing make me want to vent my spleen?
I think it's an offering that moves too far away from the DNA of poker. I'm not saying that all new games have to be 'spoon in spoon' close, but it's a far cry from the new games that have surfaced from PokerStars in the past 12-months that all maintained a skill-element at its core.
However, 888Poker is too smart to spend time and development costs creating a game that their customers don't want, so maybe poker is poker, and there is a need for a quick button mash while talking a morning dump.
Time will tell.
Thumbs Down For Short-Deck; Thumbs Up For 888 Shot Clock; Talbot's Perfect Prague Birthday Present 
One game I thought 888Poker would include in their roster, either live or online, was Short-Deck after a freelance writer produced a guide on how to play the game for 888Poker's online magazine.
A representative of 888Poker's poker team has since brought the axe down on that idea, confirming that as of today 888Poker has no plans to introduce Short-Deck into their online or live menus.
One new poker-related thing that 888Poker has released recently is the 888 Shot Clock. 888Poker became the first live tour operator to introduce the 888 Shot Clock in all Main Events and High Rollers back in January 2018 and remain the outlier in that regard.
Recently, 888Poker's development team created an online 888 Shot Clock that you can use in your local home games. Click here to download it.
Last but not least, 888Poker's ambassador Parker "Tonkaaaa" Talbot is celebrating his birthday in style. The Twitch star currently sits 5/16 at the end of Day 4 of the PokerStars' European Poker Tour (EPT) in Prague. There's €1m up top in that event.