A round-up of the final throes of the Heartland Poker Tour's XIV Season, including a Championship win for the ten-time World Series of Poker Circuit gold ring winner, Joshua Reichard, and a Player of the Year win for Aaron Johnson.
The shotgun would take a head off with one shot. It was my favourite weapon. 1996. Resident Evil. Sony PlayStation. It was the only time in my life that I chose to stay in on a Saturday night, instead of ending up horizontal on some park bench, and it was because of this game.
I couldn't put it down.
It's not a stretch to say that back in the late 90s, the PlayStation kept a lot of people away from the bar, and that's not a bad thing when you consider alcohol kills 3.3 million people per year – more than war, murder, terrorism, and zombies combined.
Things have changed.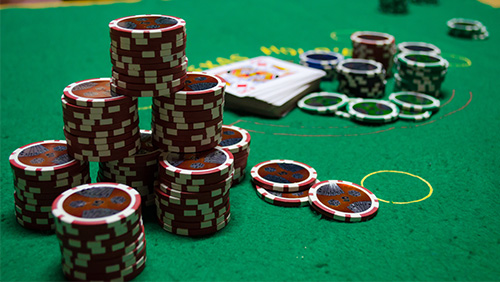 Take Chicago, for example.
This week, the state began hitting PlayStation users with a 9% tax on streaming content in line with a controversial Amusement Tax, and that, ladies and gentlemen, is more painful than one of those shotgun blows to the head.
So it's little wonder that 434 people put down their controllers in a fit of disgust, and headed to the Ameristar Casino & Hotel to compete in the Season XIV Heartland Poker Tour (HPT) $2,500 Championship Finale, raking in close to a million bucks in prize money.
The final table contained more chicken dinners than a KFC corporate Christmas party. The former Mid-States Poker Tour (MSPT) Wisconsin Champion, Richard Bai took a pew, World Series of Poker Circuit (WSOPC) Main Event and MSPT winner, Ala Aqel, was involved, as was the former HPT Champ Aaron Johnson and the ten-time WSOPC gold ring winner, Josh Reichard, and it was the latter who took it down.
Reichard felt the rush at the right time, eliminating the final four players, including Robert Noel in heads-up action. Reichard has now earned more than $1.7m playing live tournaments. The $221,293 he bagged for this one was easily his best score, close to doubling the $130,498 he earned for his third-place finish in the 2017 WSOPC Global Casino Championships.
It's his 15th career win and fourth of 2018.
Here are the final table results:
Final Table Results
1. Joshua Reichard – $221,293
2. Robert Noel – $136,625
3. Jim Kasputis – $90,923
4. Adam Greenberg – $63,021
5. Richard Bai – $47,626
6. Aaron Johnson – $37,043
7. Ala Aqel – $30,789
8. Jerry Gumila – $25,497
9. George Pappas – $21,552
Three other darlings to go deep in this beauty contest were the former Aussie Millions Main Event winner, Ari Engel (16th), the World Series of Poker (WSOP) and World Poker Tour (WPT) Champions Club member, Keven Stammen (24th), and the former Chicago Poker Classic winner, Ryan Julius (38th).
Aaron Johnson Wins the HPT Season XIV Player of the Year 
Reichard wasn't the only winner at Ameristar.
Aaron Johnson became the HPT Season XIV Player of the Year after finishing in sixth place. Ossama Estafanous came into the final event in pole position but failed to cash.
That left the door open for both Johnson and Jim Kasputis. Johnson needed to finish eighth or above, which he did, and Kasputis needed to win it. After Reichard sent him packing in third, Johnson's arm was held aloft in victory.
Johnson beat 394-entrants to take down the March HPT Main Event in Florence for $86,189. He made the final table of the May HPT Main Event at Ameristar, finishing eighth for $22,377. Then he finished 41st in the Main Event in Daytona Beach for $2,189, before finishing sixth in this one.
Here are the final standings:
HPT Season XIV POY Final Standings
1. Aaron Johnson – 216.40 points
2. Ossama Estanfanous – 197.00
3. Jake Baumgartner – 174,40
4. Kim Kasputis Jr. – 174.00
5. Josh Reichard – 150.00
Previous winners include Ari Engel, Greg Raymer and Allen Kessler.
Remarkably, Johnson is also leading the MSPT Player of the Year standings with two events to go.
Here is that leaderboard:
MSPT Season 9 POY Standings
1. Aaron Johnson – 5,617 points
2. Blake Bohn – 4,400
3. Kou Vang – 4,300
4. Alex Winter – 3,650
5. Richard Alsup – 3,100
Now where is that controller?