Three stories involving former World Champions of poker including a heads-up match from Down Under, a man with funny sunglasses turning all author, and the man who made poker 'brilliant' winning an online brace.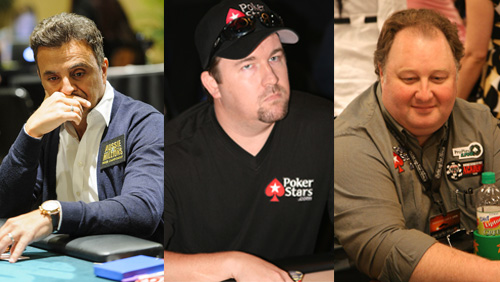 Poker is not a team sport.
It's donkeys waiting for a ride on the beach.
It's smoking in doorways.
It's the blue flame of a welders' torch.
So we should have more jousts like the one the Australian Poker Tour has arranged as the meat in their Grand Final soup.
October 26-28, at the Southport Sharks Poker Room, Queensland, Australia, the 2005 World Series of Poker (WSOP) World Champion, Joe Hachem will face the only man to win three WSOP Poker Player's Championships, Michael 'The Grinder' Mizrachi, in a best of three heads-up contest.
It's a nice touch by the Australian Poker Tour organisers. It gives Queensland poker fans something to get excited about in an 18-month period that has been Humpty Dumpty for the Australian poker community, losing the ability to compete in black as they come online poker markets because of one or two numpties in government.
In addition to those WSOP laurels, both players have World Poker Tour (WPT) titles on a mantelpiece somewhere. Hachem won the Bellagio Five Diamond Classic in 2006 for $2.2m, and Mizrachi won the 2005 LA Poker Classic for $1.8m, and the 2006 WPT Championship for $1.1m.
If you aren't in Queensland, and you want to see these two titans drawing a finger across their throats, then Hachem says he is "pretty sure" a live stream will be available.
And what does the winner get?
$5k.
My mother always told me it's not the amount of money that matters, it's the taking part that counts.
Greg 'Fossilman' Raymer Gets The Quill Out 
A year before Joe Hachem was on top of the world, Greg 'Fossilman' Raymer hung out there.
Raymer was the first person to take advantage of the post-Moneymaker WSOP Main Event boom when he topped a field of 2,576 entrants (a 207% increase, if I haven't screwed the calculation up like I usually do), earning $5m bucks (doubling Moneymaker's $2.5m) after beating David Williams, heads-up.
That victory made Raymer one of the most prominent poker players in the world and had he released a poker book during the post-victory hype he may have earned enough money to buy a more expensive pair of sunglasses.
But he didn't.
He waited for 14-years.
It seems Raymer is more 'steamboat' than 'speedboat'.
The 2004 world champion has teamed up with renowned poker publishers D&B Publishing to create Fossilman's Winning Tournament Strategies. Raymer becomes the third World Champion to publish scribblings through D&B Publishing after Phil Hellmuth's Poker Brat, and Qui Nguyen's From Vietnam to Vegas. 
D&B is also the home for Chris Moorman's two efforts, Mike Sexton's recent biography, and the 1,876 poker books written by Jonathan Little who is not 'Little' by name 'Little' by nature when it comes to the art of book writing.
Will the book be a success?
Raymer has bold views.
Talking to PokerNews about the upcoming treatise on tournament poker, Raymer had this to say:
"There is also a lot of advice that is more advanced, and not known or at least not well understood, even by some of the very successful and high-level tournament players out there right now."
Methinks some of the folks hanging around the Triton scene or PokerGO Studios may disagree with that statement, but there is no doubt, Raymer is a local hero in the land of the Stars and Stripes, and that's D&B Publishing's best shot at shifting a few copies.
I might take a look.
I need something to hide the knife under the bed.
Chris Moneymaker Wins Another NJCOOP Title 
Any writer worth one's salt would have put this motley crew in chronological order.
I'm not worth a grain.
But it's late.
As a teenager stepping into a whorehouse for the first time, I'm not thinking straight.
Chris Moneymaker is arguably the most famous former WSOP Champion of the lot, after turning the mouselike online poker industry into an elephant with his iconic 2003 victory over a cool-as-fuck Sammy Farha.
The Tennessee man earned his way into that epochal Main Event via an online satellite, and last week he showed that he's still got it by securing two titles at the New Jersey Championship of Online Poker (NJCOOP).
The third annual NJCOOP – the largest to date with 47-events and $1.5m in guaranteed prize money – saw Moneymaker take down Event #14: $100 No-Limit Hold'em Progressive KO, beating 242-entrants to win the $2,139.88 first prize, while also banking $2,896.24 in bounties, and Event #16 $300 6-Max Eight-Game Mix, beating 65 entrants to win the $5,544 first prize.
The PokerStars Team Pro dipped his fingers into the virtual realm as part of the Moneymaker PokerStars Player's Championship (PSPC) Tour, where winners are walking away with $30,000 Platinum Passes to the $25k buy-in event in the Bahamas, January 2019.