Two news stories with a PokerStars theme sliding down the veins like a little kid enjoying himself in a water park including the New Jersey Championship of Online Poker schedule, and a divorce between The Stars Group and the payment processor iDEAL.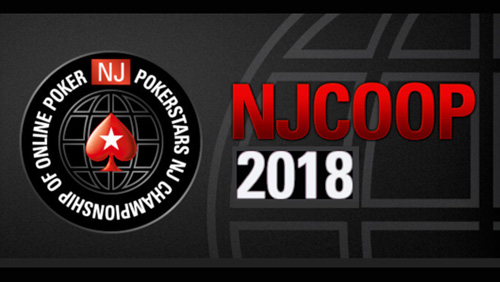 How the world has changed.
Ashtrays on planes contain nothing but dried boogers.
Nobody listens to the Top 40 on a Sunday night.
And as the PokerStars World Championship of Online Poker (WCOOP) guarantees $118m in prize money, the New Jersey equivalent can only manage $1.5m.
There was a time when the American online poker market was the most magnificent in the world. Today, it takes a piss on a bedpan that nobody ever changes.
But there are bright lights in the sky, and Steven Spielberg has nothing to do with them.
A Brief History
The PokerStars New Jersey Championship of Online Poker (NJCOOP) began life as a $1.2m guaranteed prize money tour containing 43 events. The final accumulated prize pools exceeded $1.4m. ROU$EY defeated 314 unique entrants to take the $38,380 first prize in the Main Event, and babooshk banked $25,012, after beating 68 unique entrants in the High Roller.
A year later, and while the guarantee remained the same, the number of entrants increased to 46. Once again, New Jersey-based online grinders banked over $1.4m in prize money. [email protected] beat 271 unique entrants to win the $36,016 first prize in the Main Event, and supremetny banked $17,600 after defeating 52 unique entrants in the High Roller.
And now here we are.
Mollie Ringwald isn't the only person eating sushi.
Your unborn child will never learn to drive a car.
And.
The PokerStars New Jersey Championship of Online Poker (NJCOOP) is back. Between September 29 – October 15, the largest online poker room this side of the garlic breath that circulates my mouth, promise $1.5m in guarantees, through 47 events.
As you would expect, there is a little something for everyone with a broad spectrum of variants containing buy-ins between $25 – $1,000. Once again, the man who opened his butt cheeks and gave birth to online poker, Chris Moneymaker, will be the primary PokerStars Ambassador pushing the series.
"I'm looking forward to playing and streaming another great online tournament series in New Jersey with over $1 million in guaranteed prize pools, hoping the recent success from NJSCOOP continues into this tournament series. The Main Event as well as the $86 Moneymaker PSPC Tournament is a great opportunity for New Jersey players to win big and get their hands on a $30,000 PokerStars Platinum Pass," said PokerStars Ambassador Chris Moneymaker.  
And there are three Platinum Passes up for grabs.
If you don't know what a Platinum Pass is then I imagine you've Googled the word "poker" hoping to see a porn movie with some gimp wielding an implement used to stoke fires and ended up here. For you, and you only, a Platinum Pass is a ticket worth $30,000 to the $25,000 buy-in PokerStars Player's No-Limit Hold'em Championship scheduled to take place in the Bahamas in January.
I know.
Insane.
People play poker for $25,000 a pop.
And people are starving in Africa.
Now, finish what's on your plate, there's a good boy.
The winner of the $86 buy-in Moneymaker Tour Event on Sunday, September 30 wins the first of three, with the other two coming in the two NJCOOP Main Event Entrants All-In Shootouts taking place on October 16.
Satellites begin Sep 18.
So far, eight US-based players have secured Platinum Passes.
Here they are:
1. PCA National Championship Winner, Maria Konnikova.
2. PCA Day 2 Draw Winner, Thai Ha.
3. PCA Wild Card Winner, David Peters.
4. NJSCOOP Main Event Winner (H), Michael Page.
5. NJSCOOP Main Event Winner (L), Derik Lee.
6. LIPS National Championship Winner, Alice Zheng
And two came in the recent Moneymaker PSPC Live Tour including Cliff Ellefson, and the oldest player to win a Platinum Pass, the septuagenarian, Jahangir "John" Mokhtari.
2018 NJCOOP Schedule Highlights
$250 buy-in, $70k GTD, Sunday Special SE – Oct 7
$1,000 buy-in, $50k GTD, NLHE High Roller – Oct 9
$500 buy-in, $150k GTD, NLHE Main Event – Oct 14
Interstate Compact Not Proving Successful For NJ Poker
On May 1, 2018, the New Jersey online poker market merged with Nevada's and Delaware's, but according to an article in OnlinePoker.net, the move hasn't led to an increase in fortune for the New Jersey online poker market.
Here are the first three-month revenue numbers since all three states adopted the Multi-State Internet Gaming Association (MSIGA).
May – $1.9m, -9% YoY
June – $1.8m, +1.2% YoY
July – $1.9m, -8% YoY
PokerStars hasn't benefited from the deal because it only has a presence in New Jersey. If anything, the move has inflicted a few kicks to the balls of PokerStars growth as WSOP.com is available in all three markets.
But things will change.
The MSIGA will come in very useful in the coming years, of that I am sure.
PokerStars Owner Removes iDEAL For Dutch Players. 
Finally, PokerStars' daddy, The Stars Group, has cut ties with the Dutch payment processor, iDEAL.
According to press reports, the Stars Group informed Dutch users of their PokerStars products that iDEAL would no longer be an approved method of payment processing. 
iDEAL was formed in 2005, and by the time 2016 rolled into town, the company had processed more than a billion transactions making them the #1 payment processing option in the country of clogs and crap football teams.
PokerStars have given no reason for the divorce.