James Obst becomes the latest high profile poker player to take a timeout to pursue an alternative career, as the Australian hopes to achieve his goal of becoming a professional tennis player.
When I asked Wai Kin Yong, son of the Triton Poker Series co-founder, Richard Yong, what, as a child, he wanted to be when he grew up, he paused for a moment and said:
"A taxi driver." 
I have to be honest; it took me by surprise.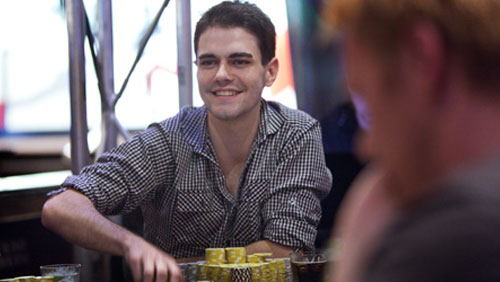 When you think about it, I imagine more children are likely to choose taxi driver over poker player, and yet here we are, existing in a bubble, where people travel all over the world to compete in poker tournaments for millions of dollars.
It's completely fruitcake.
One of these travelling card sharps is James Obst. The Australian is widely recognised as one of the card-for-card greatest players in the game, excelling at any format of poker you place in front of him.
All told, Obst has won close to $3m playing live, including winning a World Series of Poker (WSOP) bracelet in 2017 (Obst won the $10,000 Razz Championship), and I assume several million more playing online under the pseudonym Andy McLEOD.
When Obst was younger, he didn't want to be a taxi player; he didn't want to be a poker player; he wanted to play tennis, and Wimbledon was his dream arena.
Here's the rub.
You can't compete at Wimbledon and play at the WSOP.
It's a terrible schedule clash, but Obst has a plan.
Obst Going All-In For Tennis 
One of the traits the elite poker players seem to share is their unfettered belief in their ability and ridiculous stretch goals, and so what follows shouldn't come as a surprise.
Despite horrific health issues that have plagued Obst since the tender age of 16, the Australian is planning to take a break from the full steam ahead scheduling of a professional poker player to concentrate on becoming a professional tennis player, and appearing at Wimbledon.
Obst declared the news in an open letter to his followers on Twitter, which given his past consternations of players use of social media seemed as unlikely as him appearing on Centre Court opposite Rafael Nadal competing for the big one in a few summer's time.
"Running deep in the Main Event plays funny tricks on your mind," wrote Obst. 
Obst was alluding to his recent 46th place finish where he received widespread attention from, not just friends, but the poker community at large; and it seems to have touched a sentimental nerve in Obst.
"It's a surreal experience to feel so much love, not only from friends, but the wider community at large."  
After a searing 2017, it was always going to be tough for Obst to repeat his heroics in 2018. Apart from his deep run in the Main Event, Obst cashed in five events, making one final table. He called his performance 'disappointing' but also 'extremely enjoyable and fulfilling.'
"It's left me regretting not integrating myself more within the community previously." 
Obst isn't alone in his thoughts of retirement.
Fellow tennis aficionado, Vanessa Selbst, recently quit the game to focus on her role in a Hedge Fund, and she was one of a plethora of top-notch poker players who joined in an outpouring of love for a man who is revered by his peers.
I guess all that remains is to wish the man good luck.