Another round-up from the World Series of Poker this time focusing on Ronald Keijzer's first gold bracelet in a Pot Limit Omaha event that once again saw Scott Bohlman go deeper than a vet's arm facing a full term cow. 
Man, I'm glad I'm not live reporting anymore.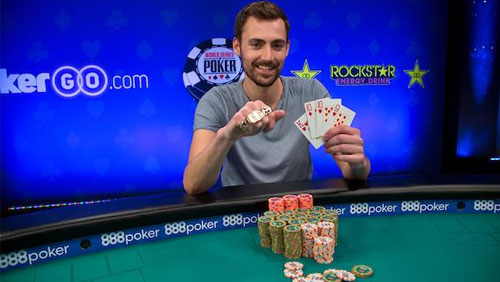 I once called Isaac Haxton Isaac Hayes throughout an entire World Poker Tour (WPT) event in Malta. And if I was writing about a game featuring Romain Lewis, I know, at some point, as fingers went to work, and my conscious mind switched off, I would write Romaine Lettuce.
Now with that out of the way, maybe I won't make the mistake my subconscious so desperately wants me to make.
Ronald Keijzer is the latest bag of bones, blood and balls to earn a bracelet. The Dutchman had a few weeks to kill as his nation's football team failed to qualify for the World Cup, so he took a punt, and it turned out mighty fine.
Keijzer is a Pot-Limit Omaha (PLO) cash game player, but told PokerNews he loves playing PLO Tournaments; but who wouldn't after winning half a million bucks off a $3k investment?
The man from the Dam took down Event #69: $3,000 Pot-Limit Omaha 6-Handed.
Let's see how he did it.
Day 1 
Event #69 attracted 901 entrants, and after ten levels, there were 202 left. Leading the way was the handy South African, Jarred Solomon. 888Poker Ambassador, Dominik Nitsche, showed he could be quite handy with four cards, as well as two, bagging up the second largest stack in the room, and the Frenchman who conjures images of green in my mind sat in third.
Our man Keijzer also bagged up a decent stack.
Day 2 
Day 2 was the Scott Bohlman show.
Very few people are running hotter than Bohlman at this World Series, and PokerNews called his Day 2 display 'flawless' as he finished with the chip lead.
24 players remained.
Lewis was still third.
Phil Galfond even managed to find time between sending love letters to Daniel Negreanu to place some chips into a plastic bag.
Day 3 
Let's press the fast-forward button.
I know how busy you are.
The Final Table looked a little something like this.
1. Ronald Keijzer – 4,500,000
2. Romain Lewis – 3,400,000
3. James Chen – 2,200,000
4. Scott Bohlman – 1,600,000
5. Mohammad Abedi – 1,200,000
6. Ryan Lenaghan – 750,000
What do we know about them?
As stated, Keijzer is a cash game player who rarely plays tournaments. The 26-year old had won two previous titles, both in No-Limit Hold'em, although his previous best score, was €49,975 for a runner-up finish in a €3,250 Pot-Limit High Roller as part of last year's Master Classics of Amsterdam, where he resides.
Romain Lewis has a nasty habit of finishing second. Something he would dearly love to fix at this tournament. The Winamax Ambassador has finished runner-up in a PokerStars National Championship, a World Poker Tour (WPT) High Roller, and a European Poker Tour (EPT) Side Event. Earlier in the summer, he made the final table of a No-Limit Hold'em event at the WSOP, and yes, you've guessed it, he finished second to Benjamin Moon.
Lewis wasn't the only player who arrived at the final table carrying the same scent. Scott Bohlman was making his fourth final table. He won the $2,500 Mixed Big Bet, finished sixth in the $10,000 PLO Championship, and second in the $10,000 Seven Card Stud Hi-Lo Championship. All of which means he's a front-runner for the Player of the Year (POY) award, currently sitting fourth behind Eric Baldwin, Shaun Deeb and the leader John Hennigan, but I'm not sure if the data crunchers are on point, so he may well have overtaken Baldwin after this performance.
The first player to depart proceedings was Ryan Lenaghan; Bohlman the man holding the blood-soaked bottom set. Then we lost James Chen. The recent Asia-Pacific Poker Tour (APPT) Macau High Roller winner got it in good with KKxx ahead of QQxx, but Keijzer flopped a king high flush to leave the man from Taiwan tamping (as we say in South Wales).
Lewis took the lead temporarily when he won a big hand from Keijzer before the Dutchman snatched it right back again sending Mohammad Abedi to the rail in fourth when top pair ended up being good enough to win a flop dispute between the couple.
Bohlman quickly took the lead, three-handed.
Was the man with all the experience and clout going to win his second bracelet of the summer?
The answer to that question is no, after Lewis fought back some ground, overtook Bohlman, and then eliminated the champion by cracking his aces with a flush on the turn.
It was an elimination that Lewis needed to prevent a lopsided heads-up encounter with Keijzer. Even with Bohlman's scalp on his belt he still trailed the Dutchman by 2:1 going into the final few rounds.
It didn't last long.
Lewis opened to 300,000 on the button, and Keijzer called from the big blind. The flop was AsQh3c, and Keijzer check-called a 350,000 Lewis bet. The turn was the Jc, and the same action ensued for 800,000. The final card was the 5h; Keijzer checked for the third time, Lewis moved all-in, and the Dutchman snap-called.
Lewis showed 6s5c4s2d for the wheel, but Keijzer showed KhThTd9h for the Broadway straight, $475,033, and his first WSOP bracelet. 
Final Table Results
1. Ronald Keijzer – $475,033
2. Romain Lewis – $293,553
3. Scott Bohlman – $199,572
4. Mohammad Abedi – $137,954
5. James Chen – $96,987
6. Ryan Lenaghan – $69,369
136 players earned enough money to buy some rubber duckies including bracelet winners Tommy Le (7th), Christopher Frank (10th) and Martin Kozlov (13th).
Comments