Another round-up from the World Series of Poker focusing on Andrew Ireland winning Event #67: $1,500 Pot-Limit Omaha Bounty in his first-ever appearance at the festival.
The first time I played in a World Series of Poker (WSOP) event I didn't reach the break. I had spent the previous night, sitting in a hot tub, surrounded by the dead skin and piss of strangers, listening to a chorus of poker advice from some of British poker's elite.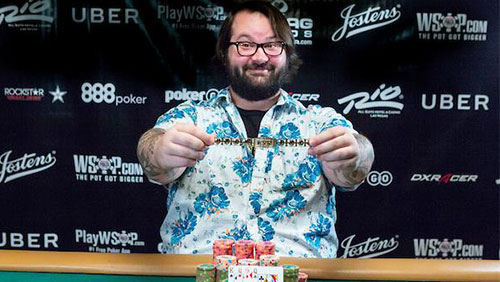 Unlike the dead skin and piss, nothing sunk in.
Ever the hero, I went for it early doors, made the call, looked like the spunk stain I was, and then crept away into the daylight like a hyena in the presence of a pack of lions.
I'm not the only mug.
Martin Jacobson won the WSOP Main Event in 2014, earning $10m squid, and yet, when the handsome Swede donned his Public Enemy filled cans during his first WSOP event, he barely lasted five hands.
Anderson Ireland didn't suffer from any of that old shit.
The New Orleans man who is diligent enough to keep records showing that up until his entry in Event #67: $1,500 Pot-Limit Omaha Bounty he had competed in 34 live tournaments, without ever making the money, won the second WSOP event he had ever played in.
Anderson Ireland Wins Event #67: $1,500 Pot-Limit Omaha Bounty
Ireland brought his fingernail file, sleeping mask and toothbrush to the 2018 WSOP for the first time; jumped into the $10,000 Main Event, made it to Day 2, and crashed and burned.
Joining 833 runners, he thought he would take a stab at the $141,161 first prize in the $1,500 Pot-Limit Omaha Bounty, and it was an inspired decision.
Day 1 ended with 125 players. A man with the face of a wise old owl, Robert Oxenberg, led the way. Nine bracelet winners remained including Benny Glaser, Robert Mizrachi and Matt O'Donnell.
Anderson Ireland bagged up a minuscule 15k chips.
It looked like Ireland would be heading for a 34/0 live tournament ITM record, not the personal best he was hoping for when he arrived in Sin City.
Only ten remained at the end of Day 2.
By this time, Matt O'Donnell had taken the lead, and Ireland had managed to turn his 15k starting stack into a gargantuan 864,000. Only O'Donnell had more. The sterling American pro, Jameson Painter, sat in third.
It was a long Day 3.
Ten hours in total, with four of those reserved for the final punch-up.
O'Donnell bust James Morgan in tenth place to extend his lead early doors. Hai Chu took out the excellent Jameson Painter in ninth. And Ireland joined O'Donnell in the seven-figure range when he eliminated Harry Pozefsky in eighth.
At the first break, it was Chu with the chip lead. Ireland an O'Donnell sat in second and third respectively.
Ireland eliminated Jonathan Thomas in seventh spot, to close in on Chu. O'Donnell went on the rampage to take the chip lead before Ireland did likewise to take over. Meanwhile, Andrew Holland slipped out of view in sixth place with Chu holding the soaked chloroform rag.
Ireland ended Chu's impressive final table performance in fifth place to take the chip lead. Joon Park eliminated Mical Maryška in fourth, and Ireland kicked Park into touch to take a 2:1 chip lead over O'Donnell into heads-up.
The action went a little something like this.
Ireland had the early lead, with O'Donnell on the ropes several times, only for him to find enough puff to fight back. Then O'Donnell would take a temporary lead just for Ireland to take it back again, pushing O'Donnell to the brink.
It lasted for four hours.
Then the pair got it in on a Th4h2d flop with O'Donnell holding KdJh7d4c for a couple of fours, and Ireland ahead with KsQcQh9d with a pair of queens. The board ran out Tc, 8h, and Ireland had won a bracelet in his maiden voyage to the greatest poker show on earth.
Final Table Results
1. Anderson Ireland – $141,161
2. Matt O'Donnell – $87,198
3. Joon Park – $61,013
4. Michal Maryška – $43,313
5. Hai Chu – $31,203
6. Andrew Holland – $22,816
7. Jonathan Thomas – $16,937
8. Harry Pozefsky – $12,767
9. Jameson Painter – $9,776
125 players earned enough money to buy an expensive jellyfish dish including the Ukranian High Roller Igor Yaroshevskyy (13th), the World Poker Tour (WPT) Champions Club member Iaron Lightbourne (36th) and the WPT Main Event and WSOP bracelet winner, David Williams (39th).