Another round-up from the World Series of Poker focusing on Timur Margolin winning a bracelet in a $2,500 No-Limit Hold'em event, three years after losing heads-up in the same tournament.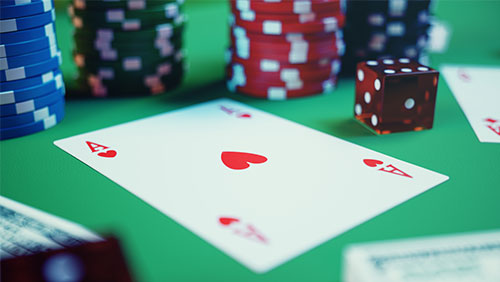 It's 2015, and Timur Margolin is heads-up for the bracelet in a $2,500 No-Limit Hold'em event. The Israeli native has the chip lead when he completes from the small blind holding A7ss. His opponent, Matt O'Donnell looks down to see K5ss, and moves all-in; Margolin snap-calls.
The flop is Qd8s2c.
Margolin is two cards away from the bracelet.
His rail is going bananas.
Turn = 5c.
O'Donnell hits one of his outs. All of the noise is sucked out of the room. The 9d falls on the river, and O'Donnell doubles up.
Margolin doesn't crack.
He gets it in with JJ>AK.
The flop is devoid of paint.
Two more cards to come.
Can Margolin do it?
The ace appears on the turn, and O'Donnell is beginning to be harder to kill than a Marvel Superhero.
O'Donnell takes the lead.
The pair gets it in with Margolin's pocket sixes, facing the QJ of the American.
It's time for the Poker Gods to give Margolin some run good.
AAQQ2.
Margolin is out.
O'Donnell wins the bracelet.
Fast forward three years and the butterflies begin flapping as Margolin once again makes the final table of the same event, only this time, there is a more favourable outcome for the man.
Day 1 
You would expect the added $1,000 on the buy-in would be offputting for a large percentage of recreational players, and yet Event #43: $2,500 No-Limit Hold'em still pulled in a field of 1,248 entrants.
The Cadillac of poker is still alive and well.
The former Global Poker Index (GPI) Player of the Year, David Peters, finished the day towards the head of the chip counts. Chris Hunichen, Valentin Vornicu and Jake Schwartz joined him.
Day 2
34 players remained.
The star of the recent PokerGO documentary Insiders, Seth Davies, held the chip lead. Serial grinder Jeff Hakim sat in second place. The reigning WSOP Player of the Year Chris "It Wasn't Me" Ferguson was still in the mix, as were bracelet winners Ryan Laplante, Andreas Klatt and Peters.
Day 3 
Only six players remained at the end of the third day, and by this time the six-time bracelet winner, Ferguson had a chokehold on the competition with close to a 2:1 chip lead over second-placed Margolin.
Here were the final chip stacks.
1. Chris Ferguson – 5,680,000
2. Timur Margolin – 3,520,000
3. Ismael Bojang – 2,360,000
4. Michael Marder – 1,765,000
5. Dylan Linde – 1,330,000
6. Ryan Laplante – 700,000
Day 4 
If anyone was going to stop Ferguson from winning a seventh bracelet you sensed that Margolin had to be the man to gather chips, and it didn't take him long to fit into the role.
Laplante moved all-in holding AJo, Margolin called holding AKo, and the former Pot-Limit Omaha (PLO) bracelet winner was out. Margolin could almost touch the brim of Ferguson's hat.
Next, Michael Marder doubled through Ferguson.
The pair got it in on a JT7 board with Marder ahead with pocket aces, and Ferguson chasing with Q9. The straight never materialised, and Ferguson was down to 2.5m leaving Margolin out in front, followed sharply by Marder.
Bojang then came into contention after eliminating Linde AJ>AT, Ferguson doubled through Marder 66>AJ, Bojang doubled through Margolin 99>KQ, and then Marder doubled through Margolin after flopping a flush against the Israeli's bottom two pairs.
It was all kicking off.
Ferguson then took the lead before a decisive clash with Bojang changed the whole complexion of the tournament for the Player of the Year.
Ferguson opened with a raise, Bojang moved all-in for around 4 million holding pocket queens, and Ferguson made the call with tens. Bojang hit a set on the turn. Ferguson hit his inferior set on the river. Ferguson would later double back through Bojang, but it wouldn't be enough to save him from elimination.
The man who can slice carrots with the deuce of clubs moved all-in on a flop of As8d7s, holding K2ss, and Margolin called holding AQ. The spades stayed in the deck, and Ferguson was out in fourth.
Chip Counts
1. Margolin 8,700,000
2. Bojang – 5,200,000
3. Marder – 1,700,000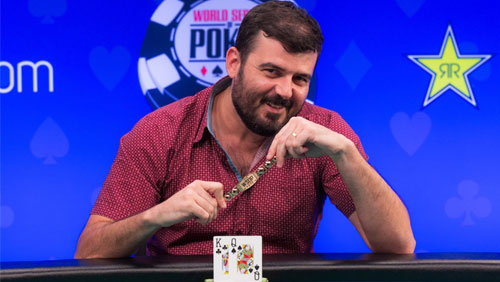 Marder doubled through Bojang to give the man some hope dashed when he moved all-in holding Q9cc, and Margolin called holding A2s. The best hand stayed that way, and Margolin entered a heads-up phase against Bojang with an 11.9m v 3.6m chip lead.
That's big.
But Margolin had been here before.
Was lightning about to strike twice?
Bojang doubled in one of the early hands flopping an ace all-in A4>KJ.
Even stevens.
Then Bojang doubled his lead through some impressive play, only for Margolin to double back into the lead KK>99. Once again, the German star knuckled down and retook the lead only for Margolin to double again QJ>AK.
The Poker Gods were watching.
Margolin was getting O'Donnell's luck.
In the final hand, Bojang moved all-in holding A2cc, and Margolin called holding KQo. The King of spades appeared on the flop, and the aces stayed in the deck to give Margolin a bracelet he had been waiting three years to fit onto his wrist.
Final Table Results
1. Timur Margolin – $507,274
2. Ismael Bojang – $313,444
3. Michael Marder – $223,564
4. Chris Ferguson – $161,371
5. Dylan Linde – $117,894
6. Ryan Laplante – $87,189
7. Jeff Hakim – $65,284
8. Andre Haneberg – $49,498
9. Josh Bergman – $38,009
186 players earned enough money to buy a pair of maracas, including Jeff Hakim (7th), Seth Davies (10th) and David Peters (20th).