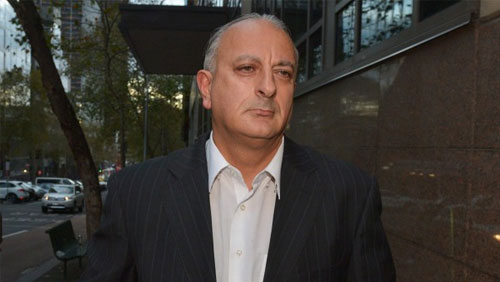 Bill Jordanou, an aggressive Australian poker player whose five-year run on the poker scene netted him over $523,000 in live-tournament winnings, has been busy perfecting another type of bluff. Last Monday, he appeared in Melbourne's High Court to face charges of being involved in a Ponzi scheme, and admitted his culpability, the Sydney Morning Herald reported.
Jordanou and co-conspirator Robert Zaia, a former accountant with Scoresby, pleaded guilty to the fraud which saw them siphon off around AUD72 million (US$53 million). Just under US$20 million of it made its way into Zaia's family trust.
As the two were living the high life, their victims were losing their shirts. Several Scorsby clients lost their homes due to allegations that staff from Commonwealth Bank of Australia (CBA) were involved in the scam.
Since Jordanou and Zaia have pleaded guilty, they won't face trial. As such, the victims will never know if anyone from CBA was complicit in the activity. It has been said that CBA management was alerted to the Ponzi scheme in 2007, but didn't report anything to the police until four years later.
Jordanou, who hails from Melbourne, has spent the past four years on bail. In court on Monday, he admitted to using forged documents to receive loans on behalf of clients. Those loans were typically used to fund property development; however, some funds were taken from clients' accounts without their consent.
The loans were primarily processed at the Box Hill branch of CBA and the majority were processed by one individual, former mobile lender Brendan Epps. Epps has been described as an "inside man" for the two scam artists. Epps died of a brain aneurysm in 2007.
The stolen funds were used to purchase boats, Harley-Davidson motorcycles, a fleet of luxury cars, jewelry and for regular trips to gamble in Macau and Las Vegas (trips that obviously showed that neither had gambling skills), according to Australian authorities.
In one Ponzi scheme, Jordanou was involved with a property development on Phillip Island. A potential investor, Jim Barker, met with Epps in February 2007 and raised concerns over the development. Barker reported to the fraud investigation unit at CBA that a document had been altered to change his AUD$80,000-a-year salary to AUD$343,000. The forgery was shown to have been a method to receive a AUD$1.5-million loan.
The investigation led to an acknowledgement by the CBA's Andrew Rutherford that there was evidence of fraud. He said in an email at the time, "From my initial review of this matter the original loan document … contains a false statement of employment. I am now pursuing the fraud matter … and have requested they report the matter to Scoresby police." However, the CBA did not contact the police until 2011.
The two men will face sentencing at a later date. Jordanou is currently being held in protective custody after threats on his life were made.