Another review from the World Series of Poker, this time focusing on record producer, Steve Albini, besting a final table housing 15 bracelets to capture his own in the baby Stud.
Outside the window, beyond the rosy red painted toenails of the foot that peeks at me from between a blue and brown bow, is the trademark lips and tongue of the Rolling Stones.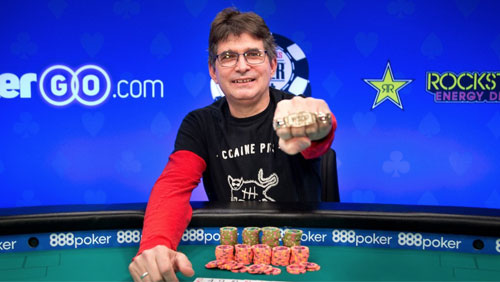 Jagger, Richards and co were in town, proving to Cardiffians that you don't have to lie down and wait to die when you reach your 70s.
The town was packed.
It was my wedding anniversary.
And yet, instead of taking my wife to watch Jagger wiggle his bony arse, I took her to an escape room. It was the first time we had allowed a babysitter to care for our nipper. It wasn't very rock n roll, although the thought of having sex and sleeping for 60-minutes inside the Cursed Carnival did cross our minds.
Had Steve Albini been in town, he would have been right at the front of the gig, pissing in plastic cups, and throwing them into the air while screaming I Can't Get No Satisfaction.
But the record producer wasn't in Cardiff.
Albini was in Las Vegas winning a World Series of Poker (WSOP) bracelet.
It's not often that poker gets an airing in Rolling Stone magazine, but it did this weekend. Albini, who told the WSOP that he was a mediocre player and that in winning he gave hope to anyone in the world, defeated  309 entrants, and a final table that housed 15 bracelets to take the title.
Jeff Lisandro.
Chris Ferguson.
Two players who have each won six bracelets, but when you've been locked in a studio with Kurt Cobain for six days, nothing frightens you.
Albini told the WSOP that the timing of the $50,000 Poker Player's Championship (PPC) clashing with the baby Stud helped weaken the field enough for the dreamers to reach the end zone.
The final person standing in Albini's way was Lisandro.
So how do you beat a man who is one of the best Stud players in the world?
"I ran pretty fucking good." Said Albini.
When Albini isn't winning bracelets, you can find him touring the world with his band Shellac, which is a vast improvement on the name he called one of his previous bands Rapeman. 
Rock n roll, Steve.
Rock n roll. 
Final Table Results
1. Steven Albini – $105,629
2. Jeff Lisandro – $65,282
3. Katherine Fleck – $43,765
4. Chris Ferguson – $29,999
5. Frankie O'Dell – $21,035
6. Paul Sexton – $15,096
7. Michael Moore – $11,095
8. Esther Rossi – $8,355
47 saw their hair turn slightly whiter in this one, each collecting a minimum $2,250 instead of $105,629 and a bracelet, including Triple Crown winner Bertrand Grospellier (11th), WSOP Player of the Year hopeful Julien Martini (17th) and the WPT Asian Player of the Year, Pete Chen (18th).