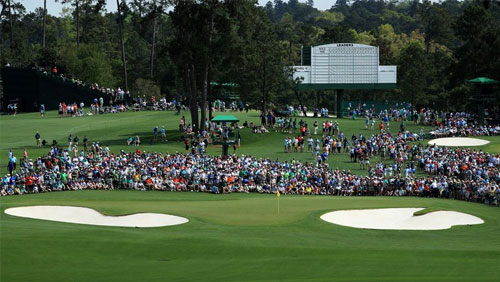 The Professional Golfers Association (PGA) is set to launch the 2018 Masters Tournament on Thursday, with a total purse of $11 million. The event has attracted a lot of attention this year, and one Vegas sportsbook has announced that the tournament has brought a large number of bets. So large, in fact, that a new record handle for the Masters has been set.
It's all thanks to Tiger Woods. That might seem like an exaggeration, but for the most part it's true. Woods will make his first appearance at Augusta National since 2015. The 14-time major champion and 4-time Masters winner has always been a crowd favorite (despite his missteps) and attracts large crowds. Sportsbook manager Jeff Sherman wrote on the website The Action Network, "Any time Tiger plays, he garners so much attention from the general public that his odds are generally half of what they would be had his name not been associated with the odds. In fact, Tiger currently ranks first in ticket count and number three in money wagered for the Masters."
The Masters Tournament is always played at the Augusta National Golf Club in Augusta, Georgia. This is a good thing for bettors, as it provides a great deal of established data that can be used for placing bets.  It also helps establish a number of proposition betting (prop bets) options, which have increasingly become popular with gamblers.
Even though Woods is making a return to the Masters greens this year, he's not the favorite to win the series. That honor currently lies with Jordan Speith, winner of the 2015 Masters. Odds are currently offered at 10 to 1, followed by Dustin Johnson's 12 to 1 odds. Woods, Justin Rose and Rory McIlroy join Johnson in a four-way tie for the second-shortest line.
A couple of veteran players will be in Augusta to compete for the green jacket. Bubba Watson, who has two Masters' wins, and Phil Mickelson, already the proud owner of three green jackets, will both be back this year.
Comments