3: Barrels of vintage partypoker including a $2.7m guaranteed Monster Series, news of an upcoming documentary featuring Patrick Leonard, and a massage row breaks out between party and Stars.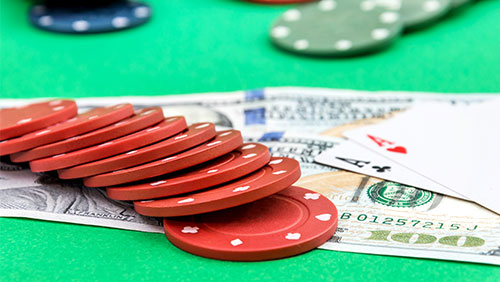 I'm writing this from the First Class carriage on the Great Western Train from Swansea to London Paddington. I'm not flash. I don't pay for my ticket. 19-years railway service paid for it.
It's not as classy as you would imagine.
I get free water, a free croissant, and that's about it.
The toilets are terrible. Water dribbles out of the tap like pee out of an old man's pecker and attempts to pull a paper towel out of its holder results in fifty of them falling onto the piss covered floor.
And to round things off, I have to use my mobile hotspot to access the Internet because the wi-fi is about as useful as a feather duster in a riot. The bill will likely cover the First Class ticket.
As I said, it's not very classy.
Something else that's not very classy is having a little business battle over Twitter. But it's brilliant for the voyeur.
Poker massage therapists the world over received some love this week, when partypoker LIVE's President, John Duthie, posted this tweet.
All PokerStars LIVE events charge €2 a minute for an at-table massage. 50% of this PokerStars keep. When I ran the EPT we kept 0%. #puregreed

— John Duthie (@JohnnyDuthie) March 18, 2018
PokerStars' Eric Hollreiser reacted immediately, reminding Duthie that he was working for PokerStars when the massage contract was agreed and knows full well that they don't take 50% or anything close. 
Duthie responded by asserting that he was never part of the negotiations, would never have agreed to them, and if PokerStars doesn't take 50% of the massage income, he wants them to come clean with an actual number.
You shouldn't be taking a penny!!! Duthie tweeted.
To the best of my knowledge, PokerStars is the only company that uses the same team throughout their live tournaments. The massage company is called Thee Best Hands, and during my trip back from the PokerStars Caribbean Adventure (PCA) I got talking to a freelance massage therapist who was working at the event. It's not PokerStars that takes 50% from the girls. It's the owner of the massage company (although I am sure the exorbitant fee is to cover PokerStars' costs).
I knew this war would be waged on several battlefields. I never envisaged one of them would be a massage table.
Monster Series Promises Over $2.7m in Guarantees 
There won't be any massage therapists involved in partypoker's Monster Series when it kicks off April 29 – May 6.
The second iteration of this interesting event carries a $2.7m guarantee spread over 123 different events in a three-tier system of low, mid and high stakes. Recreational and low stakes players are looking at buy-ins ranging between 44 cents and $33.
Series organisers have done their research. The games will be 6 or 8-Max Progressive Knockouts. There will be a daily flagship event starting at 18:00 (BST), offering $130,000 in guaranteed prize money. Other highlights include a three-tiered partypoker Ladies Event, and the $300,000 Guaranteed Monster Series Championship carrying a $33 buy-in.
Click here for more information.
Patrick Leonard to Feature in a New Documentary 
Phil Hellmuth.
Daniel Negreanu.
Antonio Esfandiari.
Poker Central, take note, I don't want to watch documentaries about these people. I'm interested in people like Patrick Leonard, and I'm happy that someone else is on my wavelength.
What makes someone like Leonard more interesting?
Connection.
As a working-class man from the UK, I can relate to Leonard's journey. That connection is vital if I am going to sit through a 60-90 documentary on the man in question.
We don't know much about the project for now, but we do have a teaser trailer, showing that Leonard's staking company BitB will feature prominently.
An Emmy Award-winning team from New York will be following Leonard for 3-6 months.
I've got my salty popcorn ready.
All I need now is a massage therapost
Comments