Lee Davy sits down with partypoker Ambassador Patrick Leonard to understand more about his staking platform bitB Staking. 
Patrick Leonard on bitB staking: ending the myth that poker's unbeatable Audio
*To download this audio, right click and save link as*
Patrick Leonard is mustard, right now.
The former PocketFives World #1 has just picked up over a million dollars winning three back-to-back High Stakes events in Las Vegas and still has time to run one of the most successful staking platforms in the history of the game.
Let's find out how he does it. 
What is bitB Staking? 
"Ten years ago, when I was playing $1 HU Sit n Go's I had a blog called bitB (Best in the Business). I said that one day I wanted to be ranked the world number one, but I was a 17-year old kid with a $20 bankroll. But I loved the game. The name stuck. Ironically, everyone would call me bitB, and I was so far away from being the best in the world it was untrue. 
"When I started to get better at poker, the group I got together with were the best players in the world. We had this method where we could teach everyone to be profitable in tournaments because it's hard to lose if you follow ten strict rules. 
"We took on some test horses – small losers, and small winners, and we quickly made them into medium stake winners. We needed a name, and it just didn't come through for the longest time. Eventually, we went with bitB. I think it rolls off the tongue reasonably well and it's been successful in terms of improving our brand."
Why are you doing this?
"It's tough to grind on the smaller days of the week when first place in a tournament is $5-$6k, and then you play a Sunday when your buy-ins are $25k, or a WCOOP where your Sunday buy-ins are $50k. Keeping motivation for the smaller days was tough, but we didn't want to leave the game. We wanted to be involved and get the high stakes action, but we needed 50 guys all working for us so we can have the sweat. 
"We try to be as professional as possible, but we don't do it for the money. When a guy wins $100k, I don't think about my profit; I am so happy for the guy. We are one big family. We take all the guys on holiday several times a year. We took them to Marbella, Barcelona, Budapest, and we do things not connected to poker. Everyone wants everyone to do well. 
"Imagine a Brazilain guy comes all the way to Marbella to see you for a few days, and he doesn't have much money, and wins the Sunday Million for $200k or something. You know how much that means to him. Being able to see people transition from small and mid stakes living their dreams, and being able to buy their parents houses from things I taught them is amazing. Helping people make their dreams come true is important to me."
Why is now the time to do this?
"Everyone says that staking is easy, but there is nobody who was staking five years ago who is still around today. Nobody stands the test of time. It's so difficult – spotting and improving talent, and seeing problems before they surface. It's 1 in a 1,000 to make these staking things work. All these staking forums who were around five years ago they all went rogue and lost money. 
"The way we do it, we don't do it to gamble. In the past, people had five horses; took them around the world, stayed in the big hotels and went to Las Vegas trying to win a million dollar score. Each week they would win or lose $500k, and it would be a huge roller coaster which is difficult to manage for themselves and their horses. 
"We do it very differently. We have never had a losing month. It's our duty to give each guy a chance to win each month. If you have a guy playing nothing but EPTs and High Stakes on Sunday their chances of winning over the year is 20%. Next year at the WSOP I will offer anyone even odds that they have a successful series. It doesn't matter who you are: Fedor Holz, Jason Koon, Isaac Haxton, if they go to Vegas, they are less than 50% to have a winning series. If you are staking people just to do this, they are going to lose over 50% of the time. 
"In our system, we ensure our guys are 75-80% to have a winning month. We give them a good game selection, good tools, good analysis, good feedback. Everything is designed to keep variance as low as possible. The previous model was always based on high variance, and that's always going to end in tears."
How do you balance the need to create a family, and making tough professional decisions within that family?
"Four times a year we meet up and hire a conference room. We sit down, analyse every single guy. The General Manager of our stable will spend several weeks creating PDFs of our guys. We will go through stats, volume, every coach will give a paragraph about every guy. We have so many data points to discuss with them. 
"Usually, it's clear as day whether someone should be moving up or not; whether they should be dropped or stay where they are. We write a PDF file and give it to the horse. We tell them what they need to do to move up, and what will happen if they don't achieve their goals. If in the next meeting they haven't progressed we just tell them we either have to end the relationship or they have to improve on the areas we have noticed." 
Have you been learning more about business, to make bitB more successful? 
"In poker, everyone thinks the way to improve is to watch videos and stuff. I believe you need to learn as you go along and make it more intuitive. I believe that it's the same thing in business. I think it's good to learn from your mistakes. We have so many things going on: marketing, data analysis, player management – everything you would expect in a startup. I am learning as I am going along, have made some mistakes. I do read some books, but I prefer to read a good blog post. I  learn as I go along. The two guys I work with are the same."
How important is it for you to spread the load with your colleagues? 
"It's a bit of a shit show if you aren't on top of it for a few days. We are lucky enough that all our guys are smart. Some guys might have had a tough time playing poker for six months; we will give him a job within the stable. If we have an accountant within the stable who has had a tough run but has been unlucky, we can ask him to work for us 10 hours per week, give him a wage, he doesn't have to ask for loans, his wife is happy, and we spread the load. 
"Out of the 70 guys we have they can all offer us something in different ways. Let's say we have a man who plays $10 tournaments. There is no point me teaching him how to win $100 tournaments. He needs to learn how to win at his stakes. The guys who used to play those tournaments in the last year. They can coach the guys at the bottom, and that helps the workload.
"We have 15 tiers. A Tier 15 guy plays $10 tournaments, and Tier 1 plays $10k, EPT, WSOP, and everyone knows what tier they are in and what they need to do to get into the next tier. As long as they do this stuff, they will get there. We have guys who have come through all the tiers, and we are confident they are playing the way we want them to, and we are convinced they can teach the other players who are coming through Tiers 1 – 15. It's motivating for the smaller stakes guys to see the people going through the tiers. It proves it's possible."
How many employees do you have?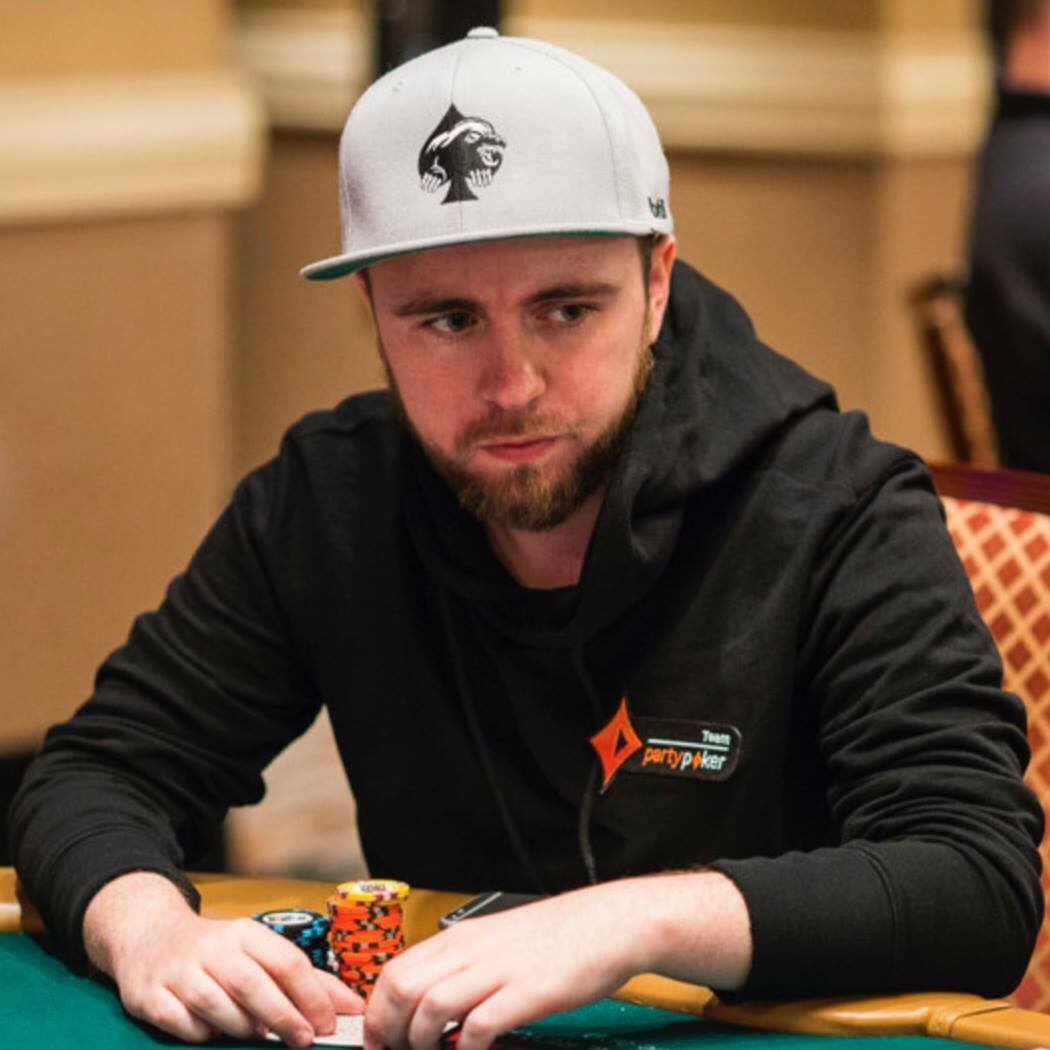 "It changes all the time. I am not sure how many players we have. I will guess 70ish. We have a turnover of 2-3 either way every week. I run things with Tomi 'elmerixx' Brouk and Samuel '€urop€an' Vousden. There was a fourth guy called Fedor Holz, maybe you have heard of him, who used to run things with us. Fedor brought the business structure. We used to have the communications on Skype, but it wasn't good enough. Fedor was the one who sold the importance of having an external communication tool, so the only people on that server are the people from bitB Staking.
"We have a mental coach called James Whittet. He was a good friend of mine from Budapest. He was a poker player, but he was super positive and had really good thoughts. I told him to try being a mental game coach, and he did. He is an integral part of the system and helps people stay on the straight and narrow.
"Then we have a lot of coaches like Steffen Sontheimer, Dietrich Fast, Ben Heath, David Yan who come in and coach to take some of the pressure off us. Then we have a couple of guys who help out with the business. A German guy who does the tools, software and analyses tournaments to find the best ones to play. One of our other players, Raymond, works doing general management stuff, making sure we have meetings, note taking, and that kind of thing."
Imagine my boy wants to join bitB staking, talk me through the process? 
"We have a development stable and the main stable. The developmental stable has a higher quantity of coaching and interactions. We don't look for guys with amazing results. We can be impressed by an excellent application containing a humble message acknowledging he isn't the best player but demonstrates he has hunger. If he impresses us, we have a Skype call to see how comfortable he is, what his vibe is and whether he fits in with the family. 
"If we like him we will bring him on board, give him a schedule, set him in a group with 5-6 guys, all the investors, some coaches who will monitor him. If he has a problem, he uses the group communications. We check-in with him every few days. He will have a mentor who develops a learning path for him. 
"We have been in operation for a couple of years now, so our video library is quite big. If you are struggling to play in the big blind, there will be ten videos on playing in the big blind. We have strategy forums and strategy groups. So many opportunities for people to learn. You will get out what you put in in our community. If you wake up every day saying how can I the best poker player today then you will do well. 
"Poker is not as hard as people think it is. I was reading a blog post from 2008 when people were saying that poker was tough and that you wouldn't have been able to make a living the next year. And eight years ago, poker was so much softer than it is today. 
"People always say poker is dying. I don't see it. On a daily occurrence, I see very good players making huge mistakes. Poker will be around for a very long time." 
How do you teach creativity?
"A lot of it is exploitation. Let's say you have a solid game plan of how you should play. Most players will be heavily exploitable, and you won't have to play the optimal way. Let's say I go to DTD tonight to play in a $50 tournament. Playing like the ten pillars of a well-balanced game wouldn't be the right way to play. You don't play the same against an old guy who is very tight, and a local drug dealer who doesn't want to fold any hands. 
"Let's say an old guy is playing the first level of the WSOP Main Event with his wife and two sons standing on the rail. It doesn't matter what hand he has if I put him in he is going to fold because his goal is making the next level. I am always trying to gauge what the goal is of the player I am competing against. Dealing with so many poker players it has taught me how people think: insecurities and over confidence, things like that. 
"If I look at a hand history and I see something bad, I will probe, and they will tell me their thought process. You do this with 70 players for years, and you learn so much. If you are staying in your room playing on partypoker by yourself you are not going to learn this information because you are not having these conversations." 
Group communications are very important in poker. 
"Ashley Hunt and Jack Hardcastle they are like two new guys at the stable playing the same level and are super hungry. They probably have friends who play poker but aren't as hungry. They come from two different groups in England where they would never become friends. They know when they come to bitB staking they are partnered, and they challenge each other and push forward. It's so much more organised and professional than what they probably would have done before they joined the community." 
What weaknesses could bring you down if you don't address them? 
"I guess poker ending one day is very bad for us. We will have a bunch of makeup that we would lose. If we have 70 guys, an average of $10k makeup, we would lose $700k, so that's the end game dilemma of how not to lose that money. People leaving is a problem. Let's say a guy wins $500k and has $250k for himself. He may leave. So we need to make sure the training is such a high and developmental standard he doesn't want to go. 
"The other leak is maybe someone infiltrating our stable leaking info to people outside the stable. I made a poker course five years ago. I only wanted to sell it to 20 people, and several years later someone messaged me to say a Russian guy was selling my course for $5, so God knows how many people got that information. We wouldn't want that to happen at bitB Staking." 
How do you prevent people from cheating? 
"A lot of it mutual respect. We go on holiday with these guys three times a year. We are immersed in this. We have breakfast together, drinks together, heart to heart conversations – we are friends. People are less likely to scam you if you are friends. If we are disrespectful to a guy then it's more likely they could scam you. But if you have helped people move from $5k a year to $200k a year then they feel a sense of reciprocity. If you win $100k for someone, who has given you nothing, it seems like your money. But if someone has helped you get to that point, you feel like you have done half the work, and they have done half the work. 
"I would guess that staking in stables the scam rate is between 5-10%. We have been scammed twice. There was a player from England who had some gambling problems, but he is paying us back. There was a Russian player who pretended he died. I guess we shouldn't have taken him on. We have spent a lot of money making sure we don't get scammed." 
The future? 
"We think of today, rather than tomorrow. Right now we have something that works well. We wouldn't consider selling it because we wouldn't get the proper valuation. I am involved heavily at partypoker, and I can see it getting bigger and bigger every day. If party do as they continue to do, the other operators will have to get to the same level to stop partypoker taking over. 
"I don't want partypoker to light years ahead; I want them to be slightly ahead to create a healthy ecosystem that everyone can survive in. If partypoker became where PokerStars was a few years ago the savvy business decisions might be to increase rake, remove rakeback systems, and that's not good for poker. 
"I am going to do everything I can to make sure partypoker is the best site in the world, but I also want the other sites to do well, and if that happens poker, an staking will be around for a long time."
Comments