Game Intel's Alex Weldon questions the game integrity of the new cryptocurrency online poker room CoinPoker after he finds the same players mass multi-tabling their way through the company's earliest promotions.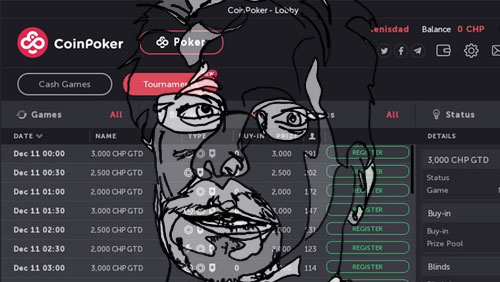 I'm like Superman. Cryptonite is my weakness. I have a mental block, in the same way, I can't figure out the math or remember all the ways my wife tells me I behave when she cries. So I will tread so lightly on this one I won't leave a footprint in the snow.
Many moons ago, I interviewed Ryan Gittleson, the co-founder of the online poker cryptocurrency startup Virtue Poker. My spidey senses told me I could trust him. There would be no broken teeth. I could share a tent with the man, and show him my peculiar small toe, safe from harm.
But there was more than the trust of a mere man driving my gut instincts in between half digested celery stalks. I liked the way that everything had to be just so. Like Roger Hargreaves' green-coloured Mr Man. There was no rush. Virtue Poker would launch when Virtue Poker was ready. Integrity. Security. Patience.
Then CoinPoker came along.
If Virtue Poker was slothlike in their approach, CoinPoker was a kangaroo on coke. Bouncing all over the place, promising the world, and wasting no time at all in opening their doors for business.
There was an Initial Coin Offering (ICO) where CoinPoker's personalised cryptocurrency would emerge from the darkened womb. 125 million CHP would be set aside for the company, making people rich, and allowing them to host exciting promotions in a bid to hit the ground with cheetah feet and not ones belonging to a drunk duck.
Not that there's anything wrong with the Speedy Gonzalez approach. Many entrepreneurs play like this, sticking and twisting depending on the reaction of the market.
But there's something peculiar about this one.
Ask, Alex Weldon.
Alex Weldon: The Sherlock Holmes of Online Poker Traffic Data 
I've been stealing stuff from Alex Weldon's PartTimePoker column for many years now. This week, I learned, he is the Managing Editor of GameIntel, the company that provides the data that gives PokerScout meaning and purpose.
Rather than break into his new job at a canter, Weldon has decided to go at it like Concorde penetrating the arse of an unexpectant Nimbostratus.
Weldon decided to take a peek at the traffic levels at CoinPoker, and something didn't look right – like a child wearing Robert Louis Stevenson novels for shinpads.
One of the promotions is a rake free 5 million CHP giveaway with weekly and monthly leaderboards and three stake tiers. Players must have a VPP greater than 10% to qualify.
Weldon noticed that when he sat down to play, the same players filled the tables. Understandable, perhaps? It's a new site. It's cryptocurrency. And then Weldon noticed a player called "1st" playing on 42 tables simultaneously for eight hours, without a Heads Up Display (HUD).
That's impossible.
Only ElkY, nanonoko or a robot can keep that shit up.
Nanonoko is in love.
ElkY is heartbroken.
That leaves the robot.
Part Time Poker – CoinPoker's Traffic is a Farce
Here is the article from Weldon.
Now the diligent scribe doesn't allege that the site is rampant with bots (Haley Hintze does in an article you can read right here, but he does question the security of a place that hasn't come out and given a rational explanation to Weldon's findings (and Weldon has asked).
The experience of the GameIntel team points to the influx of players/bots/callthemwhatyoulike coming from an Asian base. CoinPoker's unique security system 'Milestones' doesn't kick in until October. So who is holding the nightstick and pepper spray until then?
Nobody knows.
Fortunately, I was planning on writing a marketing piece on CoinPoker in the coming weeks. I've been in touch with a member of the CoinPoker team about Weldon's concerns and will let you know what they say (or don't say) about an issue that emerges in the same timeframe Joey Ingram unearthed an Elephant disco full of shit at America's Cardroom (ACR).
My cognitive bias surrounding this issue leads me to the firing range. I have a bag over CoinPoker's head. There are plenty of people resting a butt on their shoulder.
But let's give this one some time to breathe.
It's not as if we haven't seen this type of thing before, and I'm talking about the most successful and well-loved online poker rooms in the world. Let's cross our fingers and hope the only thing CoinPoker is guilty of is running before they can walk.