The Cleveland Indians had a disappointing finish to their 2017 campaign, dropping three straight games to the New York Yankees in the American League Division Series to bow out of the playoffs earlier than expected coming off their first World Series appearance since 1997.
Odds courtesy of OddsShark.com
However, this year the Indians are back as huge -650 favorites to win their third AL Central title in a row.
The lack of competition in the AL Central should give Cleveland an edge to return to the postseason, as the Minnesota Twins were the only other cl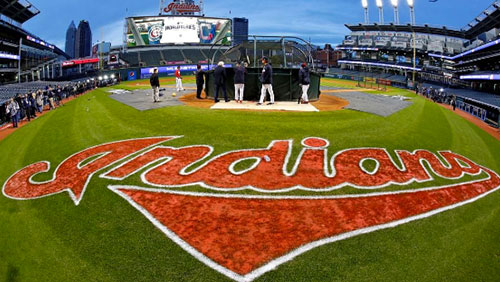 ub in the division with a winning record last season. The Twins are the +350 second choice and surprisingly made the playoffs as a Wild Card in 2017 before falling to the Yankees as well.
The defending World Series champion Houston Astros are the second-biggest favorite to win their division this season, sitting at -500 to take home the AL West title for the second time in as many years. The Astros should be improved in 2018 thanks to the addition of starting pitcher Gerrit Cole from the Pittsburgh Pirates, making a good rotation even better along with fellow starters Dallas Keuchel and Justin Verlander.
The AL West is viewed as slightly more competitive according to oddsmakers, with the Los Angeles Angels (+500) and Seattle Mariners (+900) next on the betting board.
The AL East is the most competitive division due to the rise of New York as a legitimate World Series threat again. The Yankees added 2017 National League home run champ Giancarlo Stanton in the offseason from the Miami Marlins, making them -145 favorites over the Boston Red Sox (+145), who won the division the previous two years and have a new manager this season in former Houston bench coach Alex Cora.
In the NL, the Washington Nationals also have a new manager in former Chicago Cubs bench coach Dave Martinez. Similar to the Indians, the Nationals are the league's biggest favorites to win their division at -400 because the rest of the NL East appears pretty weak. Only the New York Mets (+425) look like they have a shot right now.
Two additional contenders that have battled in the NLCS the past two seasons are also listed as solid favorites to win their respective divisions again – the Los Angeles Dodgers (-260 in the NL West) and Chicago Cubs (-245 in the NL Central).
The Cubs won the World Series two years ago after taking the NLCS versus the Dodgers, who then returned the favor before falling to the Astros in seven games in the World Series. Los Angeles will be going for its sixth straight division crown while Chicago attempts to win its third in a row.
Comments