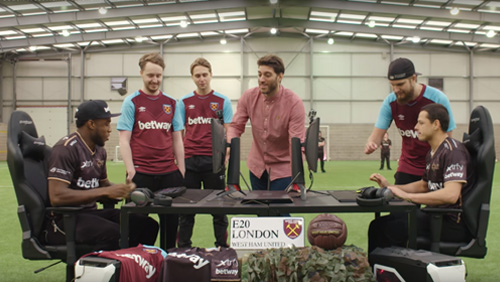 Three stories of a Betway flavour including a pairing with West Ham and Esports team Ninjas in Pyjamas, three more sponsorship deals with Ghanaian Premier League clubs and an entrance into the Nigerian mobile gambling market.
Who is the best shooter?
West Ham's Michail Antonio or his teammate Javier "Chicharito" Hernandez?
It's a no-brainer.
But what if the pair were holding automatic weapons and the goal was the other person's head?
The online sportsbook, Betway, sought to answer that question before the weekend broke out. Betway is the West Ham shirt sponsor and the sponsors of the Swedish Counter-Strike: Global Offensive (CS: GO) side Ninjas in Pyjamas (NiP) and they brought the two together in the Betway Insider Esports Challenge. 
Neither footballer had played a PC game before trying CS: GO. I'm not sure if Antonio will ever play one again. NiP stars Patrik 'f0rest' Lindberg and Fredrik 'REZ' Sterner provided the pair with some quick-fire tuition and the Mexican seemed to be the one with his learning cap on, trouncing Antonio 11-1.
It's not the first time that West Ham has leaned on the esports world for a spot of brand recognition. In 2016, the Hammers signed esports star Sean "Dragonn" Allen to wear the claret and blue during professional FIFA video game tournaments.
Betway Sponsor Three Ghana Premier League Sides 
From the English Premier League (EPL) to the Ghana Premier League, and the online sportsbook will sponsor Aduana Stars, Medeama and Liberty Professionals. Betway announced the deal during their second Thought Leadership Seminar in Accra at the beginning of the month. The Liberty Professionals Public Relations Officer, Yussif Uthman, said the new deal would cure his side's financial problems.
It's not the first time Betway have dipped into the Ghana Premier League for a spot of brand recognition. In 2016, Betway became the sponsor of Ashanti Gold Sporting Club. They also sponsor Onduparaka FC in Uganda and Mathare United in Kenya.
Betway first appeared in the African market in 2015 when Royal Kenya Bets became their first African licensee.
Betway Brings Mobile Betting to Nigeria 
Finally, Betway has increased their African footprint after introducing their mobile product to Nigeria. The land of the Super Eagles is the most populous African nation with an estimated 179 million people. It's also the wealthiest with a Gross Domestic Product (GDP) of $405.1 billion.
Nigerians are football crazy, and the national team will appear in their sixth World Cup Finals when they line up against Argentina, Croatia and Iceland in Russia in the Summer. They reached the Round of 16 in USA (1994), France (1998) and Brazil (2014). Bodog has then as a 200/1 shot to lift the 2018 title.
There are 150 million smartphone users in the country and 97.2 million Internet users, making the move a smart bit of business by Betway.