Mexican leading Gaming and Entertainment operator, Logrand Entertainment Group, currently operating 14 casinos in Mexico, focused on customer orientation, state-of-the-art technology, a strict adherence to laws and a world-class executive team, considers the online market a key in its vertical integration strategy and has chosen BtoBet as technological partner to launch its new interactive division "Strendus", which is an essential complement to its growth.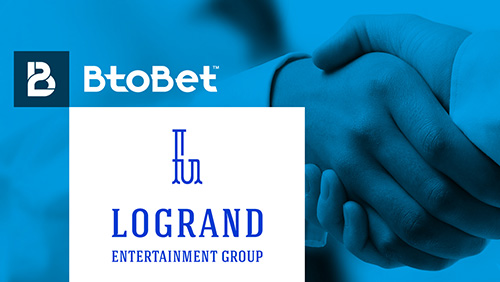 Commenting on the partnership with BtoBet, Logrand Entertainment Group's Chief Operating Online Officer Lenin Castillo stated: 
"Logrand Entertainment Group, as a reputable Mexican company, has high expectations in terms of service providers and has always required the highest standards to be able to compete with international operations in the region and create long-term partnerships with all its business associates. Our group and BtoBet share the same vision to anticipate future needs of global audiences listening to their customers instead of seeing what competitors are doing. For these reasons, to launch our new interactive division, we opted for a very complete and detailed RFP process that scrutinizes all bidders profoundly."
Castillo added: "BtoBet is a technology leader in the online gambling industry, with multiple nominations and awards and counting on a very professional and skilled team. All these factors allow companies, like ours, to develop a trustworthy relationship with them, in a very short time. If you add all this with their top of the line products and services, the decision to choose them, becomes easy. Our high expectation will continue in the years to come and we are sure with our new partner we will continue being the successful company we have shown to be for all this years."
Alessandro Fried, BtoBet's Chairman, highlighted:
"We are very proud to support Logrand Entertainment Group as a partner in Mexico. We share the same vision of business and the interactions between our teams is very cooperative. The growing number of online and mobile gamblers in Mexico and LATAM, is indicating the need to adopt a suitable platform and fitting software to have the greatest insight into players' data and behaviour in order to drive and manage the gaming business in the most efficient way. In this perspective, we firmly believe our technology and solutions will effectively allow Strendus to reach great achievements." 
About Logrand Group
Logrand Entertainment Group is a 100% Mexican company, composed by several companies operating in gaming and entertainment. It started its operations in 2005 becoming a leader in the Gaming and Entertainment industry. The group is known for excellent quality service and high-level entertainment, making sure customers have the most unique and unforgettable experience. Logrand Entertainment Group is proud to promote a culture of safety and responsible gaming and its motto is "We make FUN, a serious business."
Logrand Entertainment Group currently operates 14 casinos in Mexico, adding 6,000 gaming terminals, including Cancun, Guadalajara and Monterrey, generating more than 3 thousand direct jobs.
About BtoBet
BtoBet is a multinational company and is part of a group with 20 years of experience in software development in IT, finance, telecommunication, e-commerce and banking, strongly committed to technology and widely investing in technology research and development. The experience gained in these advanced environments, allows BtoBet to be visionary in the iGaming and Sports betting industry with a deep understanding of the requirements of the market, catching changing trends and anticipating bookmakers' and operators' needs. BtoBet is a true partner in technology, offering a standalone platform and services for the iGaming and Sports Betting industry. It counts on a very talented, continuously trained development team and day to day management support to clients. BtoBet allows licensees to be unique in the market, by giving them the opportunity to completely personalise their offers for Sports betting and iGaming business, online mobile and retail. BtoBet has technical branches with large ever-growing teams of developers in Skopje, Ohrid, Bitola, Belgrade, Nish, Tirana, and Rome. Malta hosts the commercial and marketing centre. Visit our site on: www.btobet.com
Comments