Week 24 of the English Premier League sees Man City retain a 12-point lead over their nearest title contenders Man Utd after both North West teams won against Newcastle and Burnley respectively. 
Man City 3 v 1 Newcastle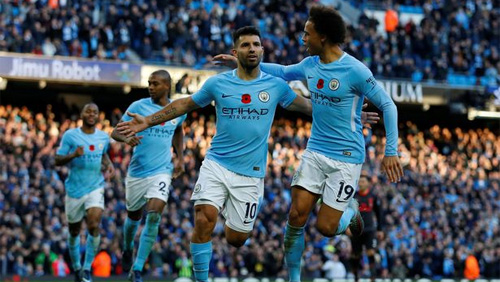 It wasn't that long ago that Paul Dickov was the leading man at Manchester City. How things have changed. I'm glad Alexis Sanchez chose red over blue, not because I'm a red, but come on, we don't want the Premier League to lose the charm Sir Alex Ferguson stole by being so damn good.
United need Sanchez.
The Premier League needs United to need Sanchez.
City?
They've got Sergio Aguero, and let's be honest, who would you rather have on your team? The replica Diego Maradona or the little man from Chile. It's not even a close call, right?
Last week, United fans had a glimmer of hope when Liverpool slammed four past the league leaders to deliver their first knockout blow of the season. This week, it was business as usual as an Aguero hat-trick bished, bashed and boshed the stiff upper lip of Newcastle at the Etihad.
And it wasn't any old hat-trick.
Header.
Left.
Right.
Pure.
The last time someone in the Premier League scored a pure hat-trick was in 2015. Who was it? Sergio Aguero. Who were the opponents? Newcastle. It was Aguero's 11th career hat-trick, his second of the season and his 14th career goal against the Geordies.
The Argentine hadn't touched the ball when in the 34th minute he drifted ahead of a huddle of Newcastle defenders to get a split-end on Kevin De Bruyne's cross, to give City the lead.
Newcastle fans wanted to throw Rafa Benitez under the very bus he parked in front of goal during their recent defeat at St James Park, but they would expect no less at The Etihad. And it seemed to be working until the referee awarded a soft penalty in the 63rd minute after Javier Manquillo was adjudged to have brought Raheem Sterling down in the box. Up stepped Aguero. Kapow!
And then, hope.
A long, deliberate, ball from the back found Jacob Murphy racing in on goal, and he remained calm enough to chip the ball over the onrushing Ederson to pull the deficit back to a single goal.
Magpies are notorious for stealing shiny shit, but this lot was never going to steal a point with only 19% possession. The brilliant Leroy Sane picked the ball up, raced into the penalty area like it was stuck to his toe, nutmegged a Newcastle defender and laid the ball on a plate for Aguero to score his 22nd goal of the season.
Over to you, Man U.
Burnley 0 v 1 Man Utd 
The title race is over.
I know.
I have seen the bookmakers odds.
50/1.
And then you remember that 22-years ago, Manchester United were 12-points behind Newcastle United at this stage of the season, and the last time I looked, we've had two World Wars in between the Geordie's previous success.
United cannot lose another game.
They began with a win at Burnley.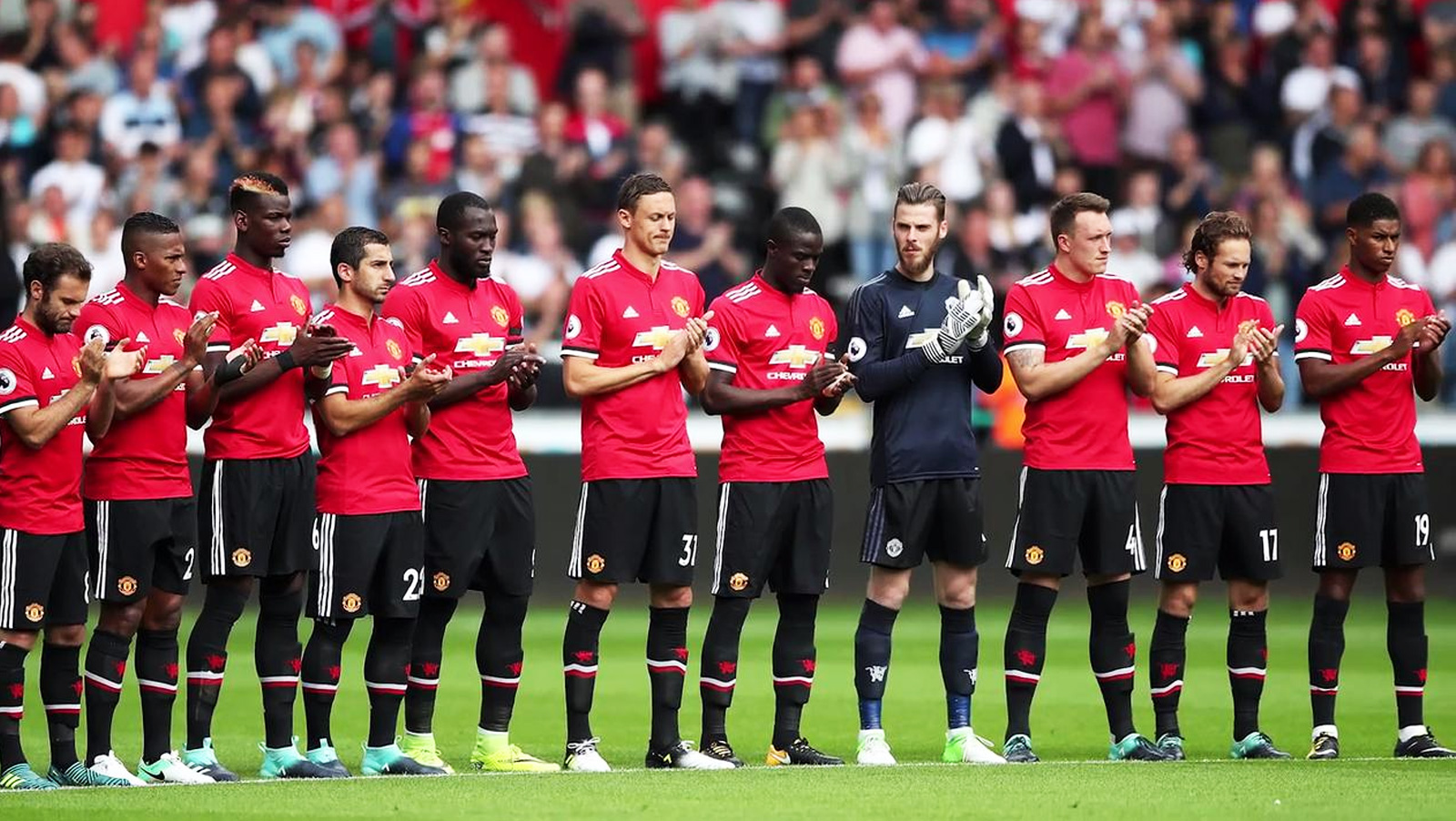 Last year, United was guilty of spurning too many chances to put teams away. In the 90-minutes at Turfmoor, there were signs of that lousy habit reemerging. Jesse Lingard, Anthony Martial and Marcus Rashford are talents. But Alexis Sanchez is the finished product. Had he been on the field for this one you suspect it would have been a lot easier.
Jose Mourinho had nothing but praise for Sean Dyche and his side. He was also encouraged by his own team's display. Burnley makes teams work, especially at home, and this was no exception.
The only goal came in the 54th minute. Romelu Lukaku, who looks like the incredible hulk, managed to keep the ball away from the Burnley defenders long enough for Anthony Martial to find space in the box. The Belgian put him through and the Frenchman slammed the ball into the goal via the underside of the bar.
When Sanchez plays, it will likely be on the left flank. A position from which Martial has scored in each of his previous three Premier League games. It's a shame that the Chilean arrives with Martial finally showing some consistency. There will be a lot of United fans (this one included) who would prefer to see Sanchez coming through the middle, and that means Juan Mata would end up with a warmer arse. On current form that seems the most likely option.
Burnley tried hard to pierce the United defence after Martial's goal, most notably a free kick from Berg Gudmundsson that hit the bar, but United are mustard at the back. Chris Smalling and Phil Jones look impervious in the middle, and David De Gea made it clean sheet #14, more than any other goalkeeper in Europe, making FIFA's decision to ignore him during their 2017 award ceremony even more ridiculous.
22-years ago.
12-points.
Who knows?
The Best of the Rest 
Arsenal fans will be devastated to see Alexis Sanchez heading to Old Trafford, but the team made them feel a little better by thrashing Crystal Palace 4-1 at the Emirates. Arsenal old boy Theo Walcott began life at his new club Everton by setting up the equaliser for Oumar Niasse after Jay Rodriguez had given West Brom the lead at Goodison. The game was overshadowed by the horrific double leg break sustained by James McCarthy, an incident that left Baggies forward Salomon Rondon in tears.
The Champions Chelsea picked up their first win of 2018 with a resounding victory away at Brighton. Willian scoring the pick of the bunch in a 4-0 thrashing. Leicester's top two Jamie Vardy and Riyad Mahrez continued to pour misery on Watford with goals in a 2-0 win. The Hornets have picked up fewer points than any other team in the Premier League in the past ten ties.
Stoke put on a show for their new boss Paul Lambert with a 2-0 win against Huddersfield, and Javier Hernandez grabbed an equaliser for West Ham, barely a minute after Ryan Fraser had given Bournemouth the lead at the London Stadium.
Here are the results in full:
Results in Full
Brighton 0 v 4 Chelsea
West Ham 1 v 1 Bournemouth
Everton 1 v 1 West Brom
Burnley 0 v 1 Man Utd
Leicester 2 v 0 Watford
Stoke 2 v 0 Huddersfield
Arsenal 4 v 1 Crystal Palace
Man City 3 v 1 Newcastle
Southampton 1 v 1 Spurs
To Be Played
Swansea v Liverpool
Premier League Table
1. Man City – 65
2. Man Utd – 53
3. Chelsea – 50
4. Liverpool – 47
5. Spurs – 45
6. Arsenal – 42
7. Leicester – 34
8. Burnley – 34
9. Everton – 28
10. Watford – 26
11. West Ham – 26
12. Bournemouth – 25
13. Crystal Palace – 25
14. Huddersfield – 24
15. Newcastle -23
16. Brighton – 23
17. Stoke – 23
18. Southampton – 22
19. West Brom – 20
20. Swansea – 17
Premier League Winning Odds (Courtesy of Bodog)
Man City 1/50
Man Utd 50/1
Premier League Relegation Odds
Swansea 1/5
Huddersfield 6/5
West Brom 11/8
Brighton 13/8
Newcastle 5/2
Stoke 5/2
Southampton 9/2
Comments