partypoker prepares for a $20m GTD MILLIONS Online and Lee Davy takes a look at what the intense competition between them and PokerStars means to the poker industry.
Outside Powell's bookstore in Portland is a beggar. If you've ever been to that neck of the woods, you'll be aware of the homeless problem. Imagine being one of them. Competition for the penny change is fierce. The beggar outside of Powell's is different. He is selling things, not asking for things. You can tell he's thought about his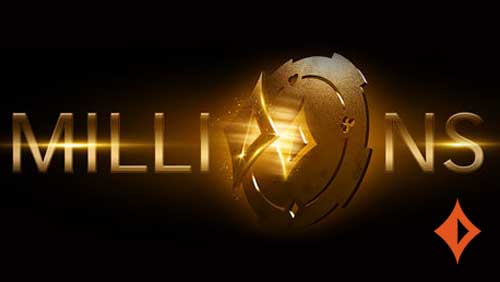 strategy. In making things that we care about, we're more likely to put our hand in our pocket.
I buy a trinket from the man and step inside the store. The first person I see is a young woman dressed like the Elisabeth Moss character in Bruce Miller's brilliant TV adaptation of Margaret Attwood's dystopian novel from the 80s, the Handmaid's Tale.
I look at my wife, Liza, smile and whisper, "Blessed be the fruit."
"Under his eye," she replies.
The place is like a maze with walls made from the literature of centuries. I head off to find somewhere to work, and Liza heads to the kid's section with our daughter.
An hour passes, Whatsapp tells me that it's time to shift my arse. I squeeze all my shit into my rucksack and head back into the maze. As I trundle along, a mind full of worries, I look down and see that my lace is undone. I stoop to tie, look left, and staring right back at me is a spine, crushed under the weight of a hundred spines, it reads.
The Handmaid's Tale by Margeret Attwood 
Powell's bookstore is the largest independent bookstore in the world with nine colour-coded sections, broken down into 3,500 smaller areas, containing between them (including online inventory), more than four million books. And here I am staring at this one book, an hour after my entry experience.
And if that doesn't blow your mind, consider this.
If you're Margaret Atwood, you want that book, in that bookstore, alongside the four million other books, because although there is intense competition, and it takes a rogue shoelace for you to spot her part in that fight, she needs that competition.
PokerStars v partypoker – Ding! Ding! 
Since Black Friday, PokerStars has had the monopoly on online poker, globally. The World Poker Tour (WPT) and World Series of Poker (WSOP) are the masters of North American live poker. But PokerStars' European Poker Tour (EPT) dominated one of the hives of live poker activity.
PokerStars was able to thrive because there was no competition. Full Tilt imploded, and for whatever reason, 888Poker and partypoker failed to make the impression the community needed for the value to emerge.
And then something changed.
Amaya Gaming bought PokerStars, and the privately run company became a publicly traded one. EBITDA became a more important metric than customer love.
PokerStars' once loved clientele began to feel despondent. The poker community started to talk about the death of poker, primarily because it was tougher to make a dime, but I also believe customer satisfaction was a factor.
Then something else changed.
partypoker made a serious of incredibly important appointments, and between them they began to observe the mistakes that PokerStars were making, and started to fill those areas of missed value.
MILLIONS.
Online High Stakes Cash Games.
MILLIONS Online.
The voice of the collective community began changing. Everyone was talking about partypoker, and we all know the power of word of mouth marketing.
PokerStars reacted.
PokerStars Power Up.
And then, last week, PokerStars announced a groundbreaking live tournament called the PokerStars NLHE Players Championship, the largest and most prestigious $25k buy-in event in the history of the game, with $9m in guarantees to boot.
How would party react?
partypoker Quadruple MILLIONS Online Guarantee 
This morning, as I hurried out of the house to avoid the morning madness of dealing with a 14-month-year old, I read an email from partypoker HQ detailing a powerful reaction.
The inaugural partypoker MILLIONS Online was a $5m GTD event, promising $1m to the winner. Like Levi Jeans, it was a ball crunching success. 1,027 entrants created a $5.1m prize pool, and Jon Van Fleet banked more than $1m for winning the thing.
In reaction to player feedback, partypoker is quadrupling the guarantee to $20m when the event returns 1-4 December 2018. The event remains a $5,300 buy-in, but there will be many more ways for people to secure a seat. It's a move designed to give people a reason to compete at partypoker and not/or as well as PokerStars.
MILLIONS Online Leaderboard
The MILLIONS Online Leaderboard begins Mon 5 February. The top ten players, weekly, will receive a $5,300 MILLIONS Online seat. Players who win multiple seats receive the cash in tournament dollars, and there is no limit to the number of seats you can win.
If grinding in the big time is not in your scope, then there's no need to choke on your orange pulp. Partypoker is creating a mid and low-level leaderboard where the top 20 players, weekly will win $530, $109 and $22 satellite tickets.
MILLIONS Live 
To ensure MILLIONS Live customers are taken care of, party will hand out $53k worth of seats to the top ten finishers of every MILLIONS event in 2018, beginning with MILLIONS Germany, King's Casino 10-18 February.
Value.
Value.
Value.
Where Does This End?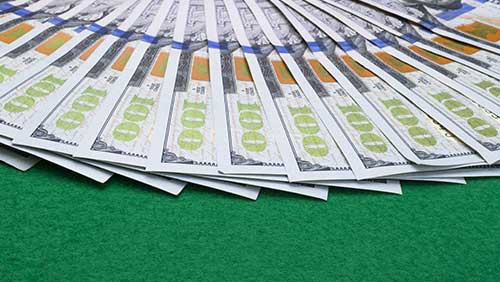 Media folk like me write plenty about the poker ecosystem and for the need for online poker rooms to create an environment that provides value for both recreational and serious poker players.
But what about the macro view of the ecosystem?
It's obvious that the meteoric rise of partypoker is also an integral part of the poker ecosystem because it's providing the community with so many different options to compete for life-changing money.
If I want a curry when I'm visiting Manchester, I go to Curry Mile in Rusholme. There are 70 different curry houses crammed into one street. And we've already talked about the need for authors to have their titles fitting snugly against the competition in bookstores as vast as Powell's.
Competition is a good thing for all concerned. partypoker can offer these insane guarantees because the community believes its possible, a belief that came from the groundwork made by PokerStars.
"If you have no competition, time to find some." Seth Godin. 
But there is a problem with competition.
The Problem With Competition 
I loved PokerStars Power Up because it revealed that PokerStars is a lot more than a target for 2+2 posters to fire arrows at. The problem with competition is that it removes the need to find your path. You become complacent. Instead of thinking about new methods, and new routes, you throw more and more money at the problem; you find ever more exotic locations – in short, you do much of the same things, except slightly more extravagantly.
Working in this way develops a pack like mentality. We've seen it with Rush Poker, Expresso Poker, and I have no doubt we will see the same with Power Up. The goal in a pack like mentality isn't to provide value to customers; it's to stay ahead of the pack.
Competing with yourself, therefore, becomes a much more difficult, but excitably challenging and brave way to think about things. It leads to more insights. It brings you closer to your customer.
Focusing on The Competition 
Only PokerStars and partypoker executives know how much focus each is placing on the other. We can only speculate that the Players Championship and the $20m GTD MILLIONS Online are blows in a big-time Charlie sparring session.
If you believe someone else can do your job better than you, then I bet they can. If you spend too much time thinking about what everyone else is doing, how do you find the time to make the difference your customers crave. Do you even see them, hear them?
Very often each chess move comes from a place of fear; a worry that the competition will take over. But if you are coming from this area of fear then your competition deserves to rub you out.
I hope that party and Stars are spending most of their time in their respective War Rooms working on how they can become the best versions of who their customers need them to be. If they are doing this, then they don't have to pay too much attention to each other.
"The most dangerous thing about your competition is your obsession with them." Bernadette Jiwa
Focusing on the Outcome 
Bryan Cranston (Breaking Bad's Walter White), wrote in his memoir about how he changed his thinking around auditions. In his youth, he would nervously smile at the other competitors sitting in the waiting room. As wisdom filtered through a change occurred.
Rather than focus on the outcome, Cranston began thinking about his auditions as an opportunity to perform. It didn't matter to him who got the part. What mattered was taking the chance to do what he does best.
Process.
Outcome.
It tells us that we don't win by trying to beat the crap out of our competition. It's all in the motivation and desire to do the most exceptional work that you can do, irrespective of what the others are doing in their respective corners.
Kevin Mathers is the lord of Twitter in the poker community. He recently asked the community what event excited them the most.
PokerStars $25k NLHE Players Championship?
partypoker $20m GTD MILLIONS Online?
At the time of writing, the community is more excited about the MILLIONS Online event, and I believe that partypoker has accrued those numbers, not because they have tried to outshine PokerStars, but because they have outloved PokerStars.
If PokerStars want to keep hold of their crown, I suggest they do the same.
Comments