A few days after the 2018 World Series of Poker schedule was leaked to the poker world, the minds behind the iconic annual poker fest release the confirmed program focusing on improving value for amateurs, high rollers, and Pot-Limit Omaha fans.
The World Series of Poker (WSOP) has lowered the curtain on any scars caused by the leaked 2018 schedule by quickly confirming the 2018 program in an email sent to the media, today.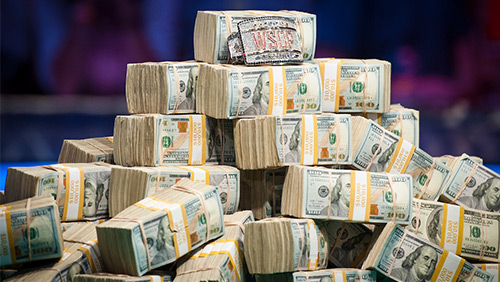 Grab your camping gear, make sure to pack enough rotten tomatoes to hurl at Chris Ferguson's Player of the Year banner, the most celebrated poker tournament this side of the bag of multi-coloured carrots that lie on my desk, is returning bigger and better than ever.
I should have waited a day.
One incredibly fraught night with my 14-month-old ago, I told you that someone had leaked the 2018 WSOP schedule onto the Club Poker website. Kevin Mathers, the WSOP Social Media Czar, was quick to point out that it wasn't official.
This is.
Last summer, over 120,995 entrants tried to bluff their way into $231,010,874 in prize money. Both of these metrics were new records for the WSOP. They set a new bar. Let's see if they can raise it.
The 49th Annual WSOP will run May 29 through July 17. The Rio Hotel & Casino remains home, so prepare to dress like an Eskimo. WSOP Tournament Director, Jack Effel, wrote that they feel 'very good about the multitude of offerings.'
And there is a lot going on.
The leaked schedule showed 77 events, but the official document shows 78, four more than last year.
A Brief Synopsis of Changes 
The $10,000 Main Event begins earlier. It starts Monday, July 2, and ends Saturday, July 14. ESPN and PokerGO will provide extensive live coverage of the WSOP Main Event, as they did last year.
But it doesn't end with the Main Event.
As I explained, yesterday, the WSOP has changed things by scheduling 12-bracelet events post the Main Event. It's a nice touch. Being eliminated from the Main Event isn't tinged by the scent of sadness. It's like you're a puppet, suddenly alive, and realising that someone is about to thrust their hand up your arse.
The Big One for One Drop draws the curtain on things July 15-17. I would still love to see the organisers give the Main Event winner a seat into this thing. The $111,111 One Drop High Roller makes way for a year before returning next year when the $1m buy-in event goes into hibernation.
There are nine new events, meaning five exuded an odour terrible enough to be put out of their misery.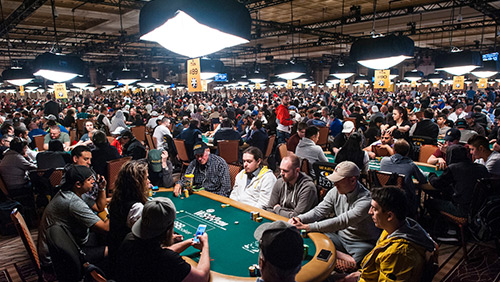 Here they are:
1. $10,000 Super Turbo Bounty No-Limit Hold'em (replaces the $10k Tag Team)
2. $100,000 High Roller No-Limit Hold'em (new addition)
3. $365 PLO GIANT (replaces a $1,000 No-Limit Hold'em)
4. $1,000 DOUBLE STACK No-Limit Hold'em (10,000 starting chips) (replaces a $1,000 No-Limit Hold'em)
5. $565 WSOP.com ONLINE Pot-Limit Omaha 6-Handed (new addition)
6. $1,500 BOUNTY Pot-Limit Omaha (replaces a $1,500 No-Limit Hold'em)
7. $1,000 DOUBLE-STACK No-Limit Hold'em (30-minute levels) (replaces a $1,500 No-Limit Hold'em)
8. $1,500 THE CLOSER No-Limit Hold'em (15,000 starting chips, 30-minute levels) (new addition)
9. $50,000 High Roller No-Limit Hold'em (new addition)
The primary emphasis seems to be on providing recreational players with a greater bang for their buck, more choices for those with deeper pockets, and for lovers of Pot-Limit Omaha (PLO), including an online event for the first time in history.
There will be four online events, one more than last year, and you can begin playing online satellites to win seats in the WSOP live experience on WSOP.com beginning February. Last year, this tributary provided joy to 1,000 people. If you don't live in the States, then your only online route to the WSOP comes via their relationship with 888Poker who will be running satellites on their site, although a start date is not confirmed.
Structure sheets for all events will emerge in January.
Expect online and in-person registration to open in March.
For Your Viewing Pleasure 
For the second year running, the tag-team of ESPN and PokerGO manages the broadcasting. ESPN will provide exclusive TV coverage, and PokerGO takes care of the live streaming. Deets on the schedule will emerge in due course.
Here is the link to the full schedule.
Or download a PDF version here.
Comments