partypoker continues to take action on player feedback after removing an archaic law penalising players who have not logged into their accounts for six months.
We all know that partypoker can curl a freekick into the top corner of the net from 30-yards. They've proved that with their MILLIONS brand. But are they capable of putting away a few penalty kicks?
I think they are.
It's the small things that count when you're a customer: a smile, a thank you, and the removal of an unnecessary step in the clients daily quest for value.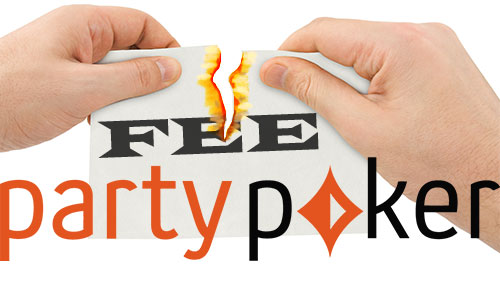 In 2007, someone with the words 'cheapskate' etched into their tombstone, decided it would be a good idea to charge partypoker customers a monthly fee if they failed to login to their account for six months.
The 'inactivity fee' was repaid once you logged in, but the damage had been done. The customer believed the provider cared more about its bottom line than ensuring the customer felt loved.
Partypoker is beginning to show, through action, that they are no longer the dark womb of online poker rooms, but one that nourishes and nurtures their customers, by removing this ridiculous fee.
"Listening to players is central to everything we do at partypoker," said Chairman Mike Sexton. "Players should not be charged an inactivity fee, and we are pleased to be removing this historical charge with immediate effect."  
The owner of the world's largest backing stable, partypoker ambassador, Patrick Leonard agrees:
"It can be very frustrating for players who have taken a break from the game to find that the inactivity fee has been charged," said Leonard. "I think removing this fee altogether will be widely welcomed in the poker community, and it also shows that partypoker really is making good on its promise to take players' opinions into account." 
In August 2015, as a kickstarter for the partypoker "Poker for the People' campaign, the team began removing withdrawal fees from specific payment processors and finished with a clean sweep, last year.
And the 'every little counts' mentality won't end with the removal of the 'inactivity fee.' On Leonard's Twitter account this week, he spoke of his excitement of an upcoming security change that makes the RSA Token look like a 1966 garden gate bolt.
The partypoker team, including Leonard and Sexton, is currently getting some sun on that pasty white flesh as they prepare for the  2017 Caribbean Poker Party Festival Nov 17 – 25 at The Level at Meliá Caribe Tropical, Playa Bavaro, Punta Cana, Dominican Republic.
Here are the main events:
$1,100 MILLIONS Open ($1m GTD) Nov 17 – Oct 21
$10,300 MILLIONS High Roller ($1m GTD) Nov 17-19
$25,500 MILLIONS Super High Roller ($1m GTD) Nov 19-21
$5,300 Millions Main Event ($5m GTD) Nov 20-25
$5,300 Millions Finale ($1m GTD) Nov 22-25