November 2017 – The Asian Poker Tour (APT) has announced it has signed a new three-year exclusive agreement with its long-standing partner in the Philippines, Resorts World Manila (RWM). The agreement will guarantee players another three years of APT events at the very popular RWM casino venue.
APT and RWM have fused a strong bond that date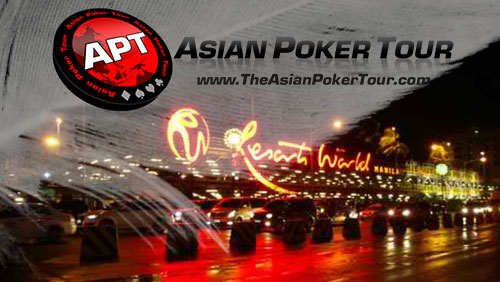 s back to 2010. Since then, the APT has held 18 successful international poker events at RWM including the monumental APT-RWM Iron Man Poker Challenge back in 2013. This event currently holds the Guinness World Record for the longest, continuous running poker tournament: 48 hours – 55 minutes – 58 seconds. Earlier this year, RWM hosted APT's biggest event to-date, the APT Championships 2017 Philippinesthat ran for 12 days and attracted 733 players representing 36 nationalities.
Next year's confirmed APT events at RWM are: APT Philippines Championships 2018 (March 21 – April 1) and APT Philippines 2018 (September 11 – 20).
About the Asian Poker Tour 
The Asian Poker Tour (APT) was founded in 2008. Since its first tournament held in May of 2008 in Manila, Philippines, it has grown year-on-year to become one of the leading poker tours around the World. To date, the APT has staged more than 60 major events and numerous smaller tournaments mainly in the Asia-Pacific Region. The tour has successfully staged events in Philippines, Macau, Korea, Cambodia, India, Vietnam, Australia, London, Mauritius, and New Caledonia. 
With its vision of providing a world-class poker experience at every tour stop, the Asian Poker Tour plans to further broaden its reach and introduce new offerings in 2018. 
Visit the website at: www.TheAsianPokerTour.com
For more information, you may email [email protected]
Comments