Chris 'Jesus' Ferguson wins the World Series of Poker Player of the Year after dominating performances in both Las Vegas and the Czech Republic sees him cash in 23-events plus winning his sixth bracelet.
Waking to the news that Chris 'Jesus' Ferguson has won the World Series of Poker (WSOP) Player of the Year (POY) race feels like someone has stepped on the back of my heel with a pair of Jimmy Choo shoes.
The skin looks roasted with a blow torch, and each passing draft causes a nuisance. I'm agitated and annoyed. Over time it will pass, the cells will bind, and I will have forgotten all about it.
But I can't forget about Jesus because each year when I visit the annual WSOP, I will see his much-maligned mug staring down at me from the Rio rafters courtesy of his POY banner, like someone you dislike standing inches from your face, blowing a pernicious pink globe of bubble gum in your direction.
Ferguson was one of the pivotal figures in the Full Tilt s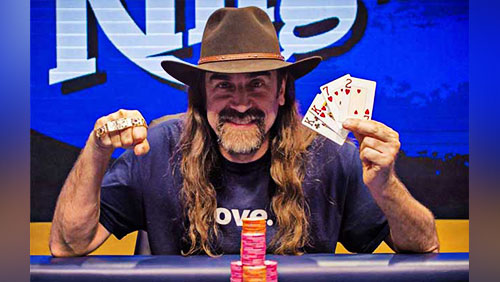 candal that rocked the world of poker when it was revealed that gross mismanagement of the company/fraud/call it what you will resulted in thousands of poker players being robbed of millions of dollars when they failed to separate player funds from the rest of the company accounts.
I have a feeling of ambivalence towards the WSOP for allowing him to play. I have criticised their decision, but take away the emotions, and logic dictates that it wasn't an easy one to make.
Ferguson has to take the blame.
As one of the most successful poker players of his generation, he is intelligent enough to know that his presence at the tables would have been a major "fuck you" to the people his company destroyed.
Phil Hellmuth Forgives, Shouldn't We? 
The WSOP gave Ferguson a free seat into the World Series of Poker Europe (WSOPE) Main Event for finishing on top of the POY leaderboard after a record 17 cashes. Upon arrival in Rozvadov, Ferguson has dominated the series, cashing a further six times, and winning his sixth bracelet in a teeny-tiny Pot-Limit Omaha (PLO) event.
It was after that win that Phil Hellmuth snapped a photograph with Ferguson and sent it out on social media. The feedback was vitriolic, to which Hellmuth replied that he had forgiven Ferguson and that he was innocent.
After John Racener busted in Level 9 of the WSOPE Main Event, Ferguson was confirmed as the POY.
It was a fabulous achievement.
But should we forgive him?
Is he innocent?
Of course, we should try to find forgiveness, because it's a certainty that one day we will seek forgiveness ourselves. We will screw someone over, pour salt into their wounds, and act like a complete and utter cock. And the reason we will seek forgiveness is that deep down we know we are a good person
Chris Ferguson believes he is a good person. Phi Hellmuth does, and I'm sure all of his family and close friends feel the same way. The reason there can be such a divide over this issue is Ferguson's decision to remain silent.
The silence shuts us out.
Without a voice, we can't learn how Ferguson ended up in the mess that causes us to want to pinch his nose and push his mouth over a water fountain.
At some point in Ferguson's Full Tilt career, he couldn't cope. The man was out of his depth; was scared, anxious, and behaved appallingly as a result. But every irritating fault that someone has contains a long lineage that only those closest to him understand.
When you understand someone's foibles and flaws in their development, it allows us to forgive more easily. Behind every mess lies a decisive trauma before they couldn't cope. Very often we are blinded towards the shadow side of their strength, in Ferguson's case it's clear that his strengths are playing poker, and his failings are in business.
He didn't mean to be this way.
He isn't evil or cruel.
I'm sure if he could do a Cher and turn back time he would do things differently.
But we can't forgive him because he's not seeking forgiveness. We can't determine his innocence because he's mute.
Ferguson has just put in the most consistent performance in the history of the WSOP. We should be celebrating, but instead, we have this taste in our mouth, like eating kimchi after brushing our teeth, and it won't go away until we hear his story.
And the saddest thing about all of this?
He will talk.
Eventually.
Maybe hidden inside this achievement lie the answers that those he wronged are so desperate to hear.