Winamax pro, Adrian Mateos, puts in a superb shift at the 2017 Asia Championship of Poker at the City of Dreams in Macau, winning over a million bucks.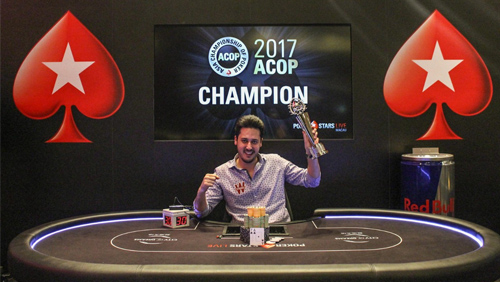 The PokerStars Championship might be having some trouble removing a nasty stain from their necktie, but we can't say the same when it comes to the Asia Championship of Poker (ACOP).
Taking place at the PokerStars Live poker room at the City of Dreams in Macau, the 2017 iteration of this fabulous feast of poker was a record-breaker with PokerStars distributing more than HK$160 million ($20.5m) in prize money and 5,986 entrants trying to win as much of that bounty as they could.
Last week, we told you that Dietrich Fast had won $2.1m after topping a field of 79 entrants in the HK$800,000 buy-in Super High Roller. Wayne Yap had bested 68 entrants to win the HK$300,000 Single Day High Roller for $719,505. And PokerStars Team pro, Celina Lin, became the first player to win three ACOP titles by capturing the HK$10,000 Ladies Championship for $11,662 (Lin also finished 2/127 in the Megastack Championship netting $27,345.
So what's happened since then?
Alan Lau Wins the ACOP Main Event
There wasn't a single dead dog on the final table of the HK$100,000 buy-in ACOP Main Event: Dominik Nitsche, Stephen Chidwick, Brian Altman, and Tom Alner all making their way through a throng of 308 players.
The winner was Alan Lau after a heads-up deal saw the runner-up Aaron Been winning the most prize money. Lau has now earned over $1m playing at the City of Dreams this year. Back in February, he rose to the top of 1,216 entrants to win the $420,802 first prize in the HK$15,000 buy-in Red Dragon event.
Final Table Results
1. Alan Lau – $692,066
2. Aaron Been – $704,881
3. Dominik Nitsche – $347,795
4. Stephen Chidwick – $274,596
5. Brian Altman – $201,411
6. David Calzada – $164,773
7. Atanas Kavrakov – $128,174
8. Tom Alner – $108,029
9. Wei Guoliang – $87,884
Other notables that dived deeper than the Nautilus were Billy Argyros (14th), Dan Smith (18th), and Daniel Dvoress (19th)
Adrian Mateos Wins Over a Million Bucks
Another player who has won over a million bucks at this venue in 2017 is Adrian Mateos. The young Spaniard celebrated his new deal with Winamax in style overcoming 124 entrants to win the HK$80,000 Mini High Roller for $297,927.
If there were an award for the ACOP Player of the Year, you would like to think Mateos would own it after also finishing 6th in the HK$300k event, and 4th in the HK$100k game, totalling $1.2m in earnings.
Mateos's heads-up opponent, Yan Tsang also deserves a special mention after agreeing to pause the heads-up action so Mateos could late-reg a High Roller event. The Winamax pro finished 11th before returning to beat Tsang for the title.
Final Table Results
1. Adrian Mateos – $297,927
2. Yan Tsang – $201,181
3. Daniel Tsang – $130,704
4. Marcus Lau – $108,279
5. Alex Difelice – $87,330
6. Pakinal Lisawad – $68,812
7. Raymond Dye – $52,538
8. Nan Hong – $39,724
9. Hiroshi Nishiyama – $29,472
Other notable stars who went deeper than an elevator on its way to Area 51 were Nick Petrangelo (10th), David Peters (11th), Timothy Adams (12th), and Jason Koon (17th)
Dmitry Yurasov Wins the High Roller
Dmitry Yurasaov won the High Roller for $456,270. The event attracted 48 entrants and joining the Russian at the final table was the recent Triton Super High Roller Macau winner John Juanda, the super sexy Dario Sammartino, and the former Triton Super High Roller winner Manig Loeser.
Final Table Results
1. Dmitry Yurasov – $456,270
2. Devan Tang – $329,386
3. Simon Burns – $209,808
4. John Juanda – $158,926
5. Dario Sammartino – $123,039
6. Manig Loeser – $93,894
7. John Andres – $75,618
Gerlard Karlic Puts in a Decent Shift
Finally, the Austrian, Gerald Karlic deserves mention for beating 183 entrants to take down an HK$10k No-Limit Hold'em event, before finishing third in the $10k Spadie. All told, Karlic earned over $100,000.
Final Table Results
1. Gerald Karlic – $51,262
2. Qing Zhang – $33,705
3. Seung Yi – $21,466
4. Lee Jihoon – $17,313
5. Weiyi Zhang – $13,841
6. Julien Rouxel – $11,278
7. Shuwen Tan – $9,227
8. Park Yu Cheung – $7,177
9. Zinan Xu – $5,126
Other superstars shining in this one were Maria Ho (20th) and Mihails Morozovs (21st).
$10k Spadie Final Table Results
1. Ming Fang – $153,684
2. Yan Rao – $93,939
3. Gerald Karlic – $57,823
4. Alan Fernandez – $43,544
5. Jen-chun Chiu – $28,909
6. Bobby Zhang – $22,668
7. Ta-wei Tou – $18,058
8. Anna Baoshkina – $15,496
9. Zhong Wang – $12,999
Notables running hotter than an active volcano in this one included Mihails Morozovs (52nd), Pete Chen (57th) and Martin Finger (74th)