Another look into the habits and routines of the world's best poker players, this time focusing on the partypoker ambassador, Kristen Bicknell. 
Kristen Bicknell is the top female poker player on the planet right now.
The Canadian star recently joined partypoker's bid for world dominance when she signed as an ambassador for the online poker room, and repaid their faith in her by becoming the #1 ranked female player in the Global Poker Index (GPI).
So it seems a good time to find out what makes this two-time World Series of Poker bracelet winner tick.
When did your aspirations to become a poker player begin?
Before the moment I got introduced to the game, I don't think I ever would have imagined that I would be a 'poker player'. I knew absolutely nothing about the game until the first time that some friends taught me to play, and I ended up playing for over 12 hours that night. I completely fell in love with the game, and I've played almost every day since then and wouldn't want it any other way.
How do you spend the first hour when you wake up?
Typically the first thing on my mind when I wake up is getting coffee. Ideally, I would then get a workout in right away, and then get ready (shower, hair, makeup) while listening to an audiobook or podcast. When I have a good morning routine, it serves as almost a meditative process for me, and I can visualize what I want to accomplish for the day.
What time of the day do you find it easier to play poker and why?
This has varied a lot in my life. I've had times when I had high levels of focus and intense sessions playing throughout the night until early morning, but can say it feels healthier and more balanced overall to try and play on 'regular' hours and be in sync with circadian rhythms.
Do you have defined goals for how many hands/sessions you play in a week: both live and online?
I used to have defined volume goals like this, mainly when I was just focusing on cash games. These d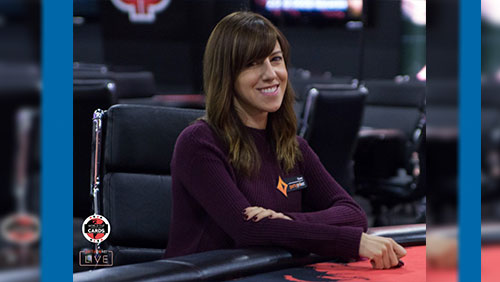 ays, as I am more focused on tournaments, my goals are more based towards improving and preparing my tournament game, and then make sure everything is right for me to be able to perform my best. Putting in volume has never been an issue for me. It seems I always just want to go to the next event, play the next tournament, so what I struggle with is taking time off or making sure I don't play too long.
Where do you play online, what types of games, and stakes?
When I play online, I play the tournaments on PartyPoker ranging from the $109's-$530's.
Same question for live?
These day when I play live, I am travelling around to different series and usually playing in events such as the partypoker live Millions, WSOP, WPT, etc. My buy-ins typically vary from $1,000-$10,000. If I do have time, I also love to play cash games as well. The stakes I play for cash would mainly be $5/$10-$25/$50.
Do you have a specific routine that you go through before you begin a session?
In a perfect world, yes, I know exactly what I would like to do before a session. Often I will think about specific spots that I want to work on. Spots of my game that I either have problems with and want to focus on, and have been trying to play more optimally. Especially when I would play a cash game session, I would typically pick three things to think about or goals for the session. This can be from a mental game or theoretical standpoint. I'm a big believer in positive visualization and I think it is something that is almost by nature for me as I don't make a conscious effort to do it, but the time leading up towards playing, I am usually visualizing the session ahead.
What're your thoughts on listening to music when playing? If you do, what do you listen to?
I think that listening to music can be very helpful. It might sound crazy, but I usually listen to the same song on repeat for hours. I think it's important that whatever you are listening to isn't varying too much, or too distracting with new lyrics etc. I do think on the downside, especially with live poker you can miss valuable information, even something like how a player talks to other players during hands and how that varies if they are strong or not.
How do you educate yourself about poker?
When I'm playing, I put a lot of focus on actively learning about the game. I believe that you can learn so much while playing if you seek the information out. For example, I try to pay close attention to other players at the table and how they are approaching different spots in ways that I might not have considered. I can then make better decisions in the future by having a better understanding of my opponents thought processes. Another important practice is to write down hands to discuss with other players.
How do you improve your mental state?
First off, I think a healthy lifestyle is the foundation of a sound mental state. I do my best to eat, exercise, and sleep well. Beyond this, I do work with mental game coaches as well which has helped me dramatically. A big first step for many people in regards to poker mental game will be to start practicing awareness of their emotions and tendencies. This is something I think I am hyper-aware of and allows me to seek out support and work towards strengthening my weaknesses.
How much of your time is spent playing versus learning?
I'm personally highly motivated by the competition and my love of the game, and that leads me to spend a lot more time playing than learning off the table. I don't think this ratio is ideal, and I'm trying to adjust it, but I probably spend around 95% playing and 5% learning.
Is poker easy? Does it come naturally to you?
I don't think poker is easy. Poker is a very challenging game, and once you get comfortable at one stake, there is always a better opponent waiting for you when you move up. I do think to a big extent that poker came naturally to me.
What is your favourite moment in poker?
To date, my favourite moment in my poker career was when I won the WSOP Ladies Championships in 2013. It was my first win in a big live tournament, and the whole experience was incredibly positive and surreal. Everything went my way, and I had a team of amazing friends supporting me the entire time. It also gave me the confidence to keep pushing myself further in the game.
Was there ever a time when you didn't want to play poker? How did you get out of the funk?
Honestly, there wasn't. I feel very fortunate that I do have so much passion towards the game. I have even found that when I have had difficult times in life, I was able to find refuge in playing and working hard in poker.