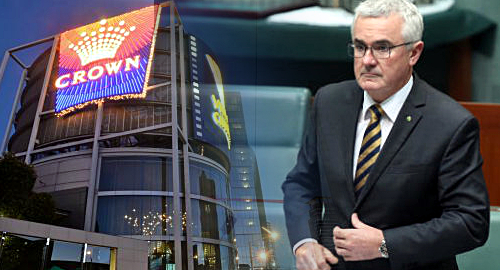 Australian Independent MP Andrew Wilkie has publicly accused casino operator Crown Resorts of tampering with video poker machines (pokies) and facilitating money laundering.
On Wednesday, Wilkie (pictured) rose in the House of Representatives' federation chamber to inform his fellow legislators that whistleblowers had come forward to reveal potentially criminal acts by Crown Melbourne staff, as well as the alleged complicity of gaming regulators in the state of Victoria.
In a three-minute statement quoting the whistleblowers, Wilkie claimed Crown Melbourne staff had engaged in "illegal machine tampering including the disabling of lower bet provisions and the modifying of buttons to allow prohibited autoplay, both of which increase gambling losses." Casino managers allegedly ordered Crown Melbourne staff to perform these modifications.
Wilkie further alleged that the machines' software had been altered to increase gamblers' losses, most often during "a weekend when the number of naïve first-time casual users is obviously much greater."
Wilkie told his fellow legislators that he was "horrified to recount that the Victorian Commission for Gaming and Liquor Regulation has allegedly done nothing to stop this shocking criminal misconduct." Wilkie said the whistleblowers' testimony indicated that "in some cases, the Commission is clearly complicit in covering it up."
The allegations weren't limited to the pokies. Casino staff allegedly allowed certain customers to smoke marijuana on the premises and turned a blind eye toward domestic violence by international VIPs in the high-limit gaming rooms.
Crown Melbourne was also said to have helped certain high-value customers engage in transactions over $10k "by sometimes tolerating and even encouraging the misuse of identity documents," thereby allowing these individuals to avoid scrutiny by financial watchdogs Austrac.
Wilkie claimed that if these allegations are true than Crown "would be facilitating money laundering for any number of nefarious reasons like tax fraud, drug running and even terrorism."
Wilkie said that while the evidence directly related to Crown Melbourne, "they could also suggest a broader pattern of behavior in the poker machine industry." Wilkie called on both the federal and Victorian governments "to ensure the allegations are investigated thoroughly" via a parliamentary inquiry and separate investigations by both law enforcement and regulatory bodies.
POKIELEAKS PAYS OFF
In September 2016, Wilkie was one of three Aussie MPs who launched their 'pokieleaks' campaign, which invited whistleblowers to provide them with insider info regarding potential dirt on the pokies industry. Wilkie and the other MPs vowed to use parliamentary privilege to protect the identities of any pokies insiders who came forward.
Wilkie's evidence included a 30-minute video in which the three former Crown Melbourne staffers – their faces and voices disguuised – made the allegations. Wilkie's presentation is believed to be the first time that video evidence has been presented in the federal parliament. The video testimony can be viewed in its entirety here.
Wilkie declined to repeat the allegations at a subsequent press conference, where his remarks weren't protected by parliamentary privilege, saying he wasn't offering "a personal view about whether [the allegations] are accurate or not."
Crown Resorts, which saw its shares slump 6.5% on the Australian exchange after the story broke, issued a brief statement saying it "rejects the allegations made today under parliamentary privilege by Mr. Andrew Wilkie MP, as reported in the media, concerning the improper manipulation of poker machines and other illegal or improper conduct at Crown Casino in Melbourne. Crown calls on Mr. Wilkie to immediately provide to the relevant authorities all information relating to the matters alleged."
A spokesperson for the Victorian regulatory body said the Commission took this type of claim "extremely seriously" and vowed to "thoroughly' investigate the allegations. The Commission recently commenced its five-yearly review of Crown's gaming license.
Crown was in court last month defending itself against allegations by a problem gambler that the casino operator's pokies were deceptively designed to give gamblers the illusion of better odds of winning. Gaming device maker Aristocrat Leisure was also charged in the lawsuit.
Comments