Monday 16th October, LAS VEGAS – NYX Gaming Group Limited (TSXV: NYX), a market-leading supplier to casino, sportsbook, lottery and bingo operators across the globe, has boosted its technology strategy with the appointment of Chris Armes as Group Chief Technology Officer.
Chris joins from Oracle where he held the position of Vice President, Engineering for Systems. He brings over 25 years' experience of managing high performing global teams, covering the full delivery experience for large-scale international projects, across both hardware and software.
In his new role, Chris will oversee the company's support and product development teams across Sportsbook, Lotteries, Bingo and Casino, bringing together these different products under one cohesive delivery model, enacting the company's product-led strategy.
"I'm thrilled to be joining NYX Gaming Group in what is a very exciting period of growth for the company," said Chris. "I'm looking forward to wo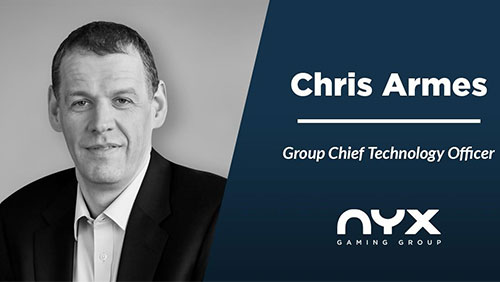 rking closely with NYX customers to ensure that our product innovation is in line with their current and future needs."
NYX Gaming Group CEO Matt Davey said: "We're pleased to welcome Chris to the team, and we look forward to him providing technical direction across numerous areas of our product-led strategy."
For more information, please contact:
Tresilian Segal | VP Marketing, NYX Gaming Group Limited
[email protected]
+44 20 3249 8109
About NYX Gaming Group:
NYX Gaming Group Limited is a leading digital gaming provider, headquartered in Las Vegas, USA, with a staff of more than 1,000 employees globally. NYX delivers added value by adhering to the highest standards of customer service, probity, and responsibility.
It has one of the broadest distribution bases in the industry, with over 200 unique customers. The award-winning NYX OGS™ (Open Gaming System), which allows licensees to leverage the best-of-breed, multi-vendor casino content from around the world, is acknowledged to be the industry's market-leading gaming offering. From its own studios and a broad partner network of the most innovative third-party suppliers, NYX offers customers the widest portfolio of content available, with access to over 2,000 game titles, via OGS™.
NextGen Gaming, NYX's content studio group is one of the world's leading independent suppliers of innovative games to the gambling industry. Under the brands of NextGen, Game360, Side City and BetDigital, the NextGen Gaming group create and deliver exceptional slot games with proven performance and game longevity for partners and players, providing end-to-end support across all services.
In addition, NYX's award winning sports betting division OpenBet is utilised and trusted by leading sportsbook operators, with its scale and performance world-renowned. The OpenBet sportsbook processed more than two billion bets and broke new records at the 2017 Grand National, where it processed 68,000 peak bets-per-minute.
NYX Gaming Group Limited is listed on the TSX Venture Exchange under the symbol NYX.
For more information about the group visit: www.nyxgaminggroup.com