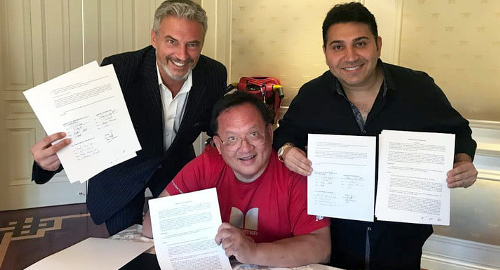 A subsidiary of audio electronics firm Monster Inc has been revealed as the new owner of the software powering the nascent PokerTribe.com online gambling site.
On Wednesday, Monster Technology Group announced that it had acquired the online gaming software assets of Universal Entertainment Group (UEG) that underpin the Iowa Tribe of Oklahoma's PokerTribe online gambling site.
PokerTribe.com has received the state of Oklahoma's blessing to accept customers from international jurisdictions where such activity is legal. Last month, the Iowa Tribe announced the imminent sale of its online gambling software assets to "an internationally recognized company."
On Wednesday, Monster Products Worldwide chairman Noel Lee (pictured, seated) said the "corporate expansion into gaming is a natural fit with the Monster philosophy." Iowa Tribe chairman Bobby Walkup said collaborating with a company with Monster's reach "will help us bring legitimate online gaming to players and enthusiasts worldwide."
Wednesday also brought an occasionally suspect feature at Digital Trends that revealed Monster had hired UEG CEO/telemarketing fraudster Fred Khalilian as the company's new chief operating officer. Monster's Lee told the site that Khalilian (pictured right) was "an acquired taste" but also "a genius" who has "found his niche" in the marriage of online gambling and tribal gaming.
Anyone who has read CalvinAyre.com's coverage of UEG's tribal gaming adventures recognizes the dubious nature of the concept, which depends on international customers foregoing the (literally) thousands of tried and tested online gambling sites already at their disposal for a site with no history and an interface that looks like it came via the Wayback Machine's internet archives.
Khalilian originally partnered several years ago with a different Oklahoma tribal group that paid UEG $9.4m – which Khalilian used to pay his $4.2m Federal Trade Commission deceptive practices fine – for a real-money gambling site that never launched, sparking a National Indian Gaming Commission probe and a civil lawsuit.
Khalilian told Digital Trends that the PokerTribe.com site will launch real-money play on or about December 15, although the site is currently offline, presumably to allow for some form of rebranding, or maybe to update the fake numbers of free-play poker players allegedly making use of the site.
It's unclear exactly how Khalilian managed to convince Monster to buy his particular brand of snake oil, although Lee told Digital Trends that Monster 'could use an infusion of cash' since its headphone deal with Apple/Beats fell through in 2012. Sadly for Lee, the returns on this online gambling venture aren't likely to be monstrously large.
Comments