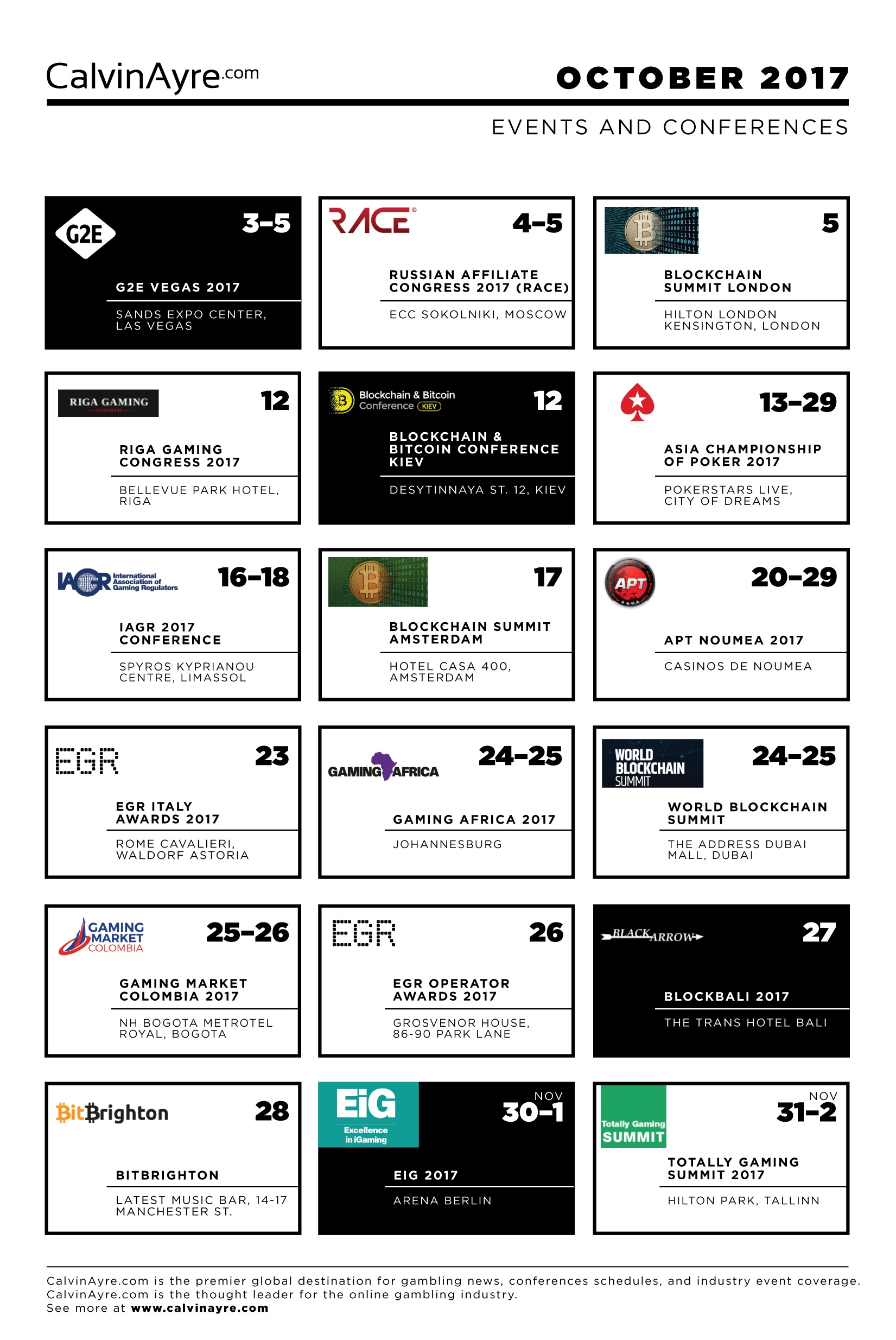 Global Gaming Expo (G2E)
G2E has served as the largest gathering for North American gambling professionals and beyond for 16 years, organized by the American Gaming Association and Reed Exhibitions.  This year the event will take place from October 2nd until October 5th, featuring four days of conference sessions, three days of expo floor activity and surrounded by a variety of networking events and award ceremonies.
Over the course of four days, delegates can expect to mingle with over 26,000 gaming professionals, check out over 400 exhibitors, attend over 125 sessions and hopefully rub elbows with a celebrity or two.
What: Global Gaming Expo (G2E)
When: October 2-5, 2017
Where: Sands Expo Las Vegas
Register: Online
Bitcoin & Blockchain Conference Kiev
The 4th annual Bitcoin & Blockchain Conference Kiev takes place on October 12th 2017 and will gather major players in Blockchain tech from the region.  The event will feature three intensive conference sections: finance, business and legislation, blockchain developments and ICOs.  Developers, entrepreneurs, bankers, investors, lawyers and anyone with an interest in Blockchain will be in attendance.
What: Blockchain & Bitcoin Conference Kiev
When: October 12, 2017
Where: Desytinnaya St. 12, Kiev
Register: Online
BlockBali
BlockBali is an exclusive event organized by Blackarrow with the intent of connecting global Blockchain gurus and tech players with Indonesian business leaders.  Sessions will cover opportunities in Blockchain and cryptocurrencies in general within Indonesia and explore the idea of Indonesia becoming one of Asia's hubs for cryptocurrency innovation.
What: BlockBali
When: October 27, 2017
Where: The Trans Resort, Bali
Register: Online
Excellence in iGaming (EiG)
Clarion's EiG returns to Berlin in 2017 with a special focus on bringing the iGaming industry to "The next level of intelligence" and how to take advantage of the latest tech, products and concepts.  EiG will attract the major players in the European iGaming space in addition to professionals from emerging markets and speakers from outside the industry who can provide fresh insights.
Delegates can expect to interact with over 2000 senior professionals over the course of three days and learn about the hottest and most relevant topics facing the global iGaming industry today.
What: EiG
When: October 30-November 1, 2017
Where: Arena Berlin
Register: Online
Comments