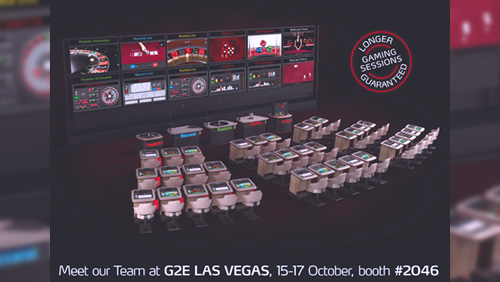 Spintec, top-ranked ETG supplier, is ready to showcase at one of the biggest trade shows in the industry, Global Gaming Expo in Vegas.
The company will bring its large product portfolio with enhanced technology, design, and materials. Besides the core Spintec products, Karma GEN2 Electronic Table Games, the focus at this year's show will definitely highlight the company's multigame offerings. The multigame solutions are also what the gaming market is currently asking for, and Spintec has the best to offer. Its Aura product line is ideal for Multigame amphitheatre set-ups, which combines automated, virtual, and live table games into one multigame experience. What is more, the company also offers stand-alone multigame solutions, Aura and Karma, which allows more intimacy to players and also delivers the best gaming experience.
Following a successful first part of the year which has seen the company launch a new game, Blackjack, enter a new partnership with Gauselmann Group, and make its debut in the Australian market, Spintec is very excited to attend the G2E Vegas show which will also be a great opportunity to celebrate the company's success. The company also announced that the best is yet to come. In October they will move to new business premises and will increase their production capabilities by three times. Spintec is experiencing strong growth in the most challenging markets worldwide, which proves that the business plans are going in the right direction. Another goal to achieve is definitely entering into the markets of the United States, and the company is already working on this.
Spintec also strengthened its sales team this year and they are now perfectly set for another success. The whole team is very excited to meet their partners and partners-to-be at the G2E Vegas show. They invite visitors to stop by their booth #2046 where they will gladly receive all attendees and address every client's needs. Spintec will advise their customers and customers-to-be on the most adequate product for their business structure, aiming at its optimization and revenue increase.
About Spintec
Spintec is the worldwide leader in design and production of electronic table games. A Slovenia-based company has a long track record in production of electronic table games, integrating proprietary research and development, production and sales. Solutions, designed by the Spintec team, have a proven track record of prolonging gaming sessions.