partypoker launch POWERFEST on Sunday, with 330 events, $35m in guarantees, and over $300,000 in promotions.
It doesn't matter the rate at which artificial intelligence (AI) accelerates, as long as it keeps on moving, we will eventually reach a place in time when algorithms become better at humans at everything.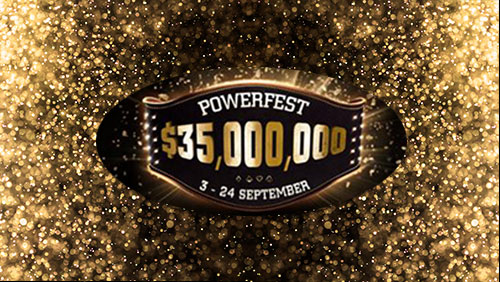 The only thing preventing the inevitable is a nutter like Kim Jong-un.
The same applies to online poker festivals.
These month long events will continue to expand, fitting in more games, more variety, and larger guarantees, until the amounts border on the insane.
The only thing that will stop progress is a nutter like Kim Jong-un or AI.
But we're not there yet.
We have a few more online festivals in us, and there happens to be one just around the corner, Sunday in fact, and so it was about time that partypoker released the full schedule for POWERFEST.
It's the sixth edition, each one growing larger, and the last one guaranteed $20m in prize money, with $27m banked. Sunday's iteration guarantees $35m, spread over 330 events, from Sep 3 through to Sep 24. It's an online poker player's dream.
partypoker is reserving $13m for 12 Championship Events, with ten of them containing $1m guarantees. The structure consists of a low, medium, and high tier, meaning players both rich and poor can compete, unless, like me, you are currently stuck in the USA.
In addition to the $35m there is $300,000 reserved for four POWERFEST promotions:
POWERFEST Leaderboards 
There will be low, medium, and high leaderboards. You accrue points by finishing ITM, there will be 150 prizes, with the top five winners of the High Leaderboard winning $10k packages to the $10m GTD Caribbean Poker Party in Punta Cana.
Here is a handy calculator to work out your points.
POWERFEST Tournament of Champions 
The winners of 330 events will compete in a $20,000 Freeroll on 1 Oct. The winner walks away with $10k in Power Series tickets, and the honour of representing partypoker as an online pro.
POWERFEST Last Chance Tournament 
I like this one.
If you have competed in at least five POWERFEST events, and have failed to make money in any, then you receive an invite to compete in a $10k Freeroll with $2,500 awaiting the winner. The Last Chance tournament begins 1 Oct.
POWERFEST Last Man Standing 
This last promotion is for the hardened grinder.
If you make money in a POWERFEST event on all four Sundays (3, 10, 17 & 24) you get the opportunity to compete in a freeroll where you can win a $10k partypoker LIVE package, plus an additional prize pool of $10k. The event takes place, Wed 27 Sep.
It's Friday, POWERFEST begins on Sunday, let's hope Mr North Korea keeps his big missile in his pants until October at least.
Here's the schedule.
Comments