A mini round up of the action from the World Series of Poker Circuit events in Foxwoods, and Hollands Casino, Rotterdam.
It was a case of third time lucky for Jeremy Meacham as the 30-year-old professional poker player won the World Series of Poker Circuit (WSOPC) Main Event in Foxwoods, Mashantucket, Connecticut on Tuesday night.
486 players created a prize pool of $729,000, and the $156,735 banked by Meacham was the largest of his career, and he was amongst the leaders from the very off.
Meacham was the chip leader at the end of Day 1A and also began Day 3 in the same position. The only time he lost grasp of the top spot was at the end of Day 2 when he finished second to Galen Hall, and there is no shame in that.
Hall and Lawrence Greenberg were the stars of the final table but fell in 5th and 7th places respectively. The heads-up encounter was between Meacham and Sean Thompson with Thompson beginning with a 7m v 2.6m chip advantage.
The tide changed when Meacham won a flip AT>KJ, and the final hand saw him come out the right side of a 22>AQ confrontation – Thompson flopped a queen, but Meacham flopped a deuce for a set and the title.
In addition to the gold ring and $156,735, Meacham also wins a seat in the season ending WSOPC Global Casino Championship.
Final Table Results
1. Jeremy Meacham – $156,735
2. Sean Thompson – $96,957
3. Robert Ricciuti – $70,713
4. Michael Azzaro – $52,488
5. Galen Hall – $39,366
6. Filippos Stavrakis – $30,035
7. Lawrence Greenberg – $18,225
8. Fabio Dagata – $14,602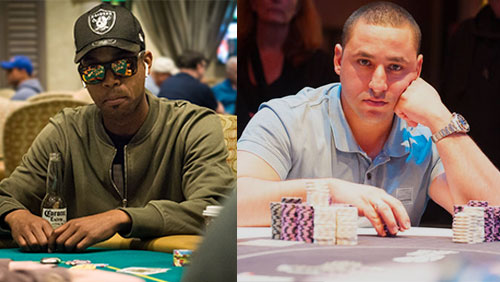 Joining Meacham in the Global Casino Championships will be Caleb Clarke who won the Casino Champion award. Clarke, who also won this award last year, made four final tables and took down the High Roller gold ring and $50,625.
All told, 3,780 entrants competed in 12 events, creating $2.1m in prize money.
Hakim Zoufri Wins The WSOPC Rotterdam High Roller
Two days after Holland Casino lost their Groningen property after a fire burned the place to its foundations, life moved on in Holland Casino Rotterdam with the WSOPC Rotterdam High Roller.
The event attracted 65 entrants, including luminaries such as Juha Helppi and Charlie Carrel, but it was the former Master Classics Amsterdam Champion, Hakim Zoufri, who took the honours defeating Freek Scholten in heads-up action.
A victory was the furthest thing on Zoufri's mind when he finished Day 1 with a single big blind. The Dutchman decided to rebuy for a further 25,000 chips and turned them into a title winning performance.
Final Table Results
1. Hakim Zoufri – €69,888
2. Freek Scholten – €43,189
3. Govert Metaal – €28,636
4. Niko Mykkanen – €15,2622
5. Kees van Brugge – €15,262
6. Alberto Stegeman – €12,174
7. Firoz Mangroe – €10,260
Comments