The Kindred Group announce the preferred bidder for their media planning and buying account, and the results are in from the Unibet UK Tour stop in Nottingham.
Three times already today, people in Starbucks have said, "Downton Abbey" when I tell them I am from the UK.
Perhaps, it's the 100 degrees LA heat?
I think I would rather be a woolly mammoth surrounded by stone tipped spears held in the hands of Sapiens who have eaten nothing but dried mammoth shit for a week than watch Downton Abbey, but Initiative once made them trendy.
The UK media company once worked alongside the retail giant Amazon to promote their Amazon Prime product and used Downton Abbey as their canvass after realising that 60% of its fans were Amazon shoppers.
Check out the results:
And to think, you believe you have free will.
It's not only the owner of the largest book collection in the world who has worked with Initiative. Continental Tyres and Boeing are two other corporate giants who have seen their stock rise thanks to their relationship with Initiative, and soon their fingerprints will be all over the gambling industry.
While you were trying to find illegal ways of watching the Floyd Mayweather fight, and Game of Thrones Season Ending Finale, The Kindred Group announced their decision to award Initiative with their media planning and buying account.
The team will get to spread their genius across the Kindred's UK-facing brands: Unibet, Stan James, Bingo.com, and Maria Casino, after winning a triple threat match with Havas Media and Goodstuff Communications for the contract.
We wait with interest for their next piece of art. In the meantime, I am going to work on improving my Californian Valley accent.
Russell Betts Wins the Unibet UK Open Nottingham
"Russell Betts? I've heard that name before," I thought when it popped up on HootSuite this morning.
And then I remembered, he finished fifth in my last-ever live tournament tour during the World Poker Tour (WPT) UK Main Event in Nottingham, a time when I broke my back working 15hrs+, and missed my son scoring his first ever goal in football.
"It was only a header from an inch out," he said.
"No son, it was more important than your birth."
Kids, they just don't get it.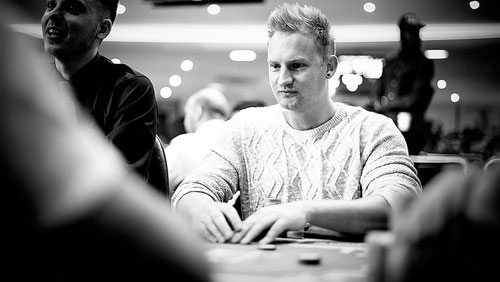 Well, this time Russell Betts, didn't finish fifth, he finished first. The competition was the Unibet UK Poker Tour Nottingham, and Betts took the title after cutting a three way deal with Adrian Nica, and the delightfully named Richard Knibbs.
The three shared £8,966 equally.
Betts won a €3,000 package to compete in the European Open in Las Vegas as part of the Wynn Fall Classic, as did Nica, for winning the online qualifier last longer contest. After taking a plane, two coaches, and a ferry to get to the land of Robin Hood from his home in Romania, he deserves it.
The three top earners cut their deal after sending the Unibet Ambassador, and regular CalvinAyre contributor, Dave Lappin to the rail. Lappin has made four final tables in Unibet live events, but can't seem to get over the hurdle of fourth place, a minor blip on his route to superstardom I am sure.
Final Table Results
1. Russell Betts – £8,966**
2. Adrian Nica – £8,966**
3. Richard Knibbs – £8,966*
4. Dave Lappin – £3,200
5. Tim Bruneel – £2,000
6. Michal Kulesza – £1,600
7. Trevor Gardiner – £1,200
8. Andrew Whitehouse – £1,000
9. Tomas Montrimas – £820
**Donates a three-way deal and a €3,000 package to the EO Open in Las Vegas
* Donates a three-way deal
Comments