With another Premier League season on the horizon, Lee Davy, attempts to make it two correct predictions on the bounce, with Man Utd his choice of 2017/18 Premier League Champions.
Almost a year ago to the date, I predicted that Chelsea would win the Premier League.
Cue roses from the gallery.
Let's see if we can do it again.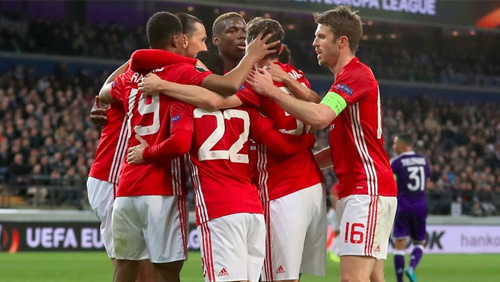 I use the Neil Channing theory of crossing off the teams that are more likely to be eaten alive by bed bugs than winning the title, leaving us with the contenders.
That means Bournemouth, Brighton, Burnley, Crystal Palace, Huddersfield, Newcastle, Southampton, Stoke, Swansea, Watford, West Brom, and West Ham don't get a look in.
Everton, Spurs, Arsenal, and Liverpool will all challenge, but ultimately, they will end up fighting for Champions League places, leaving the title to the three bookies favourites.
Man City 
Bodog has made Man City the favourites to win the title, but I believe they are a few years away from returning to their pomp. While it's true that Pep Guardiola will be more seasoned in the wily ways of the Premier League, there have been too many changes at the club for my liking.
On the plus side, Guardiola has spent over £200m bringing the average age of the squad down from 28 to 25 and has invested in a pair of high-quality full backs. But the youngsters who have come in will need some time to bed in, except Kyle Walker, who understands the league, and the country.
In
Benjamin Mendy – £51.75m
Kyle Walker – £45.9m
Bernardo Silva – £45m
Ederson – £36m
Danilo – €27m
Out
Kelechi Iheanacho, Nolito, Fernando, Aleksandr Kolarov, Joe Hart, Pablo Zabaleta, Willy Caballero, Jesus Navas, Gael Clichy, Bacary Sagna
Chelsea 
The champions won the title because they scored goals from every area of the park. Diego Costa stayed clear of trouble, Eden Hazard woke up from his post-Mourinho slumber, and N'Golo Kante was an unpassable wall in central midfield. But they also seem to be a club in a mini transition.
John Terry didn't grace the pitch too many times, but his influence at the club will be sorely missed after his move to Aston Villa. The Diego Costa saga is a mess, and that doesn't bode well for pre-season chummery. Alvaro Morata his likely replacement will need a season to bed in, as most imports tend to.
The biggest challenge Chelsea face this season is their inclusion in the Champions League. Their squad isn't as impressive as the two Manchester clubs, and both Spurs and Everton have comparable strength in depth.
Last year, for example, Man Utd played 17 more matches than Chelsea, and that must have been like signing a Neymar.
In
Alvaro Morata – €65m
Tiemoue Bakayoko – €40m
Antonio Rudiger – €35m
Out 
Nemanja Matic, Nathan Ake, Juan Cuadrado, Asmir Begovic, Bertrand Traore, John Terry – Free Transfer 
Man Utd 
Jose Mourinho has won the title in his second season with every club he has ever managed, and I believe that run will continue into the 2017/18 season.
With the top teams all playing European football this season, the playing field has even up slightly. United will miss both Zlatan Ibrahimovic and Wayne Rooney, one of them on the pitch, but both off it, but the signings of Romelu Lukaku and Nemanja Matic are huge.
With Matic able to anchor the midfield, it allows Paul Pogba to move into more advanced positions. If he can create a similar bond with Lukaku, as he did with the giant Swede, then the Belgian could end up as the Premier League's top marksman.
Only Spurs conceded fewer goals than United last year, and with the backline strengthened by the arrival of Victor Lindelof, and the world's top goalkeeper, David De Gea once again remaining at the club, United is my pick for 2017/2018.
In
Romelu Lukaku – £76.23m
Nemanja Matic – £40.23m
Victor Lindelof – £31.5m
Out
Wayne Rooney, Zlatan Ibrahimovic, Adnan Januzaj.
Premier League 2017/18 Winner (Odds from Bodog)
Man City +175
Chelsea +325
Man Utd +325
Spurs +900
Liverpool +1100
Arsenal +1100
Comments