Manchester United has signed Jose Mourinho on a 3-year deal after the club sacked Louis Van Gaal two years into a three-year contract despite winning their first silverware since the Sir Alex Ferguson era.
Jose Mourinho is the Manchester United manager.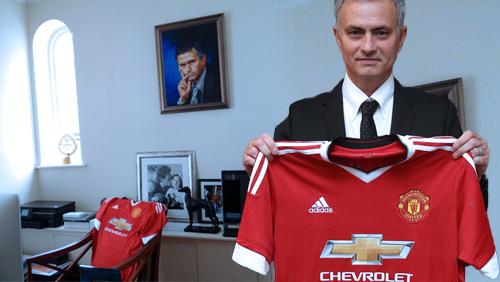 It should be big news. It's not. I can't stop thinking about Tinie Tempeh singing about it being written in the stars a million miles away. Mourinho was always going to become the manager of Manchester United. Everything that the man has done in football was part of a great design that would ultimately lead him to the Theatre of Dreams stage.
After 26-years with one boss, United have now had three in four years, after Mourinho replaced his former mentor Louis Van Gaal in the aftermath of the Dutchman's FA Cup Final triumph against Crystal Palace.
"Jose is quite simply the best manager in the game today," said United's executive vice-chairman Ed Woodward.
So why didn't you appoint the man three years ago?
It must have been tough for Mourinho to watch his former side Real Madrid winning the UEFA Champions League knowing his United side won't even be competing in the competition because they aren't good enough. However, The Special One remains optimistic about the future.
Speaking on MUTV Mourinho said there were two ways of looking at the United predicament. One was to focus on the last three seasons. The other was to focus on the club's history.
"I prefer to forget the past three years and focus on the giant club I have in my hands now." Said Mourinho.
Mourinho has signed a three-year deal. He felt at home here well before placing his stapler in his office cupboard.
"I have always felt empathy here," he told MUTV, "I have even angered former teams with some things I have said here. Once when winning here with Real, I said we won against the better side, and people at Real didn't like that."
United legend Roy Keane is also a United fan. There were no signs of empathy during ITV's coverage of the Champions League Final on Saturday night when the Irishman called him 'irritating.' Ryan Giggs is another United legend who is a lifelong fan. The Welshman has been as the club for the entirety of his footballing career. He was on a crash course to replace Van Gaal in a year's time. All that has gone the way of the back end of a rat. He will meet Mourinho for talks when he returns from a vacation in Dubai later this week to ascertain if he has a future at the club he loves.
It's an exciting time for The Premier League. The two strongest managers in the world are both in charge of respective Manchester clubs; Antonio Conte will take charge of Chelsea, and who knows when the Leicester City fairy tale ends?
Add the growth of Mauricio Pochettino at Spurs to the improving Slaven Bilic and Ronald Koeman at West Ham and Southampton. Add a touch of Arsene Wenger at Arsenal with a Jurgen Klopp at Liverpool and you are looking at THE place to play and watch football next season.
He could have joined three years ago, but in my humble opinion, I am glad that he didn't. Had he done so he may well be in charge of Paris St. Germain today. Both Moyes and Van Gaal struggled to make decent shapes out of the play-doh left behind by Ferguson. It was crumbling. Nothing would stick.
And yet Van Gaal has left United in the best shape they have been in since Ferguson signed off with a Premier League win. They have the joint best defensive record in the Premier League, and in Marcus Rashford, Jesse Lingard, and Anthony Martial, one of the fearful forward lines in the Premier League. Add a Zlatan or two into that heady combination, and a midfielder who knows how to pass the ball forward, and who knows? Perhaps the glory days aren't that far behind.
Comments