Kambi Group Plc and National Lottery AD, the leading private gaming company in Bulgaria, have signed an agreement for Kambi to provide its leading sports betting and technology services to the operator's online 7777 brand.
With a customer base in excess of two million, 7777.bg is considered Bulgaria's premier online lottery and gaming destination. Last year, 7777.bg added a sports betting service to its portfolio however, in order to meet growth objectives, National Lottery has decided to upgrade to Kambi's award winning sportsbook.
National Lottery, which is fully licensed and regulated by Bulgaria's State Commission on Gambling, already holds dominant positions in the lottery and gaming verticals and, following its partnership with Kambi, expects 7777.bg to become the country's number one sportsbook.
It is anticipated 7777.bg will complete the switch to Kambi's scalable and flexible solution during Q4 2017, at which point the brand will be fully equipped to gain sportsbook market share and compete effectively with Tier 1 operators.
Kristian Nylén, CEO of Kambi, said: "We are delighted to be partnering with the National Lottery AD in Bulgaria. We share the same vision, which is to supply the best sports betting experience to 7777.bg's customers; one that is engaging, entertaining and safe.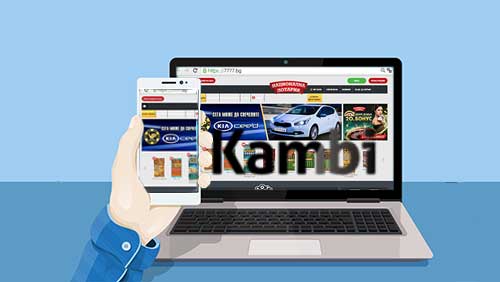 "The 7777.bg brand is at the very heart of gaming in Bulgaria and is widely respected and popular across the numerous verticals in which it operates. We are very excited by 7777.bg's growth plans to gain the number one position in all its verticals in Bulgaria. With the power of the Kambi Sportsbook and 7777.bg's impressive customer base, together we will build a sustainable market leading proposition.
"The signing of the National Lottery AD fits well with Kambi's strategy of targeting Tier 1 operators and market leaders in regulated markets, which can bring us and our operators increased market share and strong revenue growth."
Milen Ganev, Marketing Director of National Lottery AD commented: "We are known to work with only the highest quality providers and Kambi is just that. We do this clearly and purely to serve our end customers and to give them the ultimate experiences they deserve.  Together, we believe this partnership will support our mission to become the country's leading provider in sports betting experiences."
The deal represents Kambi's second major client win in as many months. In June, the company announced a partnership with Colombia's Corredor Empresarial S.A., Latin America's largest private 'games of chance' network. Kambi will provide its scalable sportsbook solution to the operator's new BetPlay brand.
About Kambi
Kambi is a provider of premium sports betting services to licensed B2C gaming operators.  Kambi Group plc is listed on First North at Nasdaq Stockholm. Our services encompass a broad offering from front end user interface through to odds compiling, customer intelligence and risk management, built on an in-house developed software platform. Kambi's 14 customers include Unibet, 888, Paf, Televisa and Napoleon Games. Kambi employs more than 500 staff across offices in Malta (headquarters), Bucharest, London, Manila, Stockholm and Sydney.
Kambi utilises a best of breed security approach, with guiding principles from ISO 27001. Kambi is eCOGRA certified. Kambi Group plc is listed on First North at Nasdaq Stockholm under the symbol "KAMBI". The Company's Certified Advisor is Redeye AB.
About National Lottery AD
The National Lottery is the largest licensed gambling operator in Bulgaria.  It is also one of the fastest growing and innovative businesses in Central and Eastern Europe. The company is a private legal entity established in 2012.  National Lottery enjoys 98% brand awareness which makes it one of the most recognised brands in Bulgaria. National Lottery is proud of its team which consists of highly qualified and motivated specialists with extensive background in marketing, sales, logistics and IT. At present it has more than 18 000 POS for instant tickets and more than 1500 POS for Draw Based Games. www.7777.bg
Kambi
Kristian Nylen, Chief Executive Officer
+44 7764 161 055
National Lottery of Bulgaria
Milen Ganev, Marketing Director
+359 878 939 325
Comments